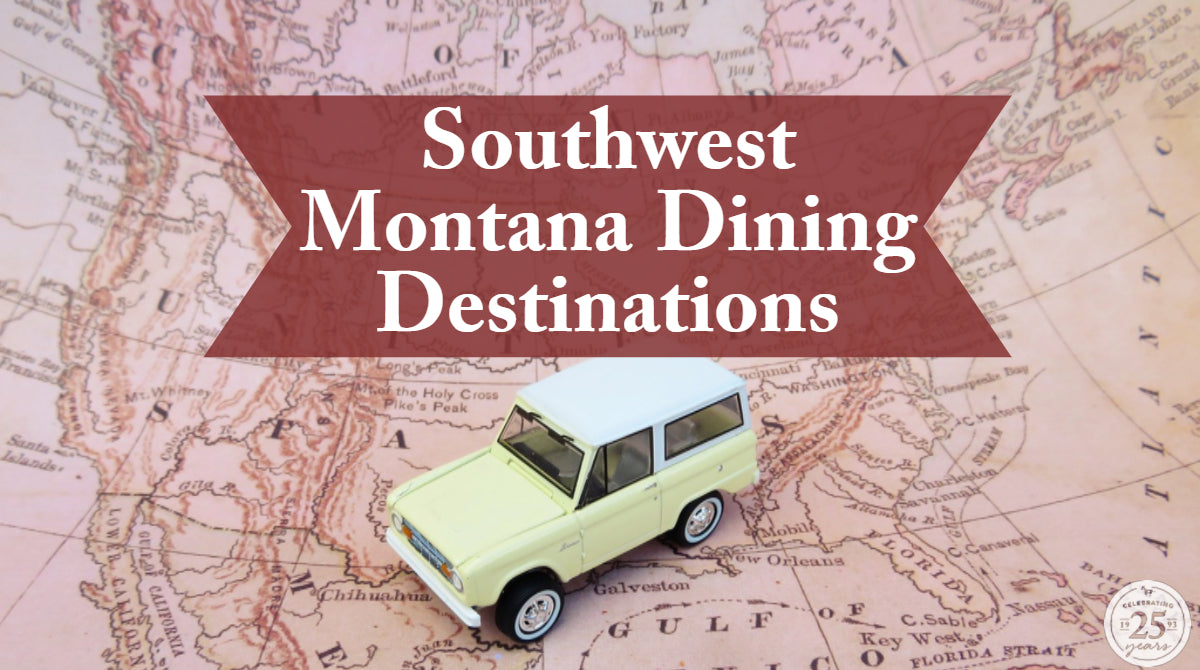 Montana Vacation Planning: Southwest Montana Dining Destinations
There are so many elements that go into planning a winning Montana vacation, and food is certainly a major one! So for all your trip-planning needs, here's a collection of Southwest Montana's most uniquely weird and wonderful local restaurants perfect for a pit stop on a road trip or as destinations in their own right!
Here are five of our favorite down-home style Montana foodie hot-spots! 
 *  *  *
Matt's Old Fashioned Butcher Shop and Deli - Livingston
*  *  *
A Livingston hot spot since 1996, Matt's has been serving wonderful pizzas and sandwiches like no other! Matt's is both a restaurant and a shop, specializing in meat processing. Their deli meats are perfect as tasty souvenirs, and this small store is perfect to stop in for a quick lunch. This is just one of the many mom-and-pop style restaurants Montana has to offer!

Check out their house-cured bratwurst, elk and buffalo snack sticks, or delightful made-to-order deli sandwiches.
Paul's Pancake Parlor - Missoula
*  *  *
One of Missoula's best locally owned and operated restaurants, Paul's Pancake Parlor was founded in 1963 with large portion, high quality, and low cost food in mind, and has become a breakfast destination with a welcoming atmosphere. If pancakes aren't your thing, then fear not - Paul's also has full lunch and dinner menus, all available with the quirky sense of fun that makes Paul's a pancake parlor like no other! 

Try out their classic buttermilk pancakes, or - for the more adventurous - there's potato pancakes, seasoned with chives, or Paul's special spiced pancakes, a perfect addition to chilly Montana weather.
Bob's Place - Virginia City
*  *  *
From sandwiches to pizza to ice cream and more, Bob's Place is a must if you're planning on spending any time in Montana's historic Virginia City. Lots of the ingredients here are bought local, and all the breads, pesto, and hummus are all house-made. The store also sells the handmade pottery of Kirk Belding, the owner.

Try one of Bob's own specialty pizzas, or construct your own. Either way, it's sure to be a fantastic dining experience.  
Papa T's - Dillon
 *  *  *
An adorable diner-style restaurant serving burgers, pizza, sandwiches and other sorts of all-American comfort foods, Papa T's is another local delight that is worth the visit. Known locally by their tag-line: "A Taste of Montana Hospitality!"
Check out the special Big T burger, or one of papa John's pork chop sandwiches. Whatever your preference, this food is filling and fun, and certainly family-friendly!
Buffalo Bump Pizza - Bozeman
*  *  *
While the pizzeria isn't new to Bozeman, the amazing barn location is! Buffalo Bump moved to their signature red barn in 2007, and have exploded in popularity since than! Featuring authentic home-style pizza made from family recipes, this neighborhood pizzeria has much to offer!
Buffalo Bump also offers custom salads, wraps, grinders, and a huge variety of breadsticks in addition to their amazing pizza creations.
Montana surely has lots to intrigue the intrepid traveler in terms of wildlife, scenery, rustic culture and adventure, but the local cuisine might be the best kept road-trip secret this state has to offer! 
-by Emma Katherine Roberts