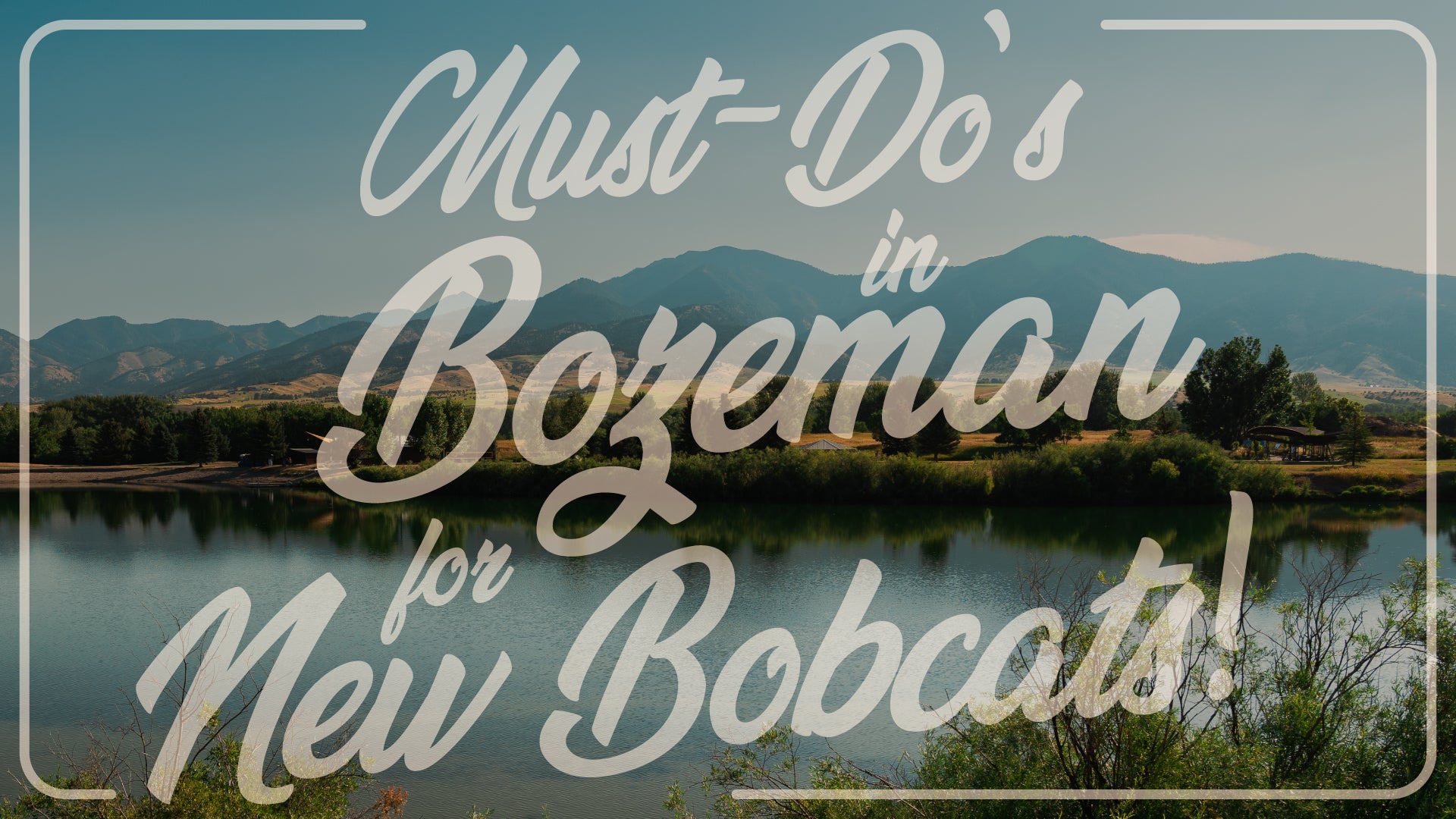 Must-Dos in Bozeman for New Bobcats!
It's that time of year again! New and returning MSU students swarm to the beautiful city of Bozeman, Montana, to begin their studies. There is no denying that Bozeman is a college town, and we truly wouldn't have it any other way! Our students bring a refreshing sense of hope and ambition to our local mountain town, and for that we will be ever grateful. 
There is no shortage of fun to be had in Bozeman, this being said, moving to a brand new city can be daunting. To ease the lives of our incoming MSU freshman, we've compiled a list of our favorite must-see spots in and around Bozeman. Check it out!
The M Trail
As a new student at MSU, there is one thing that you absolutely have to do. That is hike the famous M Trail, obviously! 
Created by Montana State University students in the year of 1915, the "M" landmark will truly make any new student feel right at home. Located just outside of Bozeman heading Bridger Canyon, you will find this popular trailhead. Often used by locals as a great place for trail running, the M Trail is a 1.6 mile loop, and typically takes about an hour to complete. At the M, you will find spectacular panoramic views of Bozeman, the Gallatin Valley, and the Story Hills!
The Museum of the Rockies
Montana is known for being beautiful and is full of one-of-a-kind landscapes, but many people don't realize how historic the Big Sky country truly is. 
In Bozeman, you will find the Museum of the Rockies, a world-class cultural and natural history museum and research facility that will is sure to capture your attention. It's exhibits feature aspects of American history, native-American history, living history, and of course the world-renowned Siebel Dinosaur Complex!
As they put it, within the bounds of the Siebel Dinosaur Complex you will find "Montana's T.rex, one of the few mounted Tyrannosaurus rex skeletons in the United States, the bones of Big Al, a nearly complete Allosaurus that lived during the Jurassic Period, numerous dinosaur eggs and babies, and more." Wow!
The Western Café
There is no doubt that after your Bozeman adventures, you will have worked up quite an appetite. Sounds like it might be time to head down to the Western Café, a Bozeman classic! 
Locally owned and operated, The Western Café offers a one-of-a-kind home-cooked experience. With its array of yummy breakfast and lunch offerings, you will find a dish that was quite literally made for you! Often using local products and ingredients, this café is commonly referred to as the "Last Best Café", and we have to say, we totally agree. If you have been craving a delicious breakfast or lunch that conveys authentic Montanan culture, the Western Café has you covered!
The Bozeman Beach
We are sure at this point, after adventuring through Bozeman and having a wonderful meal at The Western Café, all you really want to do is relax. Well, it might be time to head over the the Glen Lake Rotary Park, more commonly known as Bozeman Beach! 
Just two miles north of downtown Bozeman, you will find a beautiful 4-acre lake. Featuring a dock for fishing & diving, picnic tables, pavilions, volleyball courts, a climbing rock, and a wonderful sandy beach, there is no shortage of fun to be had at this popular park. Whether you are looking to spend a warm day lakeside, or have been searching for a place to swim with your buds, the Bozeman Beach is a lovely place to start or end your day. 
Written By: Alexa Jorgenson, MGC Content Creator
Photography By: Haven Windsor, MGC Photographer
Blog Cover By: Averi Thompson, MGC Graphic Designer