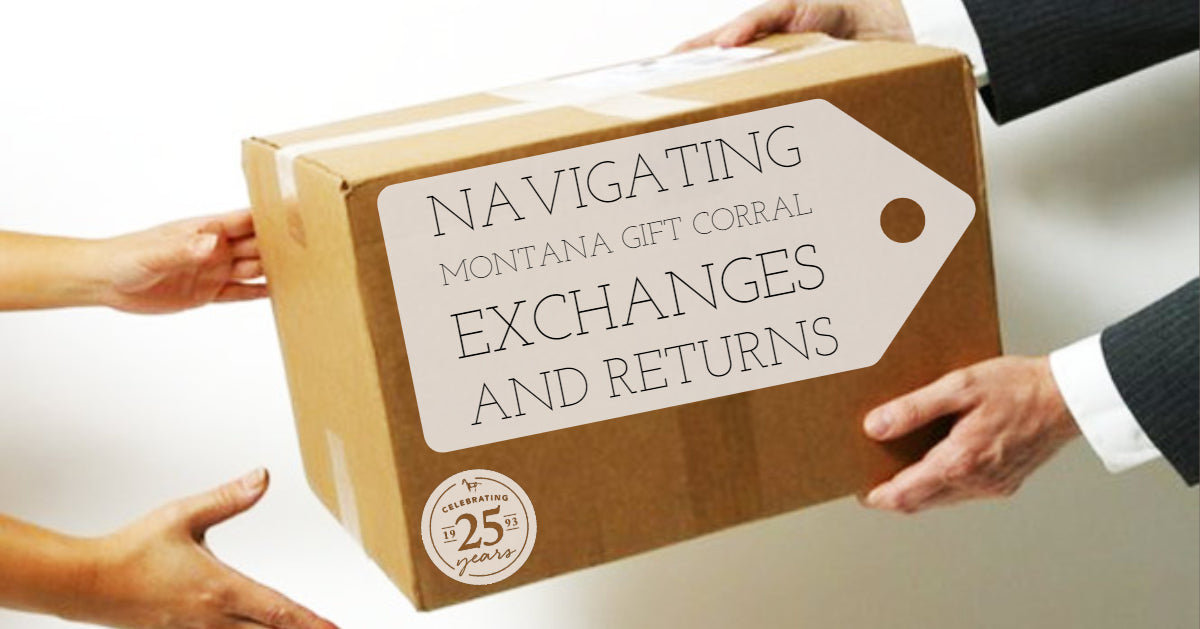 Navigating Montana Gift Corral Exchanges and Returns
    If my mother is any indication, people begin their Christmas shopping as early as the weekend after the last Christmas. I mean there are a bunch of end-of-the-year sales as well as an after-Christmas sale, so it makes sense. However, a lot can change in a year. Maybe you grew a surprise inch or two, maybe you gained or lost weight, or maybe something else happened and now that shirt your sister-in-law ordered you doesn't fit quite right. For a number of reasons, December 26 is one of the busiest days for returns and exchanges. And amidst all the confusion and chaos, it's nice to have a guide to help you navigate the returns and exchanges at the Montana Gift Corral.
Sweet and Simple Shipping
Photos courtesy of Zach Altman 
    The Montana Gift Corral loves providing our customers with wonderfully Montanan products. And even though our items are produced and inspired by the Big Sky Country, we are happy to share our piece of Montana with the world. Ordering products from GiftCorral.com means you can order from almost anywhere in the world. Most of the orders are processed and shipped within twenty-four hours. Orders placed over the weekend are processed and shipped on the following business day. After we have shipped your order we will send you an email to let you know! The email will include your UPS tracking number as well so you can keep on eye on your much-awaited order!
     A few things can affect the shipping process and shipping prices. Even though the Montana Gift Corral is happy to ship around the world, there are many restrictions on what we can ship outside of the continental United States. To learn more about what to do in when shipping outside of the continental United States check out our Shipping and Delivery page! And our shipping prices are determined by a number of variables, such as the cost of the order, the shipping method chosen and the state.
Ready and Rapid Returns
Photo courtesy of Issa Rabideaux
     For the Montana Gift Corral to process a return, we must be notified of the return within seven days. The seven days begin once the order has arrived at its destination. Other than the time limit the Montana Gift Corral return policy is pretty simple, don't like it? Pack it up and send it back and we will refund your money. As long as the item is still in a resaleable condition, all you have to do is send your item back to us with a note referencing your order number and name. Please include the reason you are returning the item as well so we can make sure your shopping experience is an enjoyable one! We highly recommend that you use some type of trackable shipping, such as UPS, as we, unfortunately, cannot be held responsible for items lost during transit. Please ship all of your returns to:

GiftCorral.com Returns
109 Pipkin Way
Belgrade, MT 59714
    Please note that Montana Gift Corral will refund the purchase after receiving the item(s). Please also remember that refunds on cards can take five to seven business days to process. 
Easy and Effortless Exchanges
Photo courtesy of Issa Rabideaux
    If you love the item you got but your item is the wrong size, style or in some other way not what you expected we are happy to exchange it! For in-store exchanges, simply bring your item to the store and they will help you find the item you desired. For online exchanges simply call the Montana Gift Corral at (800)242-5055. If phones make you nervous or you can't call during business hours, we are also available via email at info@giftcorral.com. We will be happy to discuss the issue and get your new item shipped to you. Please note that for online exchanges you will, unfortunately, have to pay the shipping cost to send the item back, as well as the shipping cost on the new item. Remember, the Montana Gift Corral wants your experience with us to be memorable and enjoyable. We will do whatever it takes to correct the situation to your satisfaction.
    Navigating the world of exchanges and returns sounds terrifying and intimidating. But at the Montana Gift Corral, we don't want it to be! The easiest way to get your returns and exchanges handled is by simply giving us a call! All of us are trained in customer service and are more than happy to help you find the product of your dreams. So have no worries about your order, we will do whatever it takes to guarantee your satisfaction.
By: Issa Rabideaux
Cover photo courtesy of Vigo Logistics