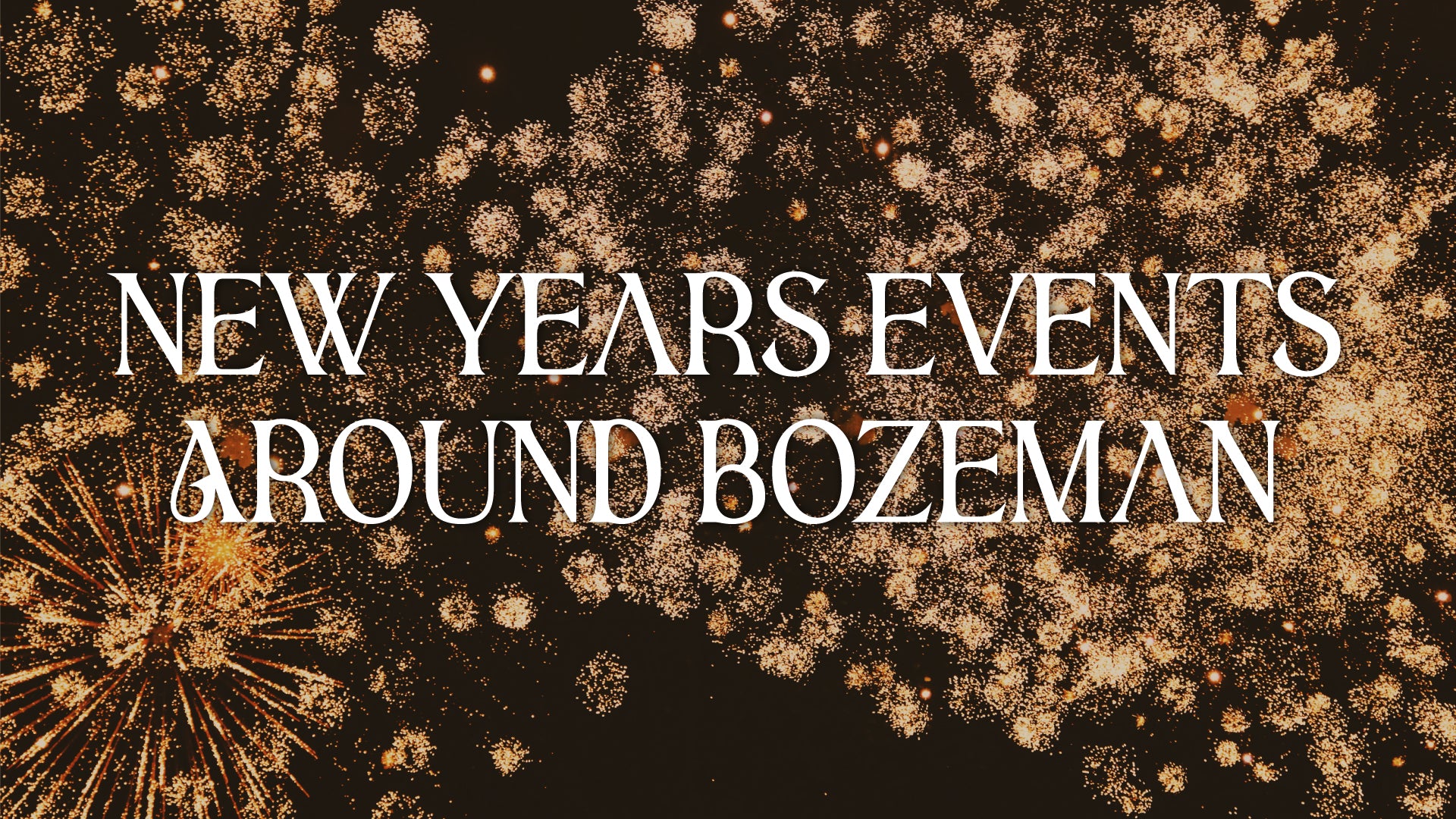 New Year's Eve Events Around Bozeman
While it is home to a very chill and go-with-the-flow community, Bozeman sure knows how to celebrate! On New Years Eve, you will find fun-filled events throughout the entire Gallatin Valley. From family-friendly shindigs, to full-fledged New Years Eve extravaganzas, you'll have the opportunity to celebrate the New Year in style! Here of our top picks for 2022 New Years Eve events:
Laney Lou & the Bird Dogs Aloha '23 at The Elm
Laney Lou & the Bird Dogs is a beloved Americana band that is known for playing throughout the state, which planted its roots here in the beautiful Bozeman, MT! Their engaging music style has enamored fans from near and far, drawing crowds that love their rock-n-roll drive and modern take on traditional folk music. 
As Logjam Presents puts it, "The Bird Dogs weave stories through their songs that are reflective, joyous, longing, or meant to share a journey with the listener. Through it all, the band is able to convey heartfelt honesty, getting the audience to immerse themselves in the moment by dancing, singing and laughing along."
Toss on our favorite Hawaiian getup and head to the elm on December 31st to ring in the new year with this one-of-a-kind and homegrown bluegrass band. Doors open at 8:00pm!
Grab your tickets here!
Eagle Mount New Years Eve Family Dance
First established in 1982 by Robert and Great Mathis, Eagle Mount has been serving our community for nearly 40 years. Working with disabled individuals of all ages, and even people with cancer, this wonderful cause offers a variety of recreational opportunities for differently abled people to expand their horizons! From horseback riding to skiing, gardening, and even climbing, Eagle Mount inspires individuals with unique challenges to experience "re-creation", the act of "restoring yourself by discovering new strength, confidence, freedom, and joy!"
If you and your family are searching for a fun-filled event to attend this New Years Eve, head over to Eagle Mount Bozeman for this years New Year Eve Family Dance! With all ages welcome, dances will be taught and called by Rab Cummings, a program director and teacher at Peak Academy, to lovely live music performed by Hypergolic! 
Click here for more information!
"All That Glitters is Not Gold" New Years Eve Party at Devils Toboggan
Perfectly placed in the historic Cannery District of Bozeman, MT, Devil's Toboggan is a one-of-a-kind cocktail lounge that "transports its riders to the golden age of cocktails". This vintage-inspired speakeasy is known for its relaxed and well-appointed environment. If you've been searching for a place that offers delicious cocktails and international cuisine, Devil's Toboggan is just what you've been looking for!
For an evening full of New Years Eve fun, head to Devil's Toboggan on December 31st at 10:00pm for their "All that glitters is not gold" New Years Eve celebration. With open bar seating and table reservations, you an enjoy complementary party favors, sparkling wine, and your choice of pretzel bites or a shrimp cocktails! Take this party to the next level by dressing in glitter, sparkles, or anything shiny. *Must be 21+ to attend*
Click here for more information!
Bridger Bowl Torchlight Parade
Known for some of the best skiing under Montana's big skies, Bridger Bowl is a favorite among locals and tourists alike. With over 2,000 acres of skiable terrain, this beautiful recreational mountain is home to 75 marked runs, and several more that are currently unmarked!
Each and every year, Bridger Bowl hosts its annual Torchlight Parade. This year, you are invited to join in on a delicious spaghetti dinner, and watch as Bridger Bowl Snowsports instructors ski down the mountain with torchlights in hand. Following this unique show, you can marvel as you watch a stunning firework display! 
Don't miss this local New Years celebration on Friday, December 30th, 2022! Learn more here.
New Years Eve Party at Single Barrel Liquor & Bar!
Single Barrel Liquor & Bar is a locally-owned and operated business here in Bozeman, MT! With a passion for customer service that is second-to-none, and a comfortable atmosphere, it is no wonder why it is a popular local hangout. Often offering live music and local whiskey flight tasting, there is always fun to be had at Single Barrel Liquor & Bar!
To celebrate the coming of the new year, Single Barrel will be hosting a Great Gatsby-styled part for the ages. With a pre-prohibition inspired cocktail menu, a photo-booth, and a free champagne toast a midnight, we guarantee that there is festive fun to be had at your local "Juice Joint"! Encouraged, but not required, don't be afraid to show up in  your best roaring 20's attire. *Must be 21+ to attend*
Learn more here!
Written by: Alexa Jorgenson, MGC Content Creator
Blog Cover by: Averi Thompson, MGC Graphic Designer