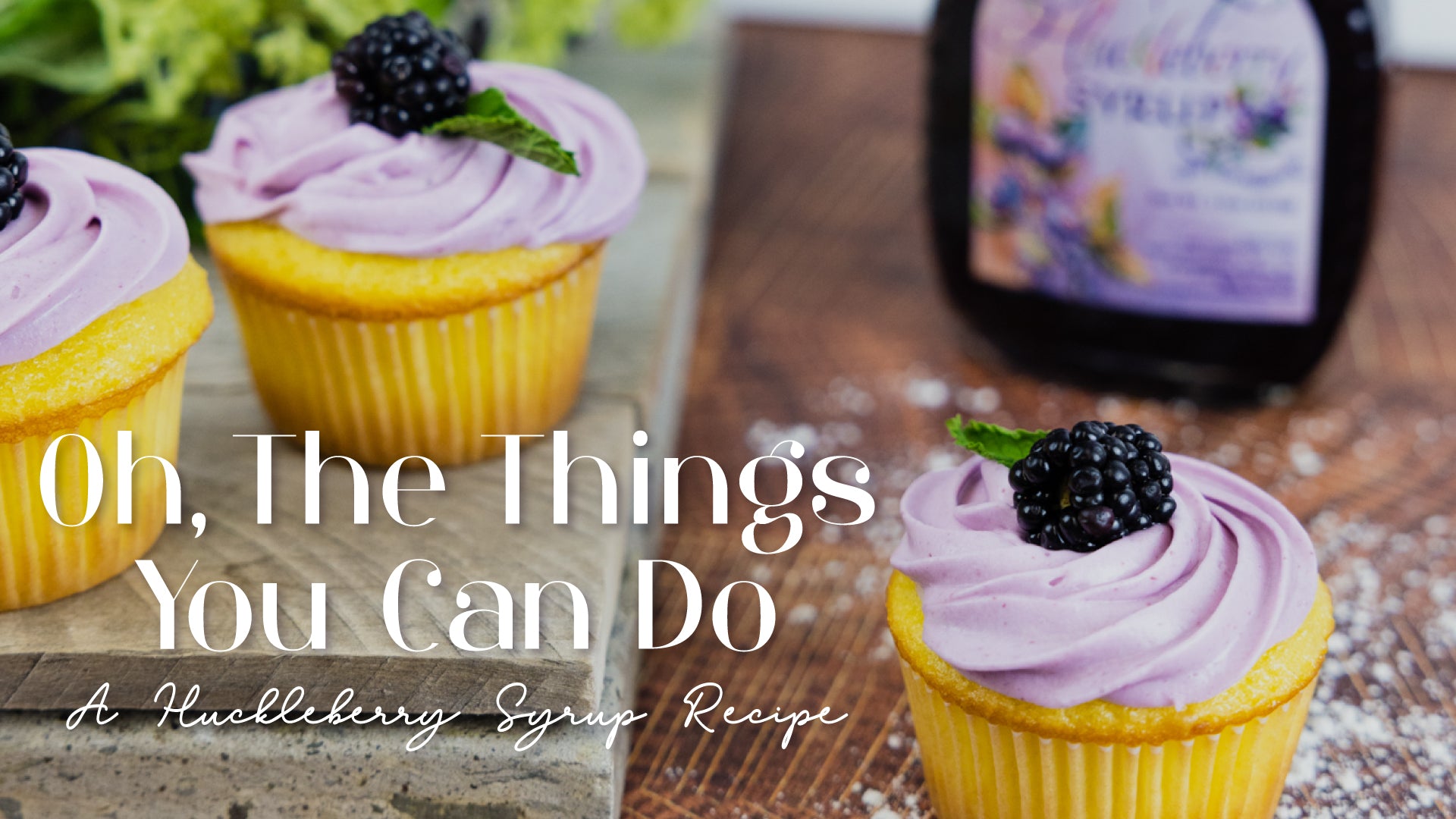 Oh, The Things You Can Do: A Huckleberry Syrup Recipe
Oh, the things you can do with our huckleberry syrup. Not many people know this, but this syrup can be so much more than just a pancake topper. Put it in your oatmeal for a splash of huckleberry, put it in your tea for a fruity drink, or infuse it in your pancake batter for a tasty purple breakfast. In this blog, I will be giving you a great cupcake recipe fit for any special occasion. Because who doesn't love huckleberry?
Lemon Huckleberry Cupcakes
For this recipe you will need:
Huckleberry Syrup from Huckleberry Haven
First start by preheating your oven to 350 degrees. Get out a large mixing bowl and pouring in the contents of your bag of lemon cake mix. Your recipe may differ, so be sure to follow the directions on the back of the box. For this recipe, I used Duncan Hines Lemon Cake mix, which calls for 3 large eggs, 1 cup of water, and ½ cup of vegetable oil. Add in the eggs, water, and vegetable oil to your cake mix and stir well. For a light fluffy cupcake, add in a ¼ cup of milk or cream. For a more lemony cupcake, add in 3 tablespoons of lemon juice. You can also add both! 
  Once you have mixed your batter free of lumps, add some cupcake paper liner cups to your muffin tin. Now we can put our batter in our tray. To make sure to not overfill your cupcakes, make sure you are only filling them ⅔ of the way full, otherwise they will overflow or not rise high enough. Place your cupcakes in the preheated oven and bake for 15 minutes.
  While we are waiting for our cupcakes to bake, we can start on the frosting. Scoop your white frosting into a small bowl and slowly add small amounts of your Huckleberry Syrup by Huckleberry Haven to it. Whip the frosting with a hand mixer or stand mixer until you reach your desired consistency and flavor, but be careful not to add too much as the syrup will make your frosting more soft the more you put in. 
Once the cupcakes have reached 15 minutes in the oven or you have put a toothpick in them and it comes out clean, take them out of the oven to cool for about another 15 minutes. While your cupcakes are cooling, put your frosting in the refrigerator to firm up as well.
  We want our cupcakes to be nice and cool before we put on the frosting, otherwise the frosting will melt and you will have a big mess on your hands.
Use piping bags to put the frosting on your cupcakes or put them on gently with a knife. Once your cupcakes look how you want them too, add blackberries and mint leaves to the tops of them for a cute fresh decorative topping. Serve them up or put them in the fridge for a cold sweet treat for later!
 Written & Baked by Averi Thompson