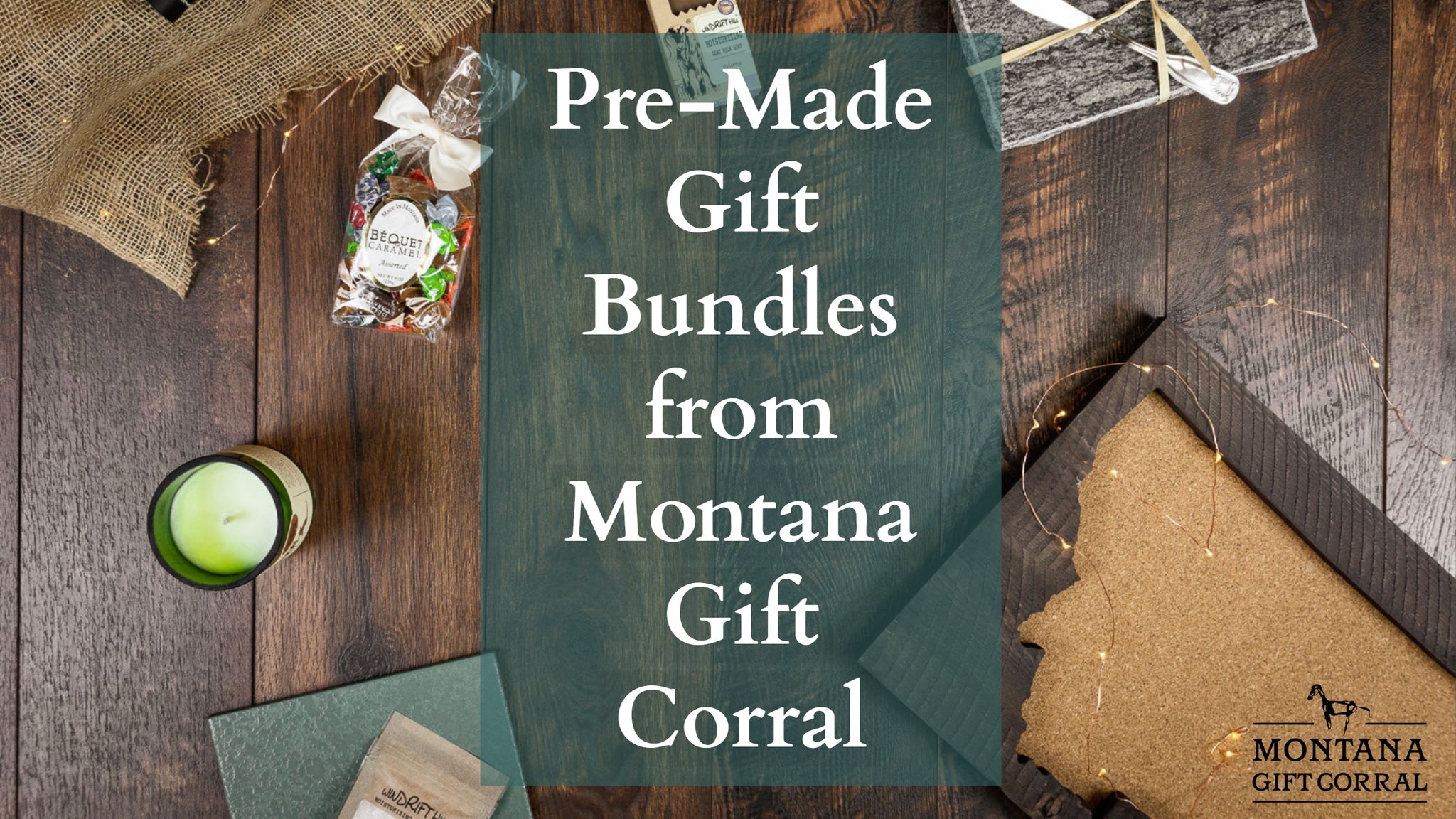 Pre-Made Gift Baskets from Montana Gift Corral
Gift giving has never been easier than with Montana Gift Corral's gift bundles! We've taken our favorite and best selling products and carefully compiled them into themed bundles perfect for any number of events, celebrations, or those that deserve recognition. From housewarming to everything you need for a relaxing weekend, our staff has taken the guesswork out of finding what you need.
In addition to the gift collections our talented team have assembled, we also carry a number of great gift boxes and crates from Huckleberry Haven. The Assorted Huckleberry Jams Gift Crate is the fast and easy way to resupply your favorite toppings. The Huckleberry Deluxe Gift Crate is everything you need for a memorable breakfast. The Candy Pack is the perfect gift for those with a sweet tooth. Whatever your huckleberry needs may be, Huckleberry Haven has the gift box for you!
The Bark Bundle is something both dog and dog owner will love! Filled with goodies like Montana made Trail Mix Dog Treats, you're sure to have a happy pup. For the proud puppy parent, Dog is Good brings you a sticker perfect for the canine carrying car and the Never Walk Alone hat, a sentiment certainly echoed by your furry best friend. The Bark Bundle wouldn't be complete without a little squeak and Tall Trails fills that need with a 5" duck squeaker toy. 
Enjoy warm, inviting breakfast foods straight from the heart of Montana in our Breakfast in Montana Gift Bundle. Picture yourself sitting in a cozy wood cabin at the base of the Bridger Mountains while you sip your Montana coffee out of your Montana Heart Mug while you wait for your huckleberry pancakes to cook. Toast a little bread and pick from three delicious jams to spread: a classic huckleberry jam, huckleberry apple butter, or something with a little extra pizzazz, a raspberry huckleberry jam blend. It's all the best flavors of Montana! With a drizzle of huckleberry syrup on those pancakes, the perfect morning is complete.
The Coffee Gift Bundle from Montana Gift Corral features all Montana made foods and drinks for that special someone to enjoy. From Morning Glory Coffee's deep rich obsidian blend to the decadence of Dutch Brothers caramel cookie waffles, there's a little bit of something in this gift bundle for everyone to enjoy! Each time your loved ones sit down with their morning cup of goodness, they'll be reminded of your generosity and kindness if you give them this Coffee Gift Bundle. Including the adorable coffee-cup-shaped basket, this gift bundle is a wonderful way to say thanks or I love you to someone special. You might even love it so much, you buy one just for yourself!
You can share the love of our Valentine's Day Gift Bundle all year! Inside this Valentine's Gift Bundle, you'll find a wonderful mix of Montana huckleberry chocolate, coffee, jam and a wonderful coffee mug with a custom engraving. The huckleberry goodies are all made by Montana companies who specialize in delicious huckleberry gifts and treats. Made with real huckleberries, your sweetheart will swoon over this gift bundle.
Everybody needs a little bit of sweet after something salty, then something salty after something sweet. The Sweet and Savory Bundle is the perfect to satisfy those cravings. The stunning recycled granite cheese board from Stonetek creates the foundation for your appetizers. Serve charcuterie featuring made in Montana Buffalo Salami from Chalet Market. Make any warm loaf of a bread an indulgent treat with the assorted jams from Roots Kitchen and Cannery and cinnamon honey butter by Limited Edition. Finish the night with caramels from Montana's famous Bequet Confections. Whether you're entertaining guests or having a cozy night at home with someone special, this sweet and savory bundle will set the evening off in the right direction.
The Spa Gift Bundle has a full array of products made in Montana by Windrift Hill to bring the spa to your home. Make drawing a bath and relaxing your evening plans because you deserve it! A lavender and lemongrass candle from Mixture Votive will set the mood for treating yourself. Pour in the bath salts and sink into a little bit of luxury. Moisturizing soap, oil, and lotion will help your skin feel it's best. Take the body butter with you for hydration and relaxation on the go.
This Montana Made Food Gift Box is packed with delicious food products from across the Treasure State, all for you to enjoy! Enjoy products from Chalet Market, Huckleberry Haven, Madison Smokehouse, and The Huckleberry People!
Written by Stephen McNeal and Cassi Miller
Updated on November 3rd, 2020.