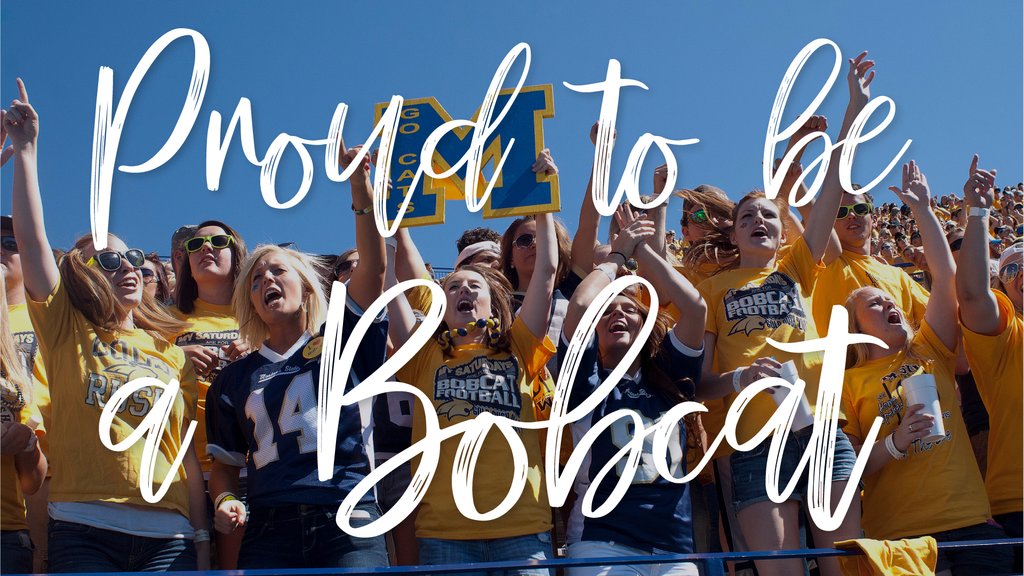 Meet Our Bobcats!
Here at Montana Gift Corral, we are huge MSU fans. In fact, several of our staff members are Montana State University alumni. From its stunning campus, to the community of die-hard Bobcats fans, we hold this unique university near and dear to our hearts. 
In honor of homecoming week, we would love to introduce you to a few of our Bobcats here at the Montana Gift Corral!
 Cassi - Creative Content Coordinator
Montana State University will always hold a special place in my heart. Not only did I receive my master's degree from there, I was also lucky enough to teach in the English department for 10 years. Through my experiences as a student and an educator, I have so many memories I cherish as a Bobcat. Watching football games, attending student art shows, and interacting with my students and colleagues every single day was an absolute joy. Even through the challenges of a graduate degree and teaching, I look back fondly at those times in my life. Being a Bobcat makes me feel like I'm part of a unique and proud community of people.
Averi - Montana Gift Corral Graphic Designer
As an MSU bobcat from 2016 to 2020, I would say that MSU has done so much to shape my career path into what it is today. From my professors to my classmates, I have always felt heard and cared about when it came to my college experience. Being in the graphic design program was tiring and difficult at times, as I am sure I am not the only one who has pulled an all-nighter or had a hard critique of my work, but seeing these experiences as anything other than growth would mean a wasted opportunity. After graduating, although nervous of the times ahead, I was grateful to have spent my time at Montana State University.
Alexa - Montana Gift Corral Content Creator
In 2018 I began my debut year as a Montana State University student at Jake Jabs College of Business. As a marketing major, I learned loads of information pertaining to how to navigate the business world in the age of technology. Aside from the value I gained from my degree at MSU, my heart will always be with this incredible university for the memories and relationships I have formed along the way. After graduating in May of 2021, I was able to score an awesome job at Montana Gift Corral in my intended field, and although I am now considered alumni, I will always consider myself a Bobcat at heart!
Here at the Montana Gift Corral, we are huge Bobcat fans! Whether you're a student, a parent, or simply a fan, you'll find something in our shop that will perfectly showcase your love for Montana State University. Here are a few of our favorite Bobcats gear this season:
1. Bobcats-Inspired Mug
Start your day off with a dose of Bozeman pride! If you are a big coffee or tea person, you need to get your hands on the Cats Script Cobalt Camp Mug. This oversized mug holds up to 15 oz. of your favorite beverage, and is perfect for keeping you caffeinated throughout the day!
2. Montana State University Pouch
You can never have too many storage pouches. If you have random accessories or art supplies laying around, you need to pick up the Montana State University Pouch by Cat Studio! This decorative pouch features a some of our favorite MSU iconic including duck pond, Montana Hall, and even the famous M trail! Declutter your life with this unique bag!
3. MSU-Inspired Can Cooler
There is nothing worse than a warm drink. If there is one thing we know, its that can coolers are a complete necessity! Kill two birds with one stone by picking up the Montana State University Collapsible Can Cooler - ensuring that your drink is always cold, while simultaneously showing off your Bobcat pride!
4. Montana State University Inspired Jewelry
If you are the type who loves to take your outfit to the next level with beautiful accessories, you need to get your hands on the Gold Plated Bobcats Script Necklace with Box by The Hamilton Group! This stunning gold-plated bobcats necklace is exactly what you need to add a touch of MSU-inspired fair to your game day garb!