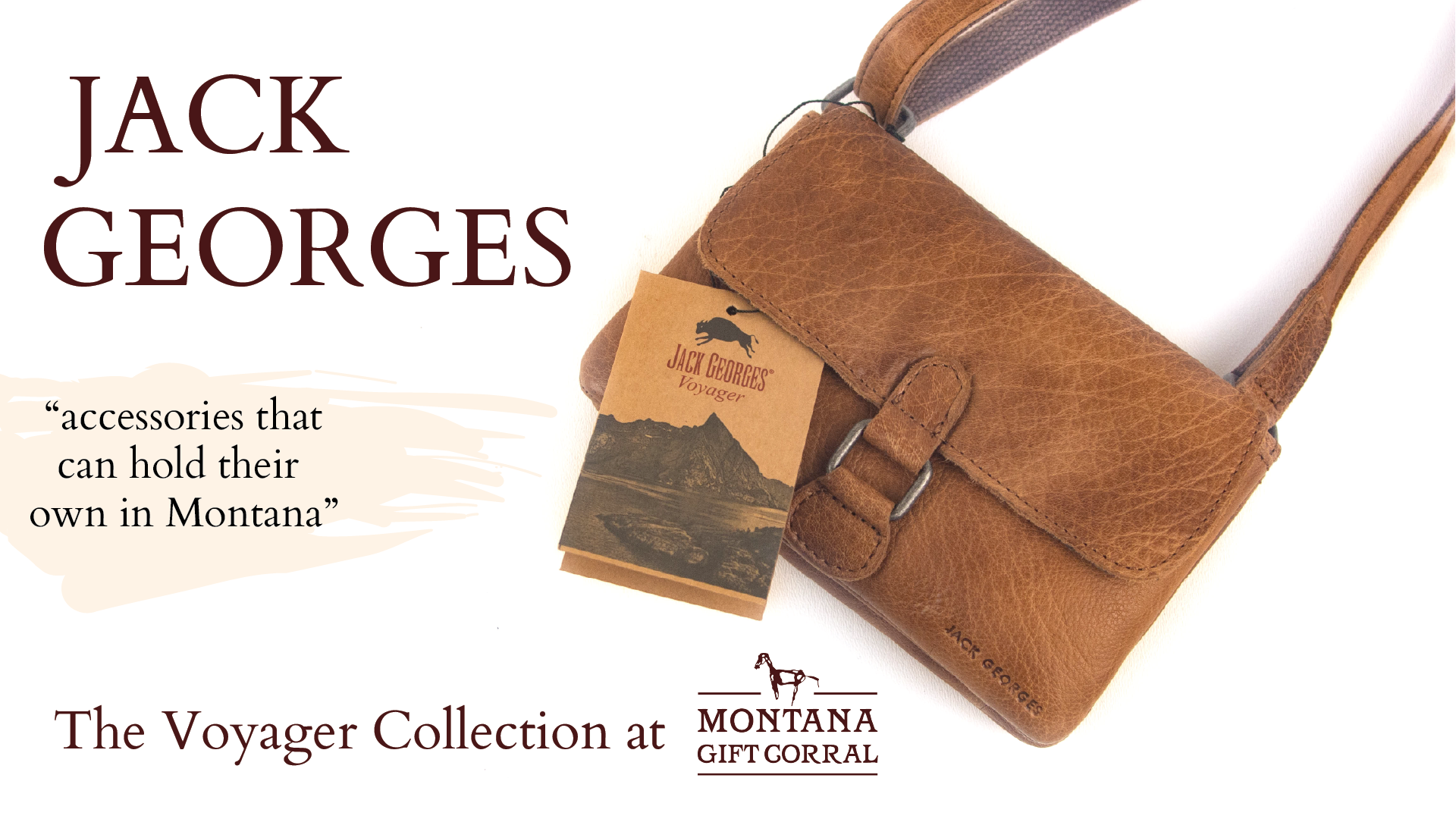 Jack Georges was founded in 1987 with the simple mission of creating quality leather goods. Three generations of leather craftsmen guide every product through design, development, and manufacturing. Hides are inspected carefully to ensure that every bit of leather used will not just last, but age well. Special attention is given to each product to ensure strong even stitching, a critical component of high-end leather goods. Jack Georges stands by each one of their pieces with a lifetime warranty demonstrating their commitment to quality and excellent customer service.
At Montana Gift Corral we are proud to offer Jack Georges Voyager line of leather luggage and bags. The Voyager collection of soft-structured business cases, backpacks, messenger bags, crossbody bags, travel bags, and accessories are built for traveling in style and comfort. Each item in this collection is constructed from hand-stained buffalo leather. This full-grain leather is not corrected, meaning the untouched grain maintains its full strength and durability. Over time the way you wear your Voyager bag will create a rich patina making it a truly unique piece you will be proud of. 
If you're flying out of town, Jack Georges has everything you need. The Voyager Wheeled Duffle Bag is an ideal size for a long weekend getaway. With two wheels and a telescopic handle, this can go from over-shoulder duffle to easy to maneuver luggage in an instant. If you're looking for something slightly smaller for your traveling without the wheels, the Voyager Cabin Bag is a feature-laden duffle that will make navigating your next vacation a thing of ease. If you've ever had to fly with a suit, you know how much of a hassle it can be to lug around a garment bag; Jack Georges has solved this issue with their sophisticated Voyager Large Convertible Garment Duffle. This Garment Duffle has three leather loops to accommodate three hangers and two large shoe pockets to keep everything clean and in its place.
The Voyager collection isn't just for the jetset hustling through TSA and terminals, there are a number of beautiful leather messengers and backpacks that will make everyday easier and more organized. Whether you're looking for an everyday backpack or a messenger for your laptop you'll find what you need. These leather bags work with whatever style the day demands: casual trip to the coffee shop, night out with friends, or meeting at the office. 
Jack Georges makes quality products that will become more supple and filled with character the longer you use them. The best endorsement I can give these exceptional bags is that our very own Les Gunderson, Montana Gift Corral's fearless leader, uses the Voyager Vertical Laptop Wheeler and the Voyager Full Size Messenger Bag daily. The Voyager collection is for those that care about what they carry.
Written by Stephen McNeal