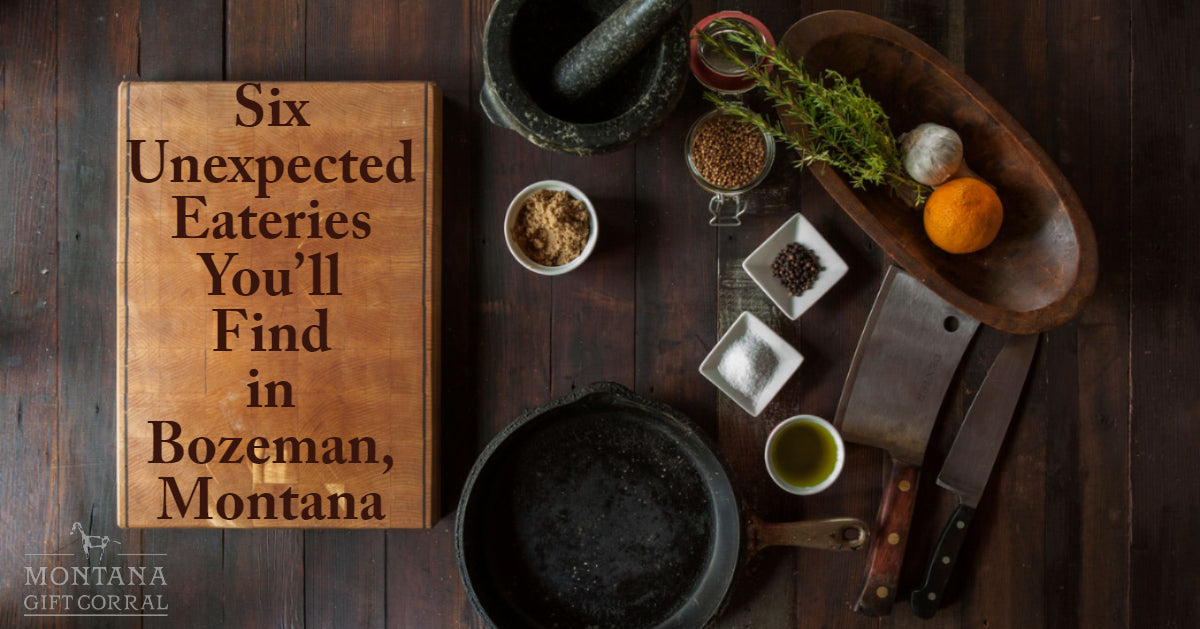 Six Unexpected Eateries You'll Find in Bozeman, Montana
    While Bozeman is considered a large and bustling city by Montana standards, it's still pretty small compared to the other large cities in the United States. And despite Bozeman's growing population and diversity, it still holds some Montana charm. And people expect barbecue and burgers and bars from Montana towns, after all, what's better than home grown beef accompanied by a beer? And while Bozeman has plenty of eateries featuring some fantastic Montana cuisine, we have some unexpected places that offer food that is just as tasty and exciting!  
.
Five on Black
Photo Courtesy of Christopher Carrales
    Looking for something quick, easy, and delicious? Well look no further than this delightful Brazilian food joint right in Downtown Bozeman! Five on Black was founded after Tom Snyder took a trip to Brazil in late 2011. While there he fell in love with not only the delightful taste of Brazilian cuisine, but with the attitude towards food too. Tom said "Here in America we attack the process of gaining nourishment like we're committing a crime. We get in, we grab it, we get out." His goal for Five on Black was to provide healthy, fresh, convenient, and inexpensive food that was a "titillating taste of Brazil mixed with a scintillating slice of Carnival." On top of that Five on Black has an upbeat and fun atmosphere that encourages people to sit down, take their time, and share their stories. Because you already found something you have in common with the stranger next to you.
.
.
Pakeezah
Photo Courtesy of Spencer Cornish
     There's something about a lunch buffet that makes your heart sing and your stomach growl. Even more so when it's offered at a wonderful Indian restaurant just off of Bozeman's historic Main Street! Brought to your by the geniuses at Curry Express in Belgrade, Pakeezah is an exciting restaurant that specializes in Indian cuisine. The word "pakeezah" is an Urdu words that means "Pure" and the owners of Pakeezah think it fits perfectly. The food at Pakeezah has a pure taste, made from pure recipes, the traditional style of preparing and cooking the food is pure and the desire to bring traditional Indian cuisine to Bozeman is pure too. Come experience exotic flavors, exotic spices at Pakeezah!
.
.
Lot G
Photo Courtesy of Lot G
    A huge trope of Montana is that you won't find anybody who participates in those newfangled diets. From vegan, vegetarian, to dairy free, to gluten free there is a stereotype that Montanan's don't really participate in that lifestyle. But Lot G doesn't agree with that mentality. With a genuine motto of "good food for all", Lot G has a unique quirk that you wouldn't expect from such an amazing place. Located in the Cannery District, the first thing you'll notice is the endless number of plants that decorate Lot G and give it a refreshing and pleasant atmosphere. Then you'll notice the counter where you get to order your food and a stack of menus. Classic biscuits and gravy, chicken fried steak, and breakfast lasagna are some of the items you'll see. But there's one fantastic thing about Lot G that you won't notice right away, everything on the menu is 100% gluten free, and the kitchen is more than happy to help with any other dietary restrictions you may have. At Lot G, they stand by their "good food for all" perfectly.  
.
.
Thai Basil
Photo Courtesy of Thai Basil
    From food truck to fantastic restaurant, the home of Bozeman's best curry (according to me at least) has come a long way! Years ago a food tent would pop up at the Big Sky and Livingston farmer's markets that offered some of the best Thai-inspired cuisine you could taste in the Big Sky country. However, they decided that in order to better store food and stay safe from the erratic Montana weather patterns, it was time to build a concession trailer and officially adopt the name, Thai Basil. After spending years traveling across the state for concerts and other events throughout Montana, Thai Basil began looking into a more permanent location. Now located near the corner of 19th and Oak, Thai Basil is a delightful restaurant that has stayed true to their roots and community. From a nameless tent with simple yet traditional Thai noodles and some dishes of their own invention, to a food truck, to a breathtaking storefront, Thai Basil is your local expert on all things Thai-cuisine.
.
.
Dave's Sushi
Photo courtesy of Dave's Sushi
     What started as nothing more than a joke with some friends slowly evolved into one of Bozeman's best sushi joints. In 2002, a software engineer by the name of Dave, was joking with his friends that he should just open up a sushi joint so he could feed his sushi-addiction. Well a couple of short months later Dave sold his first sushi roll. A local fish market had offered him a small corner so he could begin to turn his passion into a potential career. In February of 2003, the fish market closed its doors and said goodbye. But as we all know, an ending is also a beginning and Dave took over the lease. Today Dave's Sushi is a warm and inviting place with a casual and friendly atmosphere. So wander a few steps off of Main street to find a delightful place with amazing and fresh sushi with a "hang-loose" style inspired by Hawaii.
.
. 
Storm Castle Cafe
Photo Courtesy of Storm Castle Cafe
    Is any list of Bozeman eateries complete without a cafe that grows its own ingredients? Storm Castle Cafe and Catering is the result of years of hard work and an attempt to find the perfect blend between work and family time. The solution? A family owned restaurant that uses ingredients from the family farm! Storm Castle Cafe and Catering are owned and operated by the same wonderful family that runs Hilltop 7 Farms. The food here is classically american, including dishes like biscuits and gravy and country fried steaks. But you won't find fresher ingredients in the beautiful Gallatin Valley.
.
    Food is a fun and exciting way to experience the world. There are thousands of ingredients and a large portion of them can only be found in specific conditions. Saffron is a spice that is harvest from the crocus plant while Alba White Italian Truffles can only be found by truffle-pigs in one very specific region of Italy. As a result, different cultures and foods are heavily influenced by region, and thanks to our increasingly growing global community it's becoming easier to travel the world by simply enjoy some adventurous dinner. So take a trip to somewhere new and exciting without ever having to leave Montana.
    Once you're done eating you're way through the wonders of Bozeman, check out our wonderful selection of Montana made foods and drinks to try in the comfort of your own home!
.
.
By: Issa Rabideaux 
Updated by: Cassi Miller