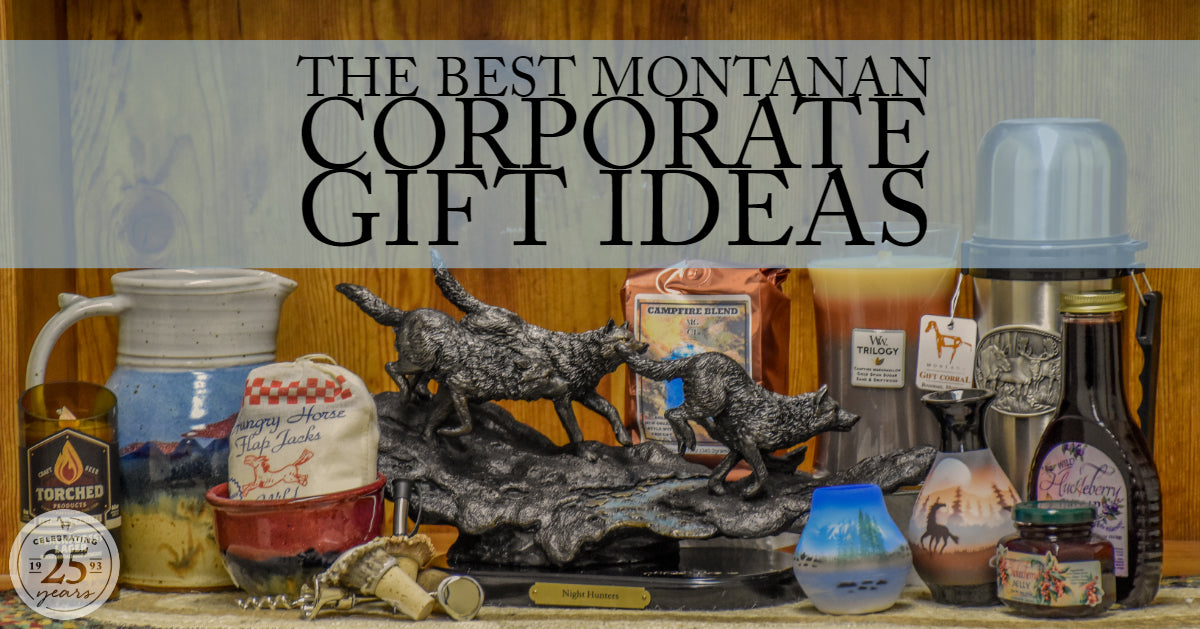 The Best Montanan Corporate Gift Ideas
    You appreciate your employees. How could you not? They are the backbone of your company, the hard workers who keep your business going, without employees you wouldn't be an employer. And with the holiday season fast approaching, now is the perfect time to show your appreciation! Why not give a little love this Christmas season by giving your employees a corporate gift? If you're a decent sized corporation you probably have quite a few employees under your care. And getting a gift for all of them could be spendy, so is it even worth it? The short answer is yes. Everyone likes to feel appreciated and if you've ever given someone positive feedback you've seen the way their eyes light up. Corporate gifts are a fantastic way to acknowledge all the hard work your employees do for you. And it also boosts morale, people will work twice as hard if they feel that their work is appreciated. Corporate gifts are really fun ways to show you care and are honestly just good business. Now corporate gift giving can be a pain. How are you supposed to find a gift that all of your employees will like, but is unique and reflects your company? So what to get? Check out our list of corporate gift ideas!
Sculptures
     A fantastic gift for anybody is a sculpture or figurine! Simple and easy, they make getting corporate gifts less of a chore. The hardest part about getting sculptures is trying to pick which ones you like the best! If you are looking for a cuter corporate gift idea you could try an adorable bird statue. A cute bird carved out of wood and with a design style inspired by the artwork of renowned artist, Dean Crouser, is a wonderful gift. Anyone would be lucky to add a little splash of color to their home with one of these adorable bird figurines! Want a more classic and elegant sculpture for your corporate gifts? A hand-cast resin sculpture would be the perfect solution! From a mighty elk standing on an edge, to a pack of wolves racing in the wind, to a fisherman helping his child, there is a wide range of beautiful sculptures to choose from.
Pottery
    If you're looking for something along the lines of sculptures but a bit more practical, pottery is always the way to go. Pottery comes in a wide range of different options, from elegant vases to beautiful kitchenware. Not only can pottery come in just about every shape and size but it can also come in hundreds of colors and the patterns each piece can have varies with the artists. There are beautiful wedding vases featuring white and brown clay and beautiful black paintings of bears and trees. There are pieces with wolves howling at the moon, and images of Montana's snow-capped mountains. Maybe you could get everybody a fun dinner set with beautiful golden mountains under a full moon, or pitchers with leaves growing along the sides. No matter what style of pottery you choose, you can be sure it's practical and also reflects the heart of your company!
Candles
    Who doesn't love candles? They are warm and pleasant, adding a homey feel to any space. Not only that but candles come in a wide range of amazing scents. Come home to the warm scent of freshly baked apple pie and relax while you feel your stress slip away. Or feel like you just stepped into the breathtaking pine forests of Montana with a pine scented candle. Listen to the crackle of a bonfire with special wooden wicks and feel soothed by the memories of late summer nights spent around the campfire. Or taste the scent of a vanilla bean latte, followed by a sweet caramel and topped off with a piece of almond biscotti in a triple scented candle. Candles can be personal and unique while also being a simple and fun corporate gift idea. Let your employees know you care with this mini rest-and-relaxation candle vacation.
Thermoses and Coffee
    If you have early hours at the office you understand the importance of a good ole' cup o' joe and a solid thermos. A great way to show your appreciation for your employees is to get them a thermos and a packet of amazing coffee to help them get their day going. Not only will it help them jump-start their morning, but it's a great way to acknowledge and tip your hat to the hard early hours they have to work. Thermoses can also be fun and unique! There are silver thermoses with beautiful metal engravings of Montanan wildlife, from bears to wolves to elk. There are also simpler travel mugs with beautiful watercolor paintings that include bluebirds, cardinals, flowers, and horses. You can also make the coffee unique! Give the employees with a sweet tooth some huckleberry coffee to remind them of summers spent berry hunting in the Bridgers. Get a dark roast for the people who need a little extra pick-me-up in the mornings, or get them a unique flavor like Orphan Girl Coffee. Either way, your employees will appreciate the appreciation and their new unique coffee!
Three Piece Wine Set
    To help your employees wind down after a long day at work why not get them a little something? A bottle of wine is a classy and simple way to relax and unwind. Not only that but you can make each bottle of wine as unique as your employees. There are hundreds to choose from, maybe a delicious Moscato De' Austi or a rich Pinot Noir. To tie them all together, or if you don't want to spend hours browsing different wine selections, you could get everyone a fun three-piece wine set! A three-piece wine set typically includes a stand, a wine opener, and a wine stopper. A truly wonderful gift that says you're always there for your employees. The three-piece wine set helps them open their wine so they can relax. While also offering a way to preserve it for a later date! Show your love for your employees by helping them unwind after a long day of helping you!
Gift Box
    How can anybody say "no" to food? Nobody. Food is amazing and everybody knows it. Which is why food boxes are such a common gift during the holidays! And a fantastic and traditional corporate gift to show your appreciation is with a gift box! Now that doesn't have to be food, it could be something more personal to your company or it could be something that focuses on bath products and candles. Maybe a gift box focusing on local products from local artisans. Even if you decide to go with a food box you have plenty of options! There are sweet ones, meat and cheese ones, and ones that feature locally made food too! No matter what type of gift box you choose, your employees will get the message loud and clear. They are appreciated, acknowledged and cared-for!
    No matter what corporate gift you decided to get for your employees it's guaranteed to make them feel loved and respected. While some businesses have given vacations and drones as gifts, your employees will smile when they receive their beautiful new pottery set or take the first bite of their new snack box. And remember, even if trying to find a corporate gift that's perfect for your company seems daunting it will be worth it. Corporate gifts mean happy employees which means hard-work and that's just good business! Give a little to get a little this holiday season with the perfect corporate gift!
By: Issa Rabideaux
Photos courtesy of the Montana Gift Corral and Issa Rabideaux