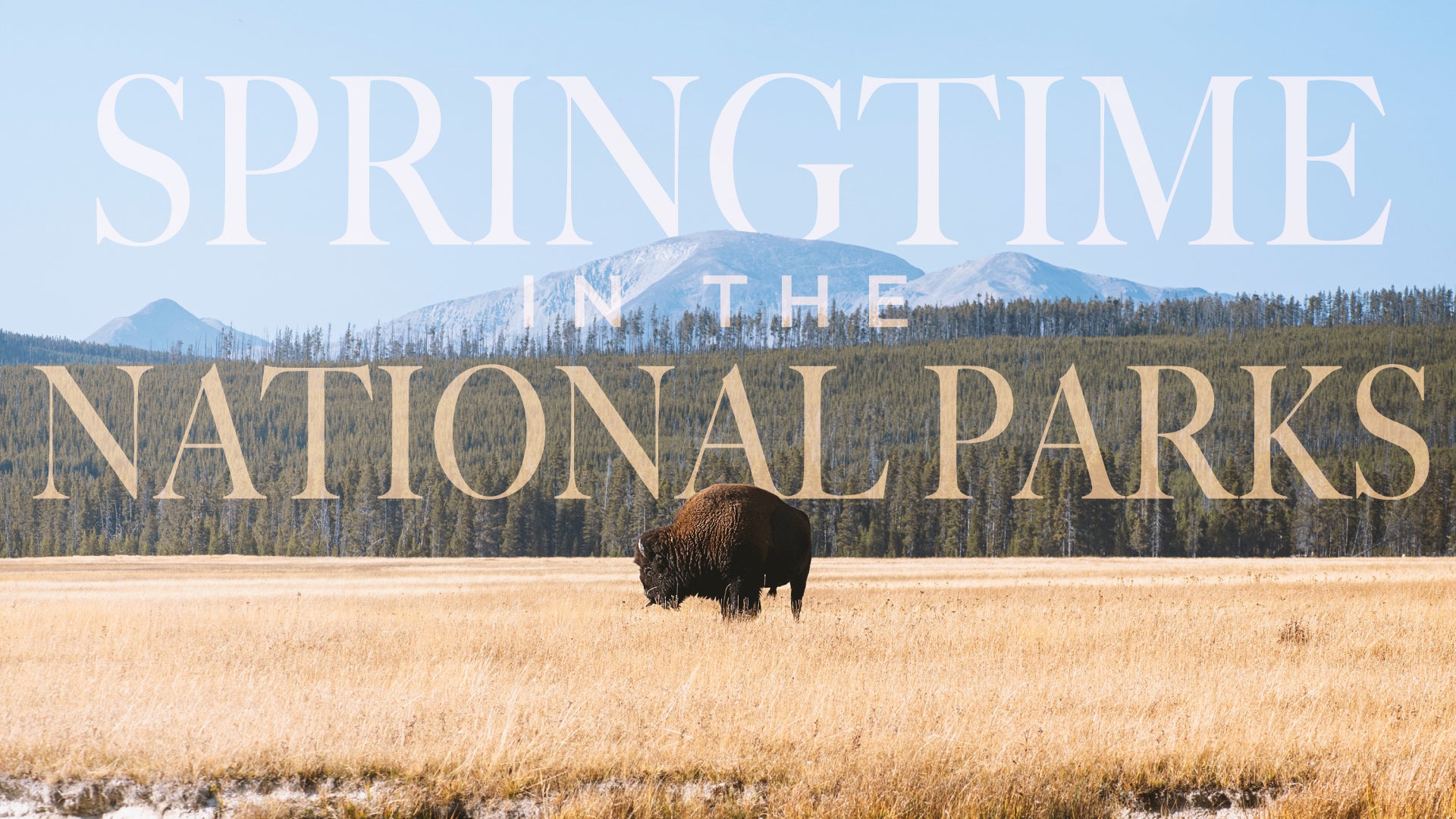 Springtime in the National Parks - What to Expect!
If you're an avid outdoors-lover, Montana is the place to be! From hiking to trail running, sightseeing, and even birdwatching, you surely won't be bored within the bounds of the Big Sky State. But if you're looking for the ultimate outdoor adventure, we highly recommend checking out Montana's National Parks; Yellowstone National Park and Glacier National Park.
Are you planning a spring trip to one of Montana's stunning national parks? They're beautiful no matter the season, but there are a few things you should know to make sure your adventure goes smoothly. Here's what you need to know when planning your springtime National Park adventure:
Yellowstone National Park
Did you know that Yellowstone was the very first national park, first opened in 1872? It's an amazing place where you can experience unique hydrothermal and geologic features. Spanning over 2.2 million acres, you'll find fascinating wildlife in its natural habitat, have the opportunity to view geothermal areas that contain nearly half of the world's active geysers, and can explore stunning scenery - the Grand Canyon of the Yellowstone River being one of our favorites. It's truly a one-of-a-kind destination!
Did you know that Yellowstone National Park spans across three beautiful states - Montana, Wyoming, and Idaho? But guess what, we Montanans are super proud to have not just one, but three out of the five entrances to the park right here in our state! That's right, we've got the north entrance, northeast entrance, and west entrance ready and waiting for you to explore.
Don't forget to secure your park passes. You can do so using this link!
Grand Canyon of Yellowstone National Park - Wyoming
When does Yellowstone National Park Open?
Typically, Yellowstone National Park opens its roads to non-motorized traffic in late March or early April, so you can get out and walk/bike through the park without worrying about cars. And if you're planning to drive, don't worry, the roads are usually open for cars in mid-April, depending on the weather and driving conditions. Keep this in mind when planning your Yellowstone adventure!
Views along Grand Loop Road from Tower Junction to Canyon Village - Wyoming
Spring Weather in Yellowstone National Park
Yellowstone National Park experiences a wide range of weather conditions throughout the year, and spring is no exception. In general, spring in Yellowstone is a time of transition from winter into warmer temperatures!

In the early months of spring, visitors should expect cold temperatures and a possibility of snow or even blizzards. As spring progresses, temperatures gradually warm up, and the snow will begin to melt. Spring weather in Yellowstone can be unpredictable, with sudden changes in temperature and the possibility of rain, sleet, or snow. If you decide to visit Yellowstone National Park this spring, make sure you come prepared with layers of clothing, waterproof gear, and sturdy shoes suitable for hiking in muddy conditions.

Despite the unpredictable weather, spring is a beautiful time to visit Yellowstone National Park! Plus, due to the cooler temperatures, the park is typically less busy this time of year.
Spring views of the Yellowstone River along the Rescue Creek Trail
Wildlife in Yellowstone National Park During the Spring
Spring is a special time in Yellowstone National Park, as its vast variety of wildlife begins emerging from hibernation and it also marks the beginning of the breeding season for many animals.

As you probably already know, one of the most iconic animals in Yellowstone is the bison, and springtime is one of the best times to see these mammals. Bison calves are typically born between April and May, and visitors may be lucky enough to witness these adorable youngsters taking their first steps and nursing from their mothers.

Other wildlife that can be seen in Yellowstone during the spring includes bears, wolves, coyotes, foxes, mountain goats, bighorn sheep, elk, moose, and numerous bird species. They are so incredible to see, however, it's important for visitors should remember to always maintain a safe distance from wildlife and never approach or feed them, as this can be harmful to both the animals and humans.
Bison in Yellowstone National Park
Spring Activities in Yellowstone National Park
Yellowstone National Park is an incredibly beautiful destination for outdoor adventurers, especially during the spring season.  
This time of year, the park is usually less crowded, providing you with an opportunity to explore its breathtaking beauty in tranquility. From wildlife watching to camping and hiking, visitors can explore the park's natural wonders and create lifelong memories with friends, family, and loved ones!
Hikers along the Yellowstone River Trail with Electric Peak in the distance
Glacier National Park
We might be a bit biased, but we truly believe that Glacier National Park is one of the most breathtaking places on the planet! With more than 700 miles of trails, this park is a haven for adventure enthusiasts from all over the world. You'll be able to explore stunning alpine lakes, see melting glaciers up close, and even take a drive on the famous going-to-the-sun road. There's so much to discover within the boundaries of this amazing national park located here in Montana!
Springtime at Logan Pass, Glacier National Park
When does Glacier National Park Open?
Glacier National Park is open year-round, which is awesome news! Just be aware that if you want to visit the Going-to-the-Sun Road, the North Fork, Two Medicine, or Many Glacier, you'll need to reserve a vehicle spot ahead of time. Each location requires a separate reservation, so make sure to double-check the details for each one. From November 1 to April 30, there's a $25 entrance fee for a single, private, non-commercial vehicle (like a car, truck, or van). The pass is non-transferable, but the good news is that visitors can enter the park at any time. If the entrance station isn't staffed, don't worry – there's a self-registration area where you can purchase a 7-day park pass. Or, if you're planning on visiting the park multiple times throughout the year, you can purchase a season pass for just $70!
One thing to keep in mind is that passes tend to sell out quickly, so be sure to secure yours as soon as possible for your exciting Glacier adventure!
Learn more and get your passes here!
Spring Weather in Glacier National Park
If you're planning a springtime trip to Glacier National Park, it's good to know that the weather can be pretty varied. The park covers a huge area with lots of different elevations and microclimates. Spring temperatures within the park can range from below freezing to around 60°F in the lower areas.
If you're exploring the lower parts of the park, you might see melting snow and ice, and even some wildflowers starting to bloom. But higher elevations could still have snow on the ground, and some trails or roads might be closed because of it. So it's always best to check the park's website or give them a call to get the latest trail and road conditions before you head out!
When you're packing for your trip, it's a good idea to be ready for any weather possibilities. Since the temperature can change throughout the day, it's smart to dress in layers. You'll also want to bring a warm, waterproof jacket in case it's rainy or snowy! Plus, if you're planning on hiking, it's a good idea to wear waterproof boots, since some trails might be muddy or slippery. 
Overall, visiting Glacier National Park in the springtime is sure to be super fun and memorable! Just make sure you're prepared for whatever Mother Nature might throw your way.
Spring Fog in Glacier National Park
Wildlife in Glacier National Park During the Spring
Glacier National Park is home to a diverse array of wildlife, and springtime is a great time to spot some of these amazing animals! As the snow begins to melt and the weather warms up, many of the park's critters will become more active.
From bears to mountain goats, elk, moose, and of course, bighorn sheep. As mentioned before, It's important to remember that these animals are wild and should be treated with respect and caution. Visitors should keep a safe distance from wildlife and never approach or feed them!
Overall, spring is a wonderful time to visit Glacier National Park and experience the park's incredible wildlife. With a little patience and some luck, visitors may be able to spot some of the park's most iconic and beautiful animals in their natural habitat.
Whitetail Deer near McDonald Creek
Spring Activities in Glacier National Park
Spring in Glacier National Park is a great time to explore the park and take part in a variety of outdoor activities. With the snow melting and temperatures starting to warm up, visitors can enjoy hiking, camping, fishing, and wildlife watching. The park's many trails offer stunning views of the mountains, lakes, and forests, and visitors can spot a variety of wildlife along the way. Fishing enthusiasts can cast a line in one of the park's many lakes or streams, while camping enthusiasts can enjoy the peace and tranquility of the park's campgrounds. Spring is also a great time for photography, as the park's wildflowers begin to bloom and the landscape is transformed into a colorful wonderland. With so many things to see and do, a springtime visit to Glacier National Park is sure to be an unforgettable experience!
Bikers Enjoying the Spring Views in Glacier National Park



Don't forget! April 22nd is National Park Day! Enjoy a fee-free day Yellowstone or Glacier National Park. Happy adventuring!



***

Written by: Alexa Jorgenson, MGC Content Creator
Blog Cover by: Averi Thompson, MGC Graphic Designer
Photography by: Yellowstone National Park Flickr, Glacier National Park Flickr