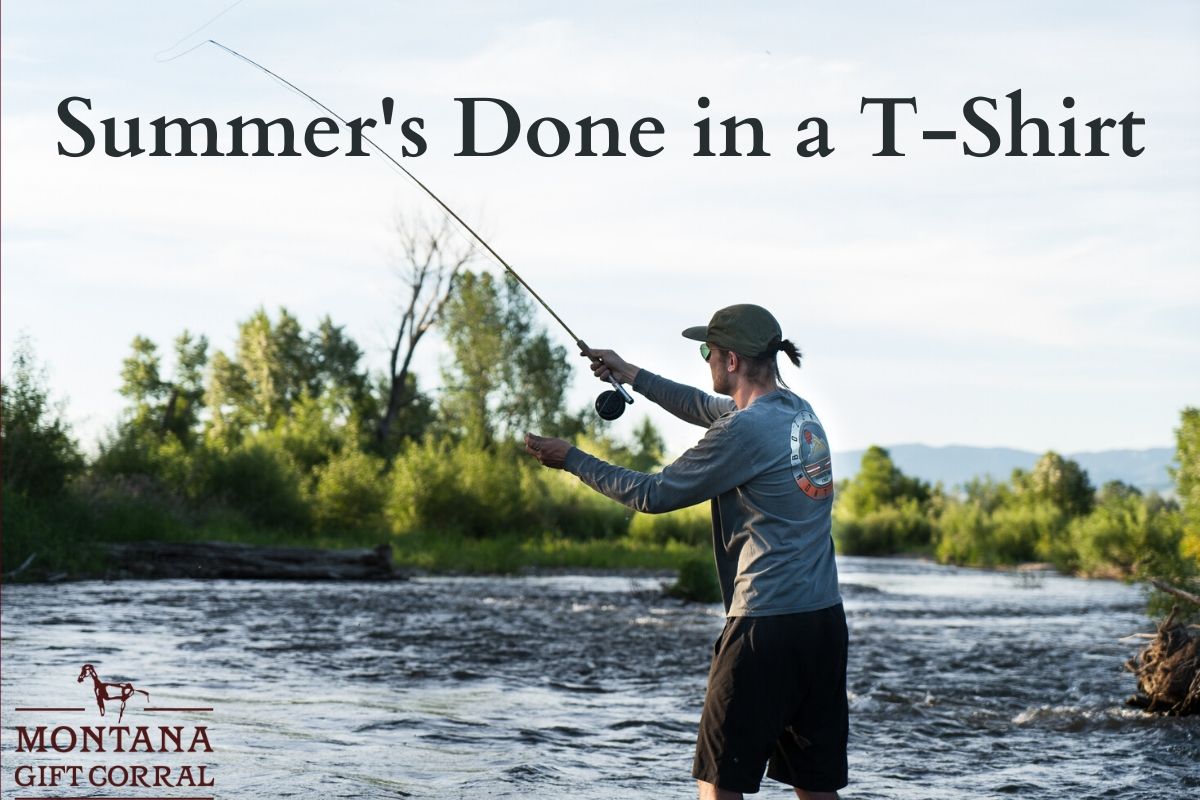 Summer's Done in a T-Shirt
T-shirts are a crucial part of my wardrobe all year. They're the foundation of my style. In the winter, they're the first part of my layering. Come spring, I usually go with a t-shirt and jacket for bouncing around town and, if I'm skinning uphill on a sunny day, I'll probably be down to just a tee. In the fall, it's a flannel over an old reliable t-shirt. In the summer, though, the t-shirt is king. Nothing beats strolling down main street Bozeman and up Pete's Hill to watch a big sky sunset on a warm summer's night in your comfiest t-shirt. This is the perfect time to fill your t-shirt drawer with the softest and most stylish t-shirts you can find!
When it's t-shirt weather, head to your favorite spot with outdoor seating. MAP Brewing lets you take in the entire expanse of the Bridger range while downing delicious pints. Make the most out of Montana's long summer days with a trip to Sweet Peaks; after a day fishing, mountain biking, or hitting the trails, you deserve a cone piled high! Brunch on the patio at Cateye Cafe is one of my favorite spots to get a big meal and a mimosa if you're in need of a little hair-of-the-dog. Honestly, you can't go wrong anywhere in Bozeman sitting outside for something to eat or drink. With your favorite tee, solid shades, and a smile, you're good to go!
Band of Color Mountain Tree Shirt by Prairie Mountain
I know you're not spending your summer stuck in the confines of Bozeman. You're heading to your favorite spot on the river to cast a line and bumping along a dirt road to trailheads all over this great state! Whether you're casting a line or floating for a few miles, you'll need a trusty tee thrown over your bathing suit top, sunburned chest, or that shirt that smells a little too much like trout. Whether you're hitting a local trail or going out for a few nights of backpacking, you'll quickly find out why this is called the last best place.
Graphite Blueprint Mountain Grizzly Montana T-Shirt by Prairie Mountain
Whatever t-shirt you're looking for, we've got you covered. Show off your Bobcat pride with one of our Montana State University Tees. Show your love for Montana State Parks with a t-shirt from Lewis & Clark Caverns State Park and our incredible national parks with iconic scenes from Yellowstone. We have some awesome shirts for those that call Bozeman home or their home away from home. I'll be grabbing a few of our shirts that have a vintage aesthetic to round out my t-shirt collection.
Montana State University Bobcats Montana Tee by Hamilton Group
Move fast on these styles because they are moving quickly! 
Mustard Divested Mountains Montana T-Shirt by Lakeshirts
Written by Stephen McNeal
Photography by Zach Altman and Chris Wood