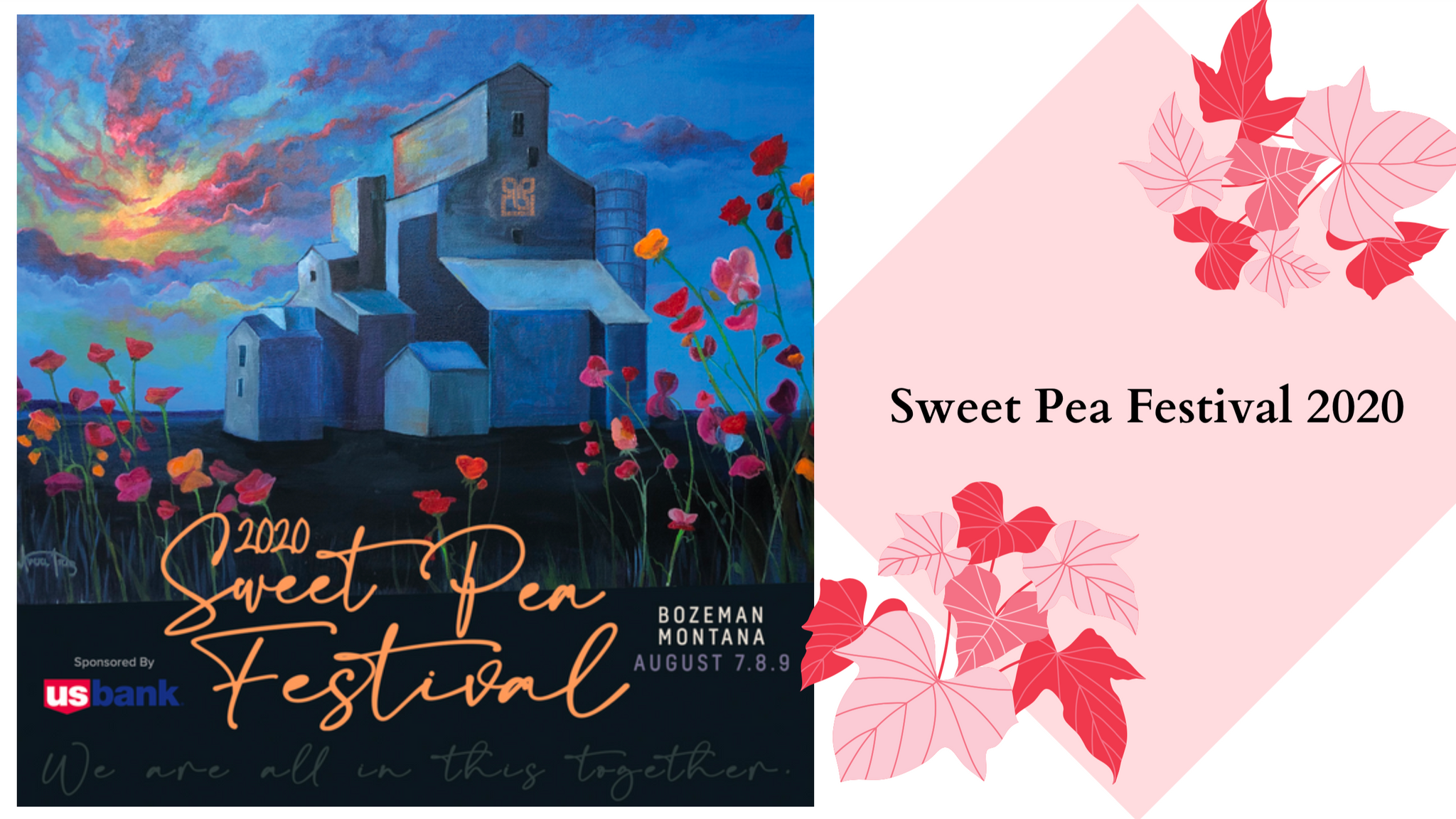 The 43rd annual Sweet Pea Festival is going to look different this year, but that doesn't mean it won't be fun!
While the pandemic has taken the world by storm, the board of directors decided to cancel or modify most of the festival for the safety of the artists, vendors, performers and the community. 
"It's a disappointing decision for sure but the heart of the matter is the health and safety of all of our Bozeman community," said executive director Kris Olenicki, according to a story from the Bozeman Daily Chronicle.
Don't fret! You and your family can still enjoy some of the classic Sweat Pea traditions, like Chalk on the Walk in Downtown Bozeman and Drive-Through Tater Pigs at Lindley Park!
Children running in the Sweet Pea Parade in 2019. Image Courtesy of the Bozeman Daily Chronicle.
Here are some the events and best ways to support Sweet Pea, SLAM and our artists and vendors in the community this week during the 43rd annual Sweet Pea Festival!
Buy a Virtual Wristband
Image courtesy of Unsplash.
Needless to say, this is a tough year for Sweet Pea, a non-profit whose sole revenue comes from the festival. By purchasing a virtual wristband on the Sweet Pea website, your donation helps get the festival through to 2021, and helps support the artists and vendors that were effected by not being able to participate this year.
Chalk on the Walk
Chalk on the Walk in front of Montana Gift Corral in Downtown Bozeman, 2018. 
Is Chalk on the Walk still happening? Yes! This socially-distanced event will take place Tuesday, August 4th all day on Main Street in Bozeman. Pick up chalk at the Sweet Pea office, 424 E. Main St., or bring your own. Please make sure to wear a mask and stay 6 feet away from other chalk artists. Oh, and be certain to stop by professional chalk artist Bill Spiess in front of US Bank!
Drive-Through Tater Pigs in Lindley Park
Tater Pigs have long been a hearty Sweet Pea Festival classic. The Chord Rustlers will be selling tater pigs in Lindley Park on August 7th & 8th from 3PM - 7PM and August 9th from 12PM - 4PM. The cost is $5 a dish. Cash only, no change! Quick and simple. This is a touchless drive through.
Sweet SLAM Tour d'Arte and Auction
While you won't be braving crowds during the festival this year, you can still safely tour and auction from local artists!
Sweet Pea and SLAM have come together this year to host the Sweet SLAM Tour d'Arte and Auction. On August 8th from 11AM - 7PM you'll be able admire and purchase art directly from local artists in front of their studios or in small outdoor gatherings around town. There is also an online auction that will remain open until August 9th at 8PM. Visit the tour website to learn more!
Buy 2020 Sweet Pea Festival Merch
Another fun and easy way to support the festival this year is to buy merchandise! Choose from a funky collection of originally designed clothing, hats, drinkware and more! Plus there are a limited number of 2020 poster special edition giclee prints for sale (signed & numbered) by local teen artist Averi Iris Smith. There are only 100 of these available! 
For the full schedule of events and more details visit the Sweet Pea website!
Written by Zach Altman