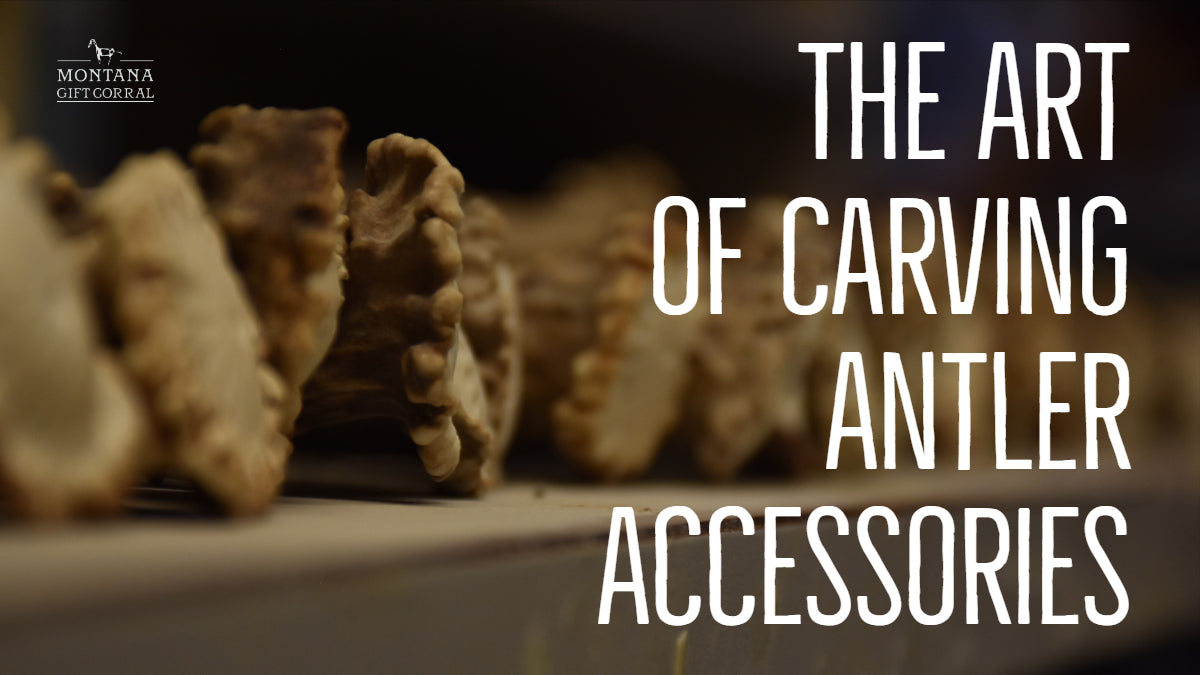 The Art Of Antler Carving
Following High Country Arts artist Don Burda

Antler art has become a very unique way to add a rugged, yet classy feel to everyday items. Western decor has always created a cozy, cabin feel for any home. Deer, Elk, Moose, and many other antlered animals shed their horns seasonally, which creates an unlimited supply of animal sheds. The renewable resource has become a popular way to decorate your house with Western flair. Local craftsmen have custom built chandeliers and lamps for homes, cutlery and knife sets for kitchens, and even cribbage boards for entertainment.  
Artist Don Burda Photo By: High Country Arts 
Here at Montana Gift Corral, we carry our own line of antler accessories, crafted by High Country Arts. Don Burda, founder of High Country Arts, began his craftsmen journey in 1969 when he had worked for the Forest Service. As he explored the wilderness, he collected shed after shed, gathering more than he could store. Boxes and boxes of sheds filled his shelves. He knew he needed to make use of his hobby.
Don is a natural creative. With an artist outlook, He began exploring the use of antlers to flake stone tools and arrowheads. As he began understanding the way antlers performed with crafting, he began creating belt buckles as a hobby. As people began seeing the craftsmanship and skills he had developed, he began growing a small fan base. With encouragement from friends and family, he launched his company, bringing the antler art eventually to our store. How does Don take this unique resource and create pieces that wow viewers every time? Piece by piece. Literally.
Step 1: Gathering Antlers
Image by Utah Division of Wildlife Resources
First, the sheds are gathered, of course. Shed hunting is a popular hobby in Montana, and finding them requires knowledge of how deer behave. Following trails, finding bedding areas, and even looking for antler rubs are a few of the secrets to tracking down sheds. Bucks will scrape  their antlers on trees, leaving distinct marks in the bark.
There is also a fair amount of activity in selling sheds. Locals will gather them and sell to Don to help him keep up with demand. It creates a great connection with other outdoorsmen and ensures that Don can continue to use the renewable resource.
Step 2: Imaginizing
Image by Issa Rabideaux
Next, The antlers are sorted through. This part is where creativity is key. Imagining each antler as a finished product can be difficult, but they are slowly organized into their categories of craft. A single shed can be used for multiple items. For many of the pieces, the antlers tine is used as handles for cutlery. The burr is also used for many things, including wine stoppers or bolo ties. The center of the antler is then used for cutlery holders.
Step 3: Cutting the Antlers
After the antlers future is decided, the cutting begins. Cutting antlers is treated pretty closely to the process of woodworking. One difference between wood and antler is the center. An antler has marrow towards the center -  a spongy, dry material that becomes more prominent towards the burr. Once all the antlers have been cut to their designated sizes and shapes, they can be sanded down to get them ready for the next stage.
When creating cribbage boards, hundreds of holes must be drilled into the antler, all in succession. A cribbage board contains 121 holes per player. Cribbage boards are Don's most personal pieces, and he make sure that he is able to play a game on every cribbage board he makes before selling them. 
Step 4: Sand and Polish
Once the shape is determined, the antlers are sanded down. Using multiple grits of sandpaper and a belt sander, the edges are rounded and the sharp pieces are cleaned up. The antlers are then polished with a polish rag and perhaps slightly colored with natural dye to help smooth out any edges and to help seal the antler. From there, hundreds of different items can be created.
Step 5: Assembly
Don loves exploring form and function when it comes to his assemblies. His work has got him globally recognized. His line has been carried by Cabela's, Rocky Mountain Elk Foundation, and many other western accessory outlets.
The final piece is assembled and fastened together. Glues, screws, and wedges are all used in the process depending on the piece. For mass orders, the original carving is sent to a molding factory where it is molded and cast. At Montana Gift Corral, we only carry the original pieces with deer and elk antler.
The final pieces are all unique, not one being alike. Don says the toughest thing is finding 4 handles that fit perfectly in a set. He will sort antlers for days, finding the perfect pieces for his sets.
additional images by Kree Gullings
written by Kree Gullings
Check out what Don made for