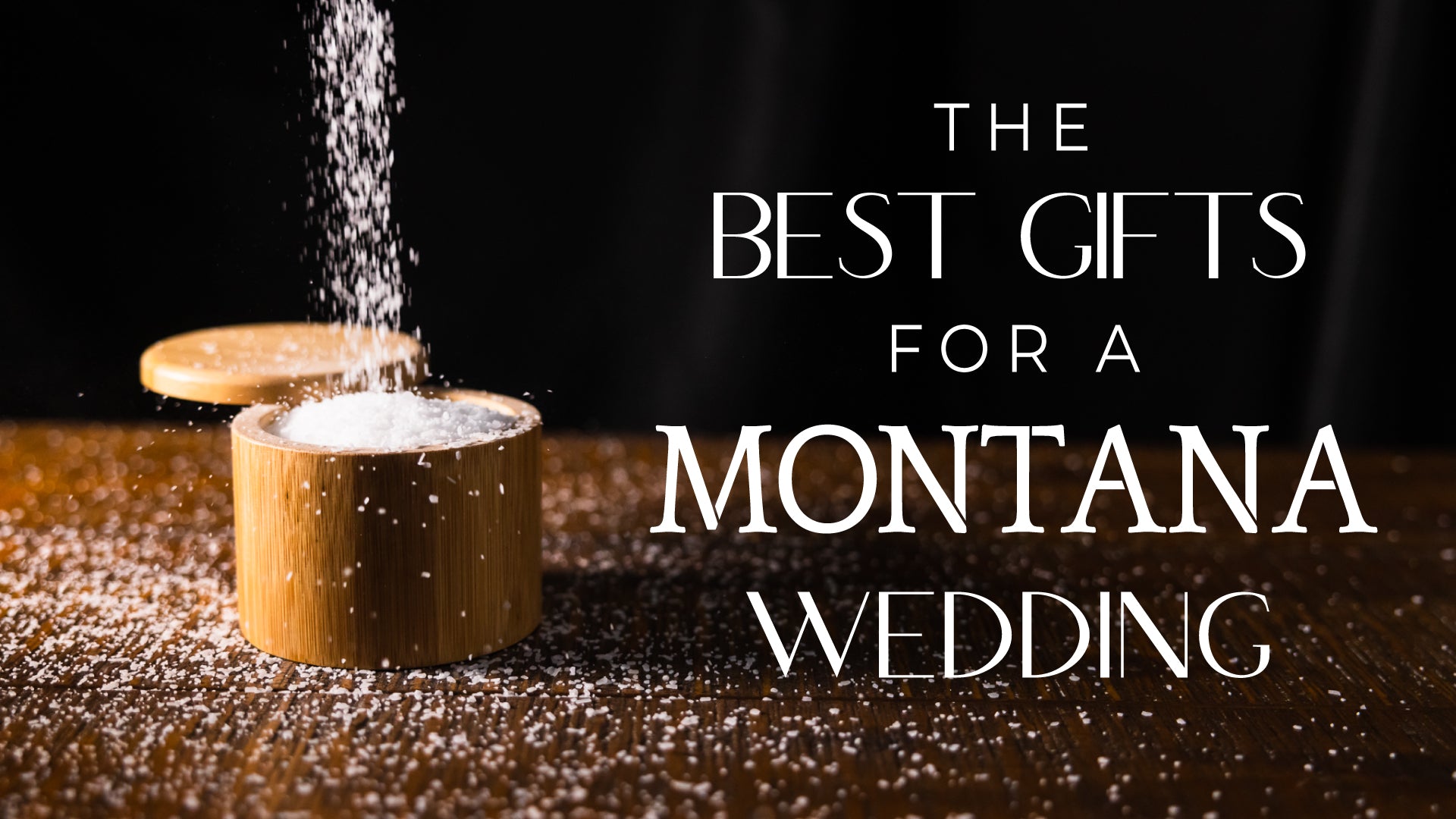 The Best Gifts for a Montana Wedding!
The sky's the limit when it comes to Montana weddings! Nothing compares to celebrating this important life milestone with your loved ones under the big, beautiful skies of Montana. If you've been invited to a wedding in this breathtaking state, count yourself lucky!
Shower any newlyweds in your life with Montana Gift Corral's selection of great gifts! Whether it's a special keepsake or a luxury item, we have something perfect for every newly married couple.
Kitchenware from Totally Bamboo
Celebrate the newlyweds in your life with a functional and stylish gift they can use everyday! Our selection of products from Totally Bamboo is sure to bring joy to the couple who loves to cook and entertain. 
Totally Bamboo is a company that was founded on over 20 years of innovation. What once started out producing bamboo directors chairs soon switched directions after finding out that bamboo is an excellent material to use in the kitchen. A truly remarkable and renewable resource: Bamboo has a higher tensile strength than steel yet is light enough to be easily carried by anyone. Not only is it a better material option, but it's also better for the planet. Plus, did you know that bamboo is gentler on your knives?
Finding the perfect wedding gift can be tricky, but one thing is for sure - any product from Totally Bamboo will make a beautiful and thoughtful present. From cutting boards to kitchen utensils, salt boxes and storage racks - your special couple will wholeheartedly appreciate it!
Round Salt Box by Totally Bamboo


Jack Georges Accessories for the Honeymoon
Let the newlyweds start their journey to a lifetime of bliss in style! With our high-quality leather bags from Jack Georges, your newly married friends, family, or loved ones will experience nothing but luxury and ease on their grand honeymoon.
Since 1987, Jack Georges has been crafting the highest quality and value leather bags and accessories that are both stylish and functional in design! Today, more than 30 years later, this company still maintains that core value. From selecting the finest leather to meticulous inspection, every step of crafting their quality product is taken with great care and attention. The skilled craftsmen of Jack Georges guarantee that each item is painstakingly handmade with the utmost precision and attention to detail!
This one-of-a-kind company offers everything from backpacks to cross body bags, purses, wallets, and even luggage tags, making them the perfect wedding gift for any globetrotting couple!

Home Décor from Meissenburg Designs
A meaningful way to commemorate your loved one's special day - artful home décor from Meissenburg Designs, made in Montana with love! Show them they are loved and cherished on their wedding day with a meaningful gift that will last a lifetime. 
Years ago, Loyd and Laura took a trip to Montana and found what they could only describe as true nirvana. When they discovered Bigfork, they knew this was the place they wanted to call home - so they sold their house and moved right up to the foothills of the Rocky Mountains! We have them to thank for bringing us Meissenburg Designs. From design to delivery, support local and shop small with Meissenberg Designs. Their unique designs are handcrafted and handmade in Montana with the highest quality of materials - perfect for the home or a special custom wedding gift.
By partnering with a variety of talented artists, Meissenburg Designs is able to craft and distribute brilliant wildlife and nature-inspired home décor around the nation. From pillows to aluminum panel art, and wooden designs, we know you'll find the perfect wedding gift for any soon-to-be-married couple!
 Welcome to the Mountains Montana Matchbook Sign by Meissenburg Designs


Ultimate Funky Rock for an At-Home Bar
It's time for the special couple to upgrade their home bar with our sleek Chrome Cobbled Beverage Dispenser by Funky Rock! Trust us, this super cool bar accessory is just perfect for any cocktail enthusiasts. 
This Chrome Cobbled Beverage Dispenser by Funky Rock Designs is hand-made in New England with an eye for detail and a beautiful finished product; showcasing beautiful quarried granite and hand-selected beach stones. It's the perfect home bar addition nobody even know they needed. Show your support for hard-working artists in their craft and get one as the perfect wedding gift today!
Looking for some other bar accessories that would perfectly pair with this stone beverage dispenser? We have a vast selection of goodies that are simply perfect for your cocktail enthusiast newlyweds! 
Chrome Cobbled Beverage Dispenser by Funky Rock


Rustic Table Setting by Park Designs
Adding the perfect touch of rustic charm to any newlywed's home! Beautifully designed table settings from Park Designs are sure to make the perfect heartfelt gift for any couple.
Discover timeless and unique home and kitchen textiles at Montana Gift Corral, all with superior quality, care, and service - thanks to the brilliant team over at Park Designs! Their philosophy remains true: a fair price, complete range, and fantastic design that'll give any home the nature-inspired edge it needs.
From table runners to dishware, we know that any married couple will adore our line of rustic home accents from this wonderful company!
Products featured in photo:
***

Written by: Alexa Jorgenson, MGC Content Creator
Photography by: Luke Clark, MGC Photographer
Blog Cover by: Averi Thompson, MGC Graphic Designer