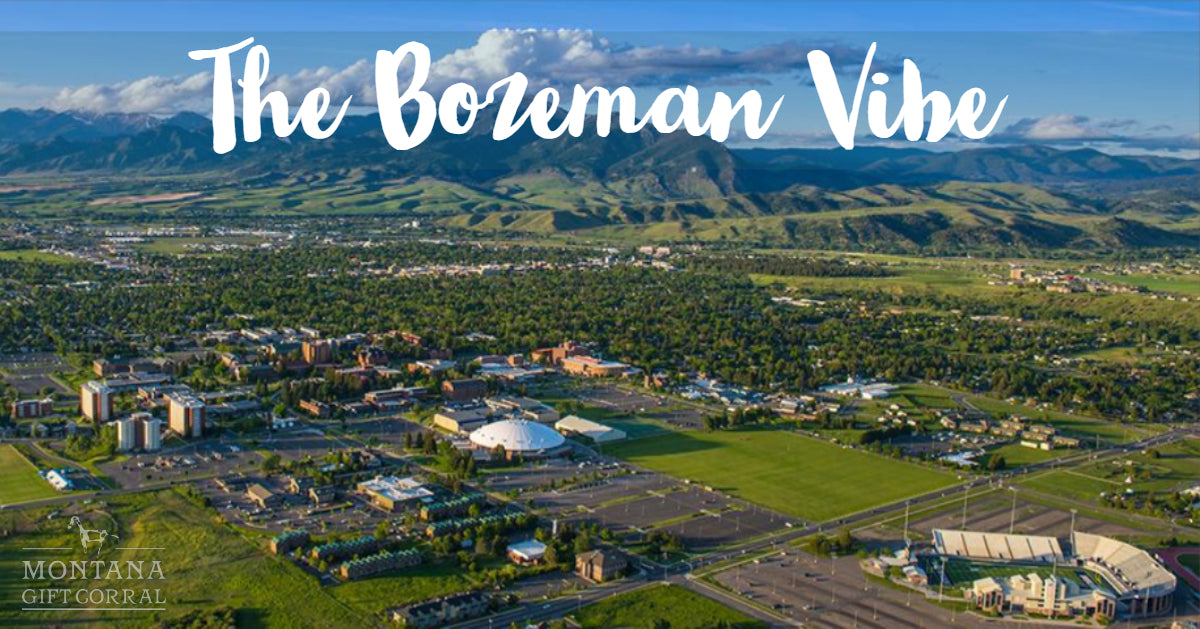 What is the "Bozeman Vibe"? I have been struggling for days trying to think of a succinct way to describe our beautiful and bustling city. From the beginning, Bozeman was a crossroads of sorts. It was a place where people from different places and walks of life could meet and rest before they continued their journeys, or a place they could settle down and call home. Today, Bozeman is still a place where cultures meet and meld. From the old cowboys who spend their evenings discussing cattle and drinking a beer, to the college kids who spend their nights studying in tea shops or forgetting their troubles in bars, to the ski bums and snowbirds and drag queens and artists, Bozeman is home. We're all pretty different, and yet, we have a lot in common.
Never Hike Alone
Photo courtesy of OutsideBozeman
    A sentiment almost every single person in Bozeman can agree on is that dogs are the best. And it's not hard to see just how dog-friendly Bozeman is! Bozeman is home to over thirteen dog parks, and has an endless number of trails that are both on-leash and off-leash! Even strolling down Downtown you'll see evidence of our love for our canine companions. From stores selling "Never Camp Alone" gear to water bowls left in front of stores to our very own dog cafe.
 .
.
Share the Road
Photo courtesy of Montana State University
    Bozeman is all about leaving the roads behind in favor of trails, and bikes are a great way to do that! Almost every major road in Bozeman has a bike lane running along side it. And more often than not, where the road ends, the bike trails will begin! Bozeman even has bike trails that lead out of Bozeman and take you straight to the mountains!
.
.
The Mountains Are Calling
Photo courtesy of Livability
    One of the biggest draws of the breathtaking Gallatin Valley, is the endless amount of outdoor recreation. Bozeman is only a short drive or shuttle ride to Montana's best ski mountains that average 400 inches of snowfall a year. Come spring, that snow melts into raging rivers that we can't help but raft down at top speeds. We have mile after mile of hiking trails, connecting every mountain peak and valley if you're willing to make the journey on foot. Hiking, camping, backpacking, skiing, snowboarding, rafting, floating, fishing, hunting, rock climbing, ice climbing, bouldering, and nearly any other outdoor activity you can think of, you can experience in Bozeman.
.
.
Stay Local
    Bozemanites are loyal and are more than willing to do whatever it takes to support their community. From shopping at local grocery stores to picking local coffee shops, Bozemanites love anything and everything Bozeman. And it's easy to see! City Brews dominate shopping areas where a Starbucks would be in other cities, and instead of shopping at Smith's or Safeway we prefer our Town and Countries and, of course, the Co-Op!
.
.
Get Inspired
Sweetpea Festival of the Arts courtesy of Sweetpea.org
    Another way we like to stay local is with our arts and entertainment! The Gallatin Valley is a beautiful, unique place that inspires people in more ways than one! Painters and photographers seek to capture and share the beauty of the valley. Writer's let their imaginations run wild as they wander from mountain peak to valley creek. Performers look at the beauty and originality and work to embody that same gorgeous individuality.
.
.
    Overall, Bozeman is a place full of opportunity and beauty. We have a thriving Downtown that has an endless number of events going on. From MSU's pep rallies to trick-or-treating to music festivals to comedy shows to operas to rodeos to car shows to drag shows and everything and anything in between. We don't lock our doors, we drink too many White Claws, we wear cowboy boots while we browse art galleries and sip locally brewed beer instead of wine. We all know each other through a mutual friend in one way or another, we go to the rodeo in the afternoon and finish the night with a show from one of our local performers. We have cowboys and drag queens and LARPers and athletes and ski bums and hipsters.
.
     Bozeman is just a crossroads where people from all walks of life come to share our experience. We stay local so we can get inspired by the call of the mountains, and while we head for adventure, we share the roads and never hike alone. We're just a bunch of people lucky enough to call this place home. 
.
.
By: Issa Rabideaux