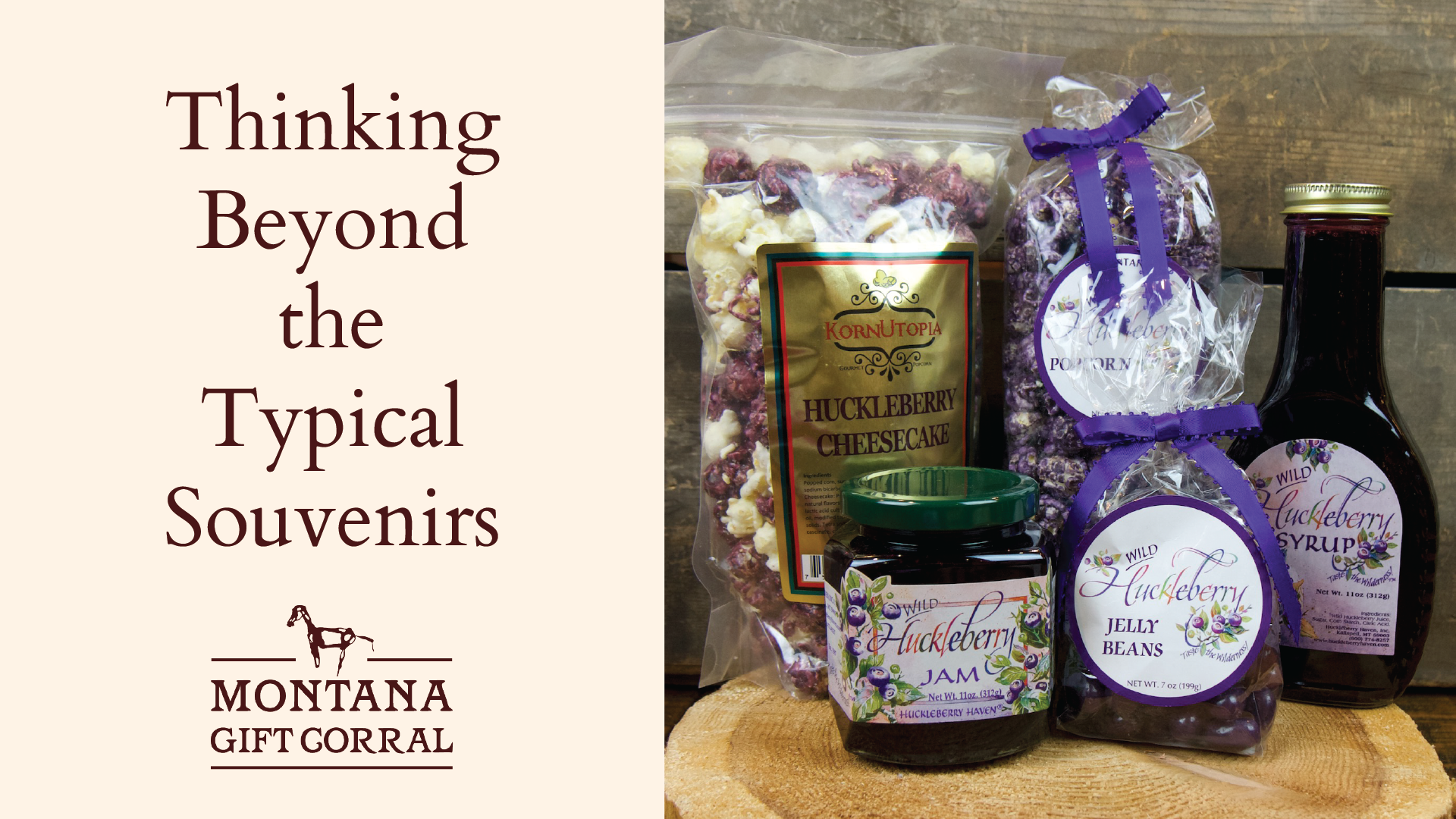 Thinking Beyond the Typical Souvenirs
An endless sky stretches above you, held up by massive mountains. Clouds drift through the sky and pine trees creep up the sides of the cliffs and beside you, a river rushes along. Your vacation in Montana is going wonderfully. However it's nearing the end and you want to get yourself some souvenirs, plus you promised all your friends you would bring them something. But what to get? Everyone gets t-shirts and mugs and magnets with the words "Montana" written on them, so why not try something a little more unique? Look below to find help thinking beyond the typical souvenirs.
Coasters
Photos courtesy of Montana Gift Corral
Everyone enjoys having a cold beverage with them when they are lounging around. But not everyone enjoys the water ring that most cups and cans leave behind. Cute and casual, coasters are an easy and simple way to add a little character to a room without ruining your furniture. And the coasters are unique! Look around, you can find coasters for the fisherman in your life, for the hunter or booze lover. Get coasters that feature beautiful artwork or proudly show off where you got it. No matter who it's for or where you put it, coasters are always a fun and unique way to show off where you've been!
Wine Stoppers
Photos courtesy of Montana Gift Corral
Classy and delicious wine is a beverage anyone can appreciate. And if you have a wine lover in your life, I have the perfect souvenir for them! Wine stoppers in Montana are as diverse as the wildlife. Have you admired the metal silhouettes of animals? There are beautiful wine stoppers modeled in a similar fashion. There are wine stoppers made from antlers, a truly Montanan thing to do. Wine stoppers shaped like the Montana state mammal, holding adorable signs, and wine stoppers shaped like little gnome-chasing monsters. From the darkest of Cabernet Francs to the sweetest of Moscatos, a wine stopper from Montana is sure to compliment the flavor and color.
Keychains with a Twist
Photo courtesy of Montana Gift Corral
    Did your friends ask you to bring them back a flask? Or maybe a keychain? Why not get them both? These cool keychains aren't your typical souvenir. Made from stainless steel these keychains are shaped like flasks, and can hold up to 1oz of your beverage of choice! The flasks will also show off your Montana adventure with beautiful pewter plates depicting some of the amazing and diverse wildlife you can find in the Big Sky Country. So grab a few for those hard-to-shop-for friends, or for the friends who will appreciate souvenirs with a twist.
Huckleberry What?
Photo courtesy of Montana Gift Corral
Unless you drove to Montana and went right to a relatives house, the display above is familiar. Chocolates, marshmallows, ice cream, honey, pretzels, and popcorn are all traditional treats that you can find with a Montana twist. Huckleberry is a favorite flavor in the Treasure State and it makes sense with how many huckleberry bushes there are. And a classic Montana souvenir is anything flavored with local huckleberries. But why stick to the status quo? If you enjoy a delicious BBQ, why not bring home some huckleberry flavored sauce? Or if you prefer to relax with a nice cup of tea, Montana has huckleberry that too!
Doorstops
Photo courtesy of Montana Gift Corral
I don't know about you, but I have been home alone and had a door slam shut too many times. I suppose I could keep all the windows shut and never enjoy fresh air in my home, or I could find a way to keep the doors from moving. Doorstops are the perfect way to make a home feel more inviting as well as adding a unique flair to your home. And Montana souvenir doorstops come in all shapes, sizes, and styles. From simple squares featuring the work of local artists to ones shaped after some of Montana's favorite wildlife, you can keep your doors open and keep your own style. Whether you get one for a friend who adores hummingbirds, or for yourself in the shape of your favorite animal, a doorstopper is sure to be a delightful and unique souvenir for a unique and wonderful experience!
Garden Art
Photo courtesy of Montana Gift Corral
Lawn art is not a place where you can find a ton of variety for options. You can either get a pink flamingo or a series of garden gnomes… until now! Fred Conlan creates "Garden Art That Doesn't Suck" using old junk metals from around the world. His "Gnome Be Gone" metal sculptures are the newest way to highlight a garden, and make the perfect way to remember your visit to Montana. The figures vary from a
cowboy
with a lasso, a
hunter
with a gun, a
skier
, and even a guy with a
guitar
!
Bearfoots Bears
Photo courtesy of Montana Gift Corral
Have you been looking for something Uniquely Montana to help warm the home? Jeff Fleming, a local Montana artist, has been carving Bearfoots Figurines for years. Nothing says Montana like a Bearfoots Bear with a secret drawer in his cozy log home.  Need a hand holding up all your books? Bearfoots Bookends will help keep your novels upright on bookshelves! Two adorable bears on each side will make sure your books keep organized and ready.  Perhaps you need help from these cute little bears at the dining table! These two bears will hold your seasonings and toothpicks for you whenever you need to add a little zing to your meal! 
 By: Issa Rabideaux