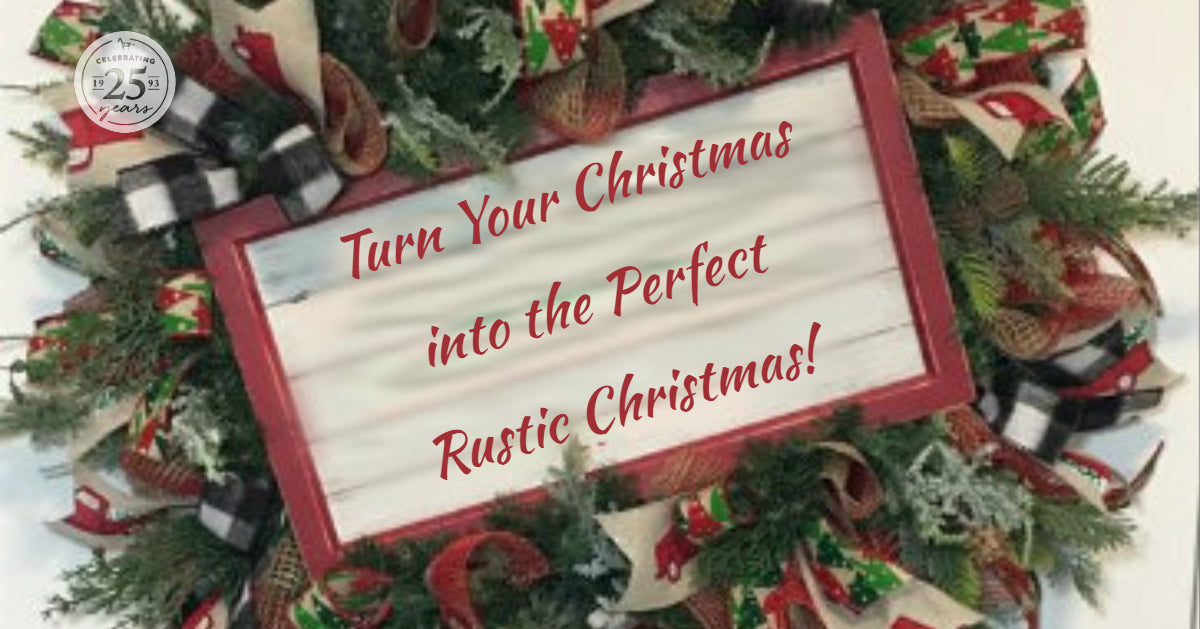 Turn Your Christmas into the Perfect Rustic Christmas!
    Christmas is a time to celebrate the things you love the most in life! From things as important as your friends and family to the little things like your cup of coffee or your favorite hobby, Christmas is a wonderful time to celebrate the things that make you smile. However, that does not include the stress of trying to coordinate and decorate for the perfect Christmas scene. That's where the Montana Gift Corral comes in. At the Gift Corral, Christmas isn't just one day a year, it's all day every day. And we have all of the know-how you need to create the perfect rustic Christmas setting this holiday season!
Colors
Photo Courtesy of Layla Palmer
    The first step to designing anything is picking out some fabulous colors. Whether you're redecorating a room, planning a party, or just getting ready for the holidays your color palette is important. The rustic style of design is characterized by an emphasis on natural and rugged beauty. The rustic style also relies heavily on creating a natural warmth, drawing from the images of warm cabins and the earth. Warm and Earthy colors are best for creating a rustic feel. Keep in mind that you should use warm browns with soft reds and oranges to help decorate your home this Christmas instead of just the traditional red, green, and white. A great way would be to incorporate more shades of red into your decorating. Maybe make your own garland this year and use bark paper mixed with green, red, and warm-hued construction paper. Or use some sheer brown garland mixed with some of your white lights to give your home a more Rustic Christmas feel!
Patterns
Photo Courtesy of Allison Timothy Design

    When you think of a pattern for a rustic Christmas you almost certainly think of plaid. But why? Well, in the 1850's after plaid made the jump from Europe to America in the 19th century, a company called Woolrich Woolen Mills created the well-known Buffalo Plaid. Afterward the bold red and black stripes became a trademark for lumberjacks and other outdoor professions! It's the close association with outdoorsmen and lumberjacks that makes plaid the perfect addition for any rustic decor. Another wonderful pattern to incorporate into your Rustic Christmas would be the Southwestern Motif pattern. The southwestern motif is inspired by the patterns and designs from different Native Americans. The Southwestern Motif was largely inspired by the weaving designs of some of the prominent tribes of the Southwest; the Navajo, Hopi, and Pueblo. When people set out to create and find an identity for the Southwest, they naturally turned to the beautiful weaving patterns of the tribes of the region. Now the warm and earthy tones of the pattern are blended gracefully with other styles to create the Rustic feel we all know and adore.
Photo Courtesy of Better Home and Garden

     To make your Christmas a bit more rustic try and find ways to incorporate the Buffalo Plaid or Southwestern Motif into your decorations. Maybe swap your plain red stockings out for some beautiful plaid stockings. Or Drape a patterned blanket over the back of your couch, it will add to the rustic feel while also making the room feel warm and cozy!
Weathered Wood
Photo Courtesy of Cherry Tree Gallery
    When you first hear the word "rustic" there are a few things that come to mind. However, one of the first scenes you probably think of is of the country. "Rustic" conjures images of vast rolling hills dotted with deer that are gently grazing and a large old barn nestled at the base of the hills. Why not take that rustic scene and bring it into your home? A great way to add a rustic touch to your home is with weathered and distressed wood. The faded and aged look of the wood will instantly remind you and your guests of beautiful barn wood. But how do you decorate for Christmas with distressed wood?
     That's where you can get creative! A fun way to add a little more rustic decor to your home this holiday season is with simple yet elegant paintings. Gather up some blanks of wood, old or new, and distress it. Some easy ways to make wood look weathered is with a wire brush, it will mimic the years of being exposed to the elements. Use some old chains, screws, and nails and gently hit them with a hammer until the wood has been left with idents and blemishes. Once your wood planks are good and worn, it's time to make them festive! Simply gather up some paint in traditional Christmas colors as well as some twine or burlap. Paint simple (or complex!) Christmas patterns into the wood, add a little twine here and a little burlap there and ta-da! Simple yet classy rustic Christmas decor!
Rusted Metal
Photo Courtesy of Montana Gift Corral
    Warm colors, buffalo plaid, and weathered wood aren't the only things that help make the world a little more rustic. Think of the most rustic scene you can conjure. I bet that somewhere in that mental picture, there is some old rusted metal in it. Wood and metal have been around for centuries and is what we make most of our tools, homes, and other goods from. And just as weathered wood makes us think of rustic cabins nestled in pine forests, rusted old metal does too. However, waiting around for metal to rust could take a while. A few quick tips to rusting your own metal includes rubbing the metal object down with sand-paper to remove any protective coating. After that spray the object with white vinegar, hydrogen peroxide, and salt, but make sure you wear protective covering! Or, if you aren't in the mood to wait for metal to rust or rust your own metal, there are some wonderful artists who dedicate their lives to their rustic metal art. And that beautiful art includes some stunning rustic metal ornaments that would add the perfect touch to your Rustic Christmas this holiday season!
Nature-Inspired Decor
Photo Courtesy of Issa Rabideaux
    Rustic decor is classified as using warm and earthy tones to create a natural and rugged design. Using warm colors, classic outdoor-inspired patterns, weathered wood, and rusted metal are all fantastic ways to create that wonderfully rustic feel. However, there is something that is more natural and beautiful than any of those things. Incorporating animal and plant decor into your Christmas planning this holiday season is the perfect way to complete the Rustic Christmas look! Use extra pine garlands to decorate mantels, shelves, and staircases as well as to make your own unique rustic wreaths. And adorable animal decor is more than abundant during the holiday season! From Santa figurines posing with adorable little arctic animals to scenes of woodland critters decorating their own Christmas tree, there are plenty of cute Christmas-themed animal decorations to choose from!
   Decorating for Christmas doesn't have to be a chore. It can be a fun and exciting chance to get to express your creativity! Whether you go out and find some rustic Christmas decor or you gather up your closest friends and break out the arts and crafts, it should be a fun and memorable experience! So go out, get creative and crafty, and have a wonderful happy holiday!
By: Issa Rabideaux
Cover Photo Courtesy of DeVine Creations by Mel