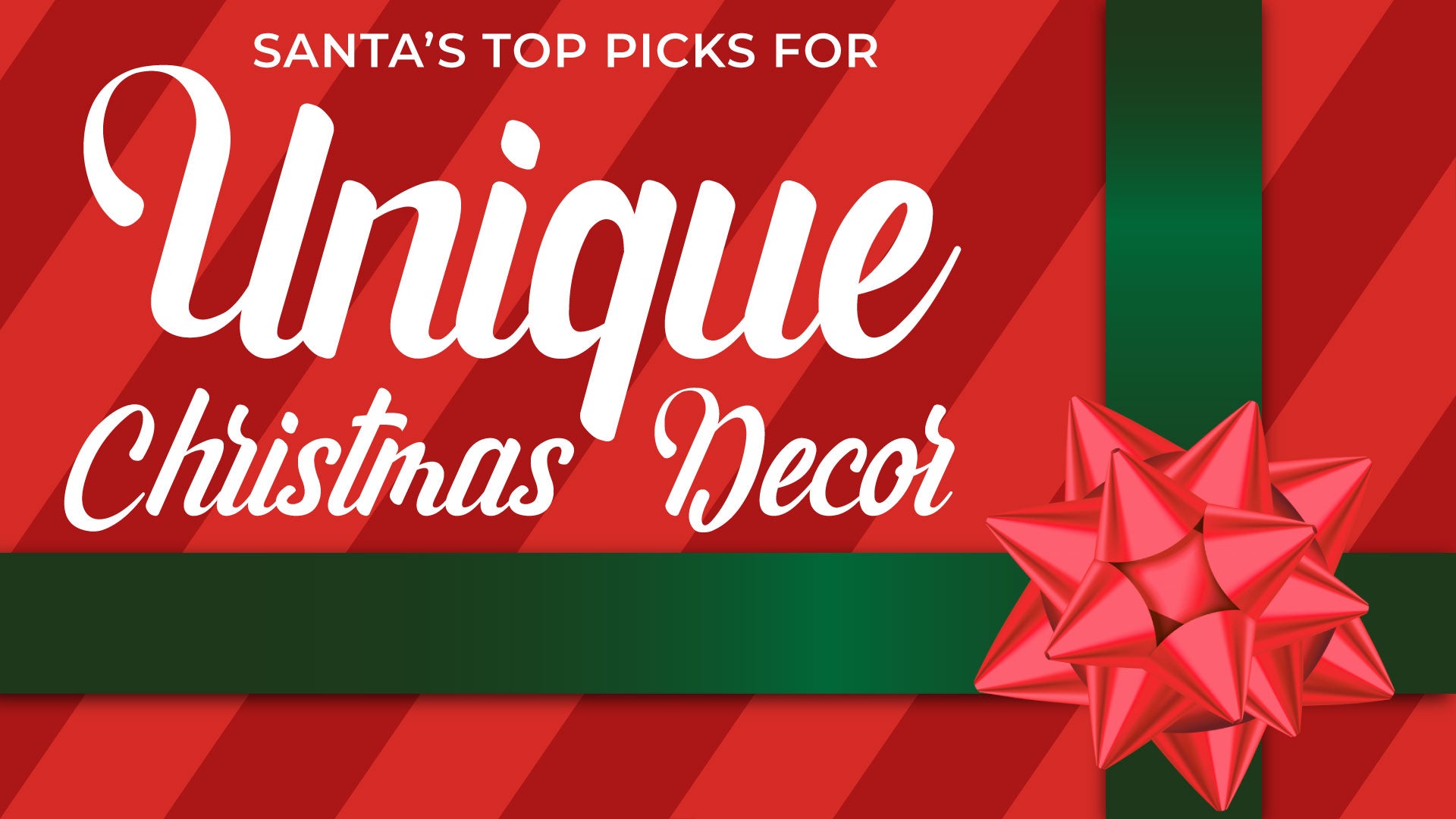 Unique Christmas Decor for Your Home
When I tell you I love decorating for Christmas, I mean I love decorating for Christmas. This year, I couldn't even wait for December 1st to unpack my decor. Because the weather has been so warm, I actually hung my outdoor Christmas lights in October. HA! Now of course I didn't turn them on then, but it was very satisfying to just plug them in and watch them go at the start of December. Okay okay, it was more like November 27, but I couldn't help myself. When it comes to decorating the inside of my home, I always dream of having that Better Homes and Gardens, perfectly color-coordinated Christmas display, but let's be real, that never happens. In fact, I've lovingly nicknamed my Christmas tree the "sparkly junk drawer."
There is no theme. There is no color scheme. It is a hodge podge of ornaments collected over the years from traveling places, hand-me-downs from family, and some I can't even trace the origins of. But, I love it. Once those branches are filled and those lights are twinkling, I burst with Christmas joy! 
When I search for new goodies to add to my decor, I'm looking for really unique Christmas decorations. Red and green baubles are great, classic and beautiful. But that doesn't really match my sparkly junk drawer vibe. So, here's a few of my favorite unique Christmas decorations that we sell that I love if you're looking for something unique and unusual for Christmas decorating!
It seems wherever you turn, Christmas gnomes are very in. Whether it be in shop windows or in Facebook ads, gnomes are hot. But, we don't just carry any ol' Christmas gnomes. This stout little fellow is definitely unique from his head to his toes. His skinny little legs and the tipped red hot are whimsical and fun. I particularly like his hat because it's something so different. He's a nice size, so to me he fits in well in any space. I like him right next to my entertainment center so when people walk into my house, they get a little Christmas greeter! Cute!
To really appreciate this unusual Christmas decoration, you have to see it lit up! The glitter! The lights! The snow globe effect! It's a one-stop Christmas extravaganza! Plus, I'm such an animal person, so I love the thought of Santa listening to the Christmas wishes of these puppies. And if you look closely, you can see they are loaded in the truck and ready to bark their way into Santa's heart. How cute! At night, it's comforting to see the soft sparkle of this water lantern next to your Christmas tree lights. I have it placed on a little bookshelf in my office, which adds just the right dose of Christmas cheer when I'm working.
If you haven't noticed by now, there's a theme with what I consider unique Christmas decorations. I love things that light up! So picture this: freshly fallen snow, alpenglow, and a warm little cabin with a wood stove. Pure. Holiday. Bliss. And while we might not all get to experience that, it's still fun to look at, right? That's why I love this lighted print! I won't be spending Christmas in a cozy cabin, but I hang this right above my TV and I can dream about it. There's a button on the side that when pressed, lights up the cabin windows and activates some twinkly lights around the foreground of the photo. Nothing makes me happier than to shut off all the lights in my home and watch movies only with my lighted Christmas decor.
Nothing gets more classic Christmas than Santa, right? Sure. But, he doesn't only have to be wearing his bright red suit and shaking like a bowl full of jelly. RAZ Imports offers a line of Santas in different, unique outfits like this Nordic guy. If he's got to travel the world in 24 hours, I'm sure he has a wide variety of outfits for all sorts of climates, right? I mean, the arctic circle is pretty dang chilly! Fur-lined boots and a coat make sense to me. And who doesn't love a hat with a pom on it? This Santa is just about 20" tall. At that height, I actually like him under my Christmas tree as part of that whole display. It's very unique.
This might be the most traditional piece of Christmas decor on my list, but any ornament by Inner Beauty is absolutely unique. I've always known that these Christmas ornaments were painted from the inside, but I didn't ever realize what that meant until I saw a live demonstration. The entire process of putting the painting on glass has to be reversed. As in, they start with the most outer details, like eyes or the snow on the tree branches. Then, the rest of the image is painted. What amazed me is how quick the artists are. On an ornament like this Marcello Corti GIfts for Everyone ornament, they have that painted in 25 minutes to a half hour. I was thoroughly impressed. If that doesn't say unique, I don't know what does!
I hope that gives you some ideas about how to decorate your home for Christmas this season with some really unique decorations.Be sure to check out all of our Christmas decor collections because I'm sure you'll find something perfect for you.