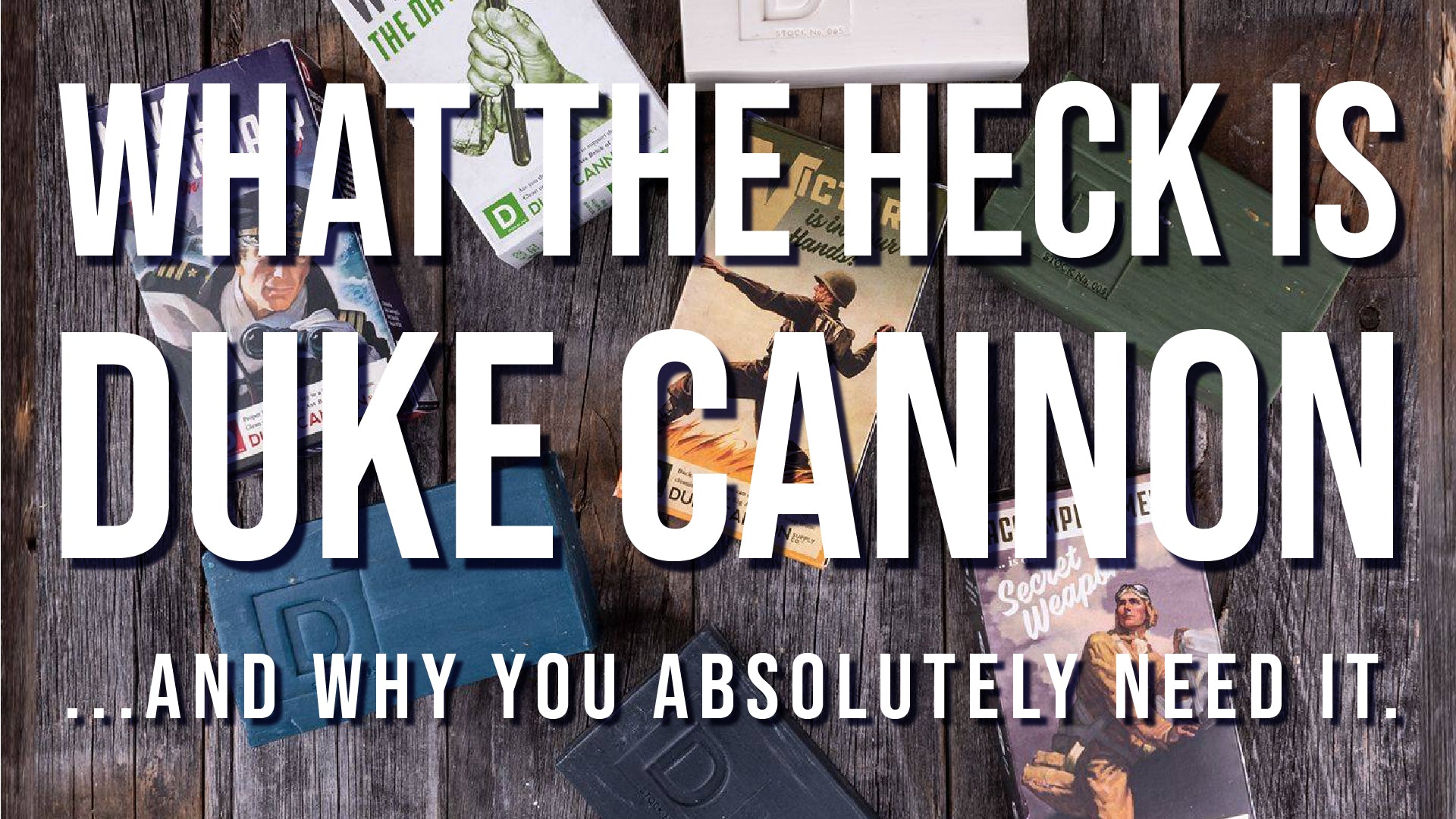 What The Heck Is Duke Cannon, And Why You Absolutely Need It.
I bet you are wondering, "What the heck is Duke Cannon, and why do I need it?", and to be honest that is what we wondered as well. However, everything changed when Duke Cannon hit our sales floor. As soon as Duke Cannon products entered our store, every employee, man and women alike, was suddenly connected to the personality of those hard-working, pioneering men who helped develop our country. We all harnessed the characteristics of big, burly, and bearded men that prioritize making their presence aggressively known. Why, you may ask? Well, because these bath and body products are simply aggressive. 
Duke Cannon Supply Co. is passionate about serving those who stay true to traditional values. In their own words "Duke Cannon hails from a simpler time. A time when the term handyman was redundant. A time when chivalry and patriotism weren't considered old-fashioned. A time when you never put the word salad next to bar". This company maintains its core values of hard work, family, community, and bacon. Yes you heard that right, bacon. If you hold any of these characteristics, then you do in fact need some Duke Cannon products in your life. 
Duke Cannon Soap
Some of our favorite products from Duke Cannon are their incredibly unique soaps.  I mean, where else are you going to find scents like these? Busch Beer? Naval Diplomacy? A Big Ass Brick of Soap, perhaps? These soaps are hand-crafted for those men who don't have time for girly, fruity scents. Bath & Body Works' Japanese Cherry Blossom? No thanks! 
Luckily, each of these soaps come in a hefty 10oz brick, which is essential because you will be dreading the day that these bars wave their white flag. 
Click here to check out our selection of Duke Cannon Supply Co. soap bricks!
Duke Cannon Solid Cologne
There is nothing worse than a pungent and offensive spray cologne. And trust us, you don't want to smell like a frat boy that went overboard in the cologne section in a department store. Luckily, Duke Cannon Supply Co. offers a product line that is perfect for those hard working men who don't feel the need to saturate themselves in cologne to stand out. Duke Cannon's Solid Cologne will leave you smelling fresh all day long without invading the noses of those around you. Simply rub a swatch of these solid colognes onto your pulse points and your natural musky scent will be undetectable! In addition to the variety of delicious scents offered in this range, they are packaged in a convenient tin, making reapplication a breeze! What are you waiting for?
Check out our selection of Duke Cannon Supply Co. Solid Colognes
here
! 
Duke Cannon's Beard Essentials
There is quite literally nothing worse than a unkempt beard. In fact, the extent of a man's power and prestige is kept within his beard. This being said, it is essential that powerful men have powerful products to keep their beard in top notch condition. As luck would have it, Duke Cannon offers a line of beard management products that are formulated specifically for robust men. With products such as the Best Damn Beard Wash, Best Damn Beard Oil, and Best Damn Beard Balm, you will have the best damn beard care experience possible. Duke Cannon's line of beard products are formulated with high quality ingredients intended to moisturize, rejuvenate, strengthen, and soften your beard. What more could you possibly ask for?
 Check out our selection of Duke Cannon beard essentials here!
Duke Cannon Hand Care
Hard-working hands require hand care products that work hard. Fortunately, Duke Cannon's line of Bloody Knuckles hand care is exactly what you need to heal and hydrate those dry, cracked mitts. Firstly, start out with the Bloody Knuckles hand sanitizer, which is a perfect fit for you if you want to avoid smelling like you got attacked by a frat boy who got a bit too deep in a cheap bottle of vodka. This hardy hand sanitizer is exceptionally tough, being formulated with plant-based alcohol at a 70% level. We guarantee that this hand sanitizer will demolish any trace of germs on your hands. After using this germ-busting hand-sanitizer, move along to the Bloody Knuckles Hand Repair Balm. Formulated with lanolin, this moisturizing balm provides much-needed moisture without leaving the hands feeling sticky or greasy, the perfect combination for healing even the most hard-working of hands.
What are you waiting for? Check our the Bloody Knuckles Hand Sanitizer and Hand Repair Balm here!
So to answer your question, Duke Cannon is simply a company offering aggressively awesome bath & body products. And why should you absolutely get it? Well, because this is America, and you can. 
 To view our full selection of Duke Cannon bath & body products, click here!
By: Alexa Jorgenson