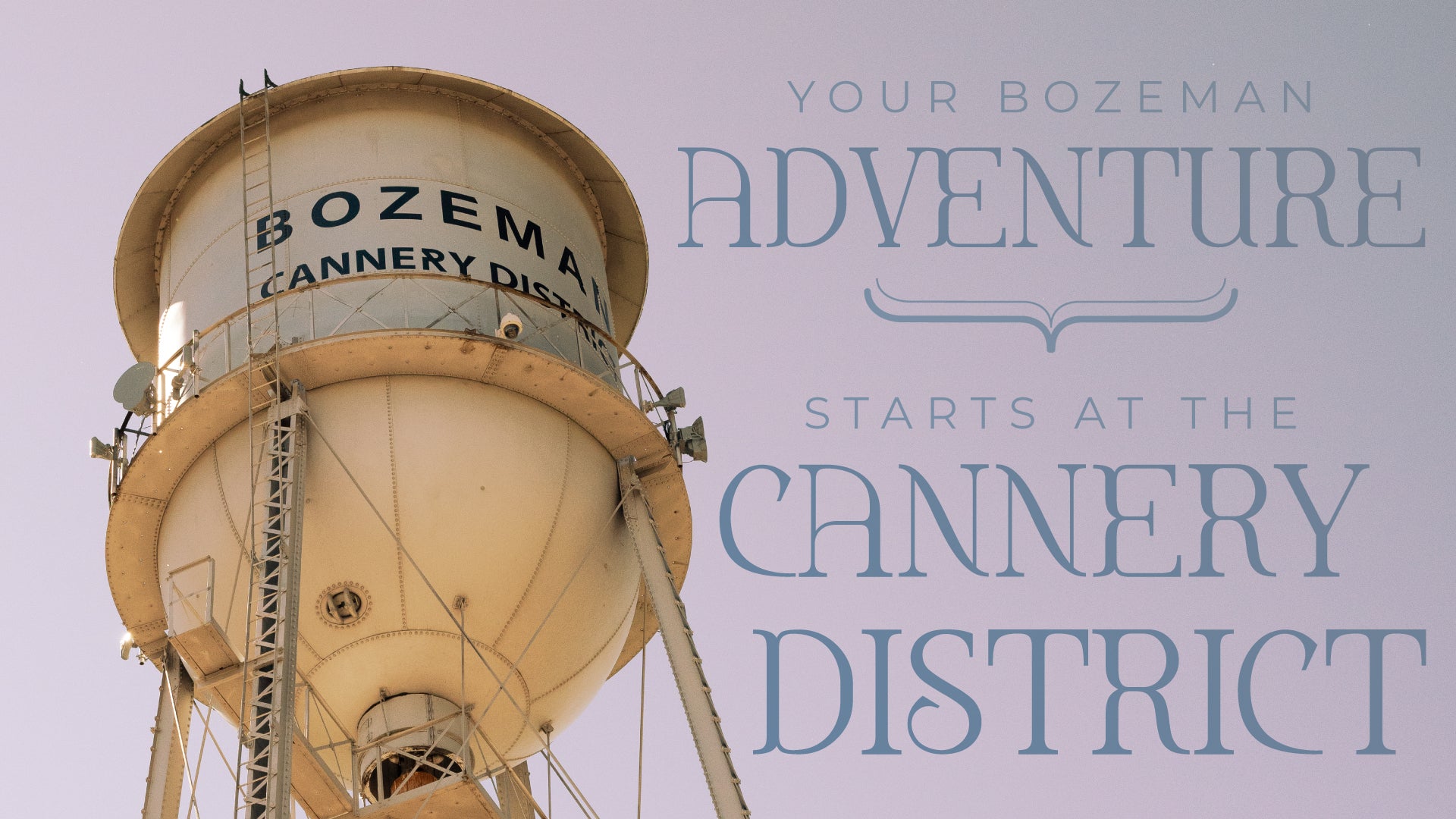 Your Bozeman Adventure Starts in the Cannery District!
Whether you are a Montana local, or are simply visiting the beautiful big sky state, you absolutely must visit Bozeman. Known as a one-stop-shop for all outdoor recreation, you will have an array of opportunities to hike, backpack, mountain bike, trail run, kayak, or even whitewater raft (just to name a few)! While Bozeman is definitely treasured for its recreational adventures, make sure you don't forget to visit the city itself, hosting an impressive lineup of fun breweries, distilleries, boutiques, and local shops!
Back in 1912, the Gallatin Valley was commonly referred to as the "pea capital of the nation". In fact, it has been reported that our beautiful mountain town was responsible for producing 75% of the nation's pea crop! Founded in 1918, the Cannery District began canning peas, beans, and even carrots. Now, the Cannery District is a well-loved location in Bozeman hosting an array of fun-filled business, while still celebrating the original structures that once stood in this area! As they put it, "The goal of the entire development was always to celebrating the originality of the existing buildings and revitalize them into functional, modern day versions of what they used to be."
This vibrant area is rich in history, and is wonderfully unique. Any day in this district will be well-spent, and as such, we truly believe your Bozeman adventure should start in the Cannery District! Follow along with our creative content team as they embark on a grand adventure through one of the most memorable locations in the Gallatin Valley:
The Cannery District is known for its lovely shopping, in fact, its is home to the popular Blu Iris, an adorable clothing boutique located near the entrance of this area. As they put it:
"Blu Iris believes you can never have too much happy.  Whether you are laid back or dress to impress, we offer a range of women's apparel for any age.  Find your happy with statement pieces for your wardrobe as well as decorative items to accent your home."
Owned by two delightful Montana-based sisters, this shop was named after the Greek goddess, Iris, who was often considered the messenger between gods and mortals. This name is also shared with a beautiful flower, symbolizing faith, courage, and wisdom! Offering an array of beautiful designs ranging from denim, jewelry, handbags, and adorable tops, Blu Iris is truly a destination you won't want to miss.
After browsing through racks of beautiful clothing at Blu Iris, we are sure you will be needing a delicious beverage! Luckily, right around the corner you will find Zesty - a Bozeman favorite! Offering non-alcoholic kombucha, spiked teas, and hard kombucha, Zesty has exactly what you need to cool down during even the hottest of days during the Montana summer. 
Hard & Non-alcoholic Kombucha: This yummy fermented drinks are crafted with organic fruits, hand-picked herbs, spices, adaptogenic roots, and house-pressed juices. Both Zesty's hard and non-alcoholic kombucha comes in a wide array of flavors that will make your taste buds, and your gut happy!
Party Hard Tea: Not a fan of kombucha? No worries! We guarantee you will love Zesty's Party Hard Tea. This tea is made made with Alcohol from Organic Cane Sugar, Filtered Montana Snowmelt, Custom Blend of Teas, Organic Lemon, Natural Monk Fruit, & Citric Acid. As they put it, "Using Monk Fruit to sweeten Party Hard Tea with a whopping 0 sugars, this refreshing 5% ABV tea is designed to party hard with no sugary side-effects."
Zesty is passionate about offering delicious beverages that are made with real food, more nutrients, and fewer calories. Cheers to that! 
After sipping on your favorite drink from Zesty Beverages, head over to Uphill Pursuits to get any gear you may need for your next backcountry adventure! At Uphill Pursuits they live by the adage that "There's no such thing as bad weather—just inappropriate gear", and we couldn't agree more! From dehydrated meals to running equipment, skis, and even mountaineering boots, this unique company has everything you need to make your next outdoor escapade a successful one!
In addition to carrying an array of high-quality recreational brands, Uphill Pursuits is proud to offer an array of services that will keep you adventuring at your best! Offering ski tuning, mounts + skins, DPS Phantom Glide, and a variety of rental options, you will be well-prepared for the next time that you step foot in the mountains. 
Are you more the artsy type? If so, the cannery district has the perfect shop for you! Located near the entrance of this area, Paper and Grace is a Bozeman staple offering superior art supplies and an array of beautiful paper goods. From greeting cards to fountain pens, journals, and even home and desk accessories, this fun shop definitely has what you need to get your artistic fix. Simply by stepping foot in this store, you will be surrounded by a sense of comfort and quirkiness that is hard to find elsewhere. Paper and Grace is truly a destination in itself for any art-loving individual! As they put it:
"Paper and Grace is
 a thoughtful stationery shop blending modern and vintage. Shop inspired goods for the home, workplace and everyday merrymaking."
Owned by Jill Redmon, and kept by her brother, Cody Redmon, Paper and Grace is a shop that is passionate about offering beautiful, thoughtful, and unexpected designs. Known for working with over 300 small businesses, this company is proud to tell the stories of artists from around the world. So cool!
For the perfect ending to your adventure through the Cannery District, head over to Wildrye Distilling! Offering an array of spirits ranging from vodka, whiskey, rum, delicious liquors (the Wildrye Apple Pie Liquor is our favorite), and everything in between, this homegrown distillery is a Bozeman must-see. This distillery is passionate about letting Montana's unique flora define the flavor and aroma of its spirits.
Whenever possible, Wildrye chooses to use Montana-grown ingredients in this products. Instead of importing materials from out-of-state, this unique distillery uses local ingredients to establish a unique Montana style and taste. This philosophy allows the company to reduce its carbon footprint, while supporting local agriculture. Trust us, when it comes to delectable spirits, nobody does it quite like Wildrye Distilling does! Did we mention that all of Wildrye's products are made from healthy ingredients and are chemical and preservative free? Delicious and health-conscious!
So what are you waiting for? Head out the Cannery District and experience it for yourself. We are sure you will be just as impressed as we were!
On your way home from this fun-filled day, make sure to stop by Montana Gift Corral located in the Bozeman Walmart. Whether you are a tourist, or a Bozeman local, we have a wide range of goodies that are sure to grab your attention!
Interested in learning about more attractions in the beautiful state of Montana? Check out the following blog posts:
Written by: Alexa Jorgenson, MGC Content Creator
Photographed by: Luke Clark, MGC Photographer
Blog cover by: Averi Thompson, MGC Graphic Designer