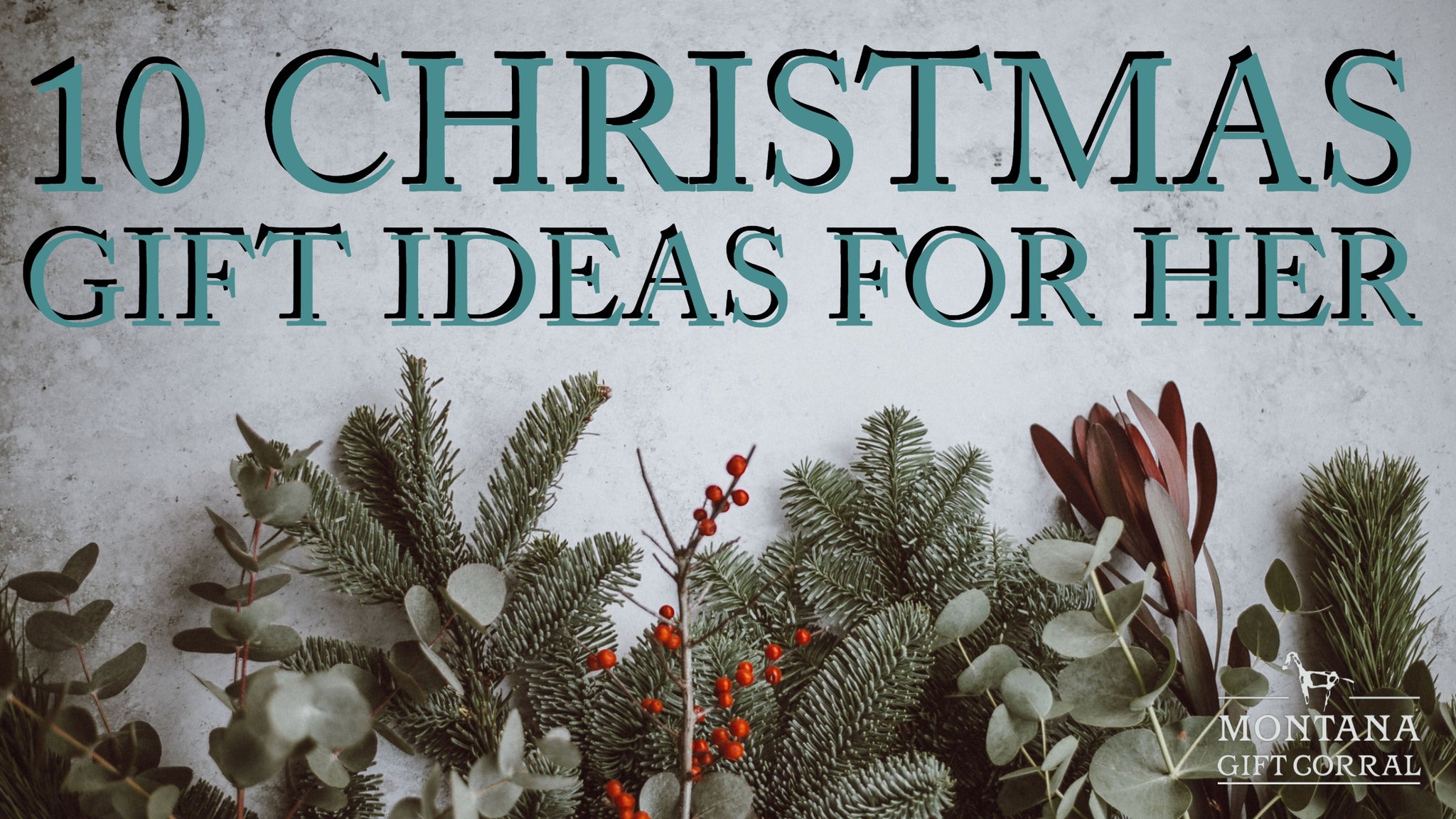 10 Christmas Gift Ideas for Her
The holidays are fast approaching, but don't worry, there's still a chance to find the perfect gift for the woman in your life. Here at Montana Gift Corral, our mission is to serve others in any way we can, so we've put together our favorite 10 Christmas Gift Ideas for Her to help you start checking off that shopping list.
Looking for gift ideas for him? Check out 10 Christmas Gift Ideas for Him. 
Price: $16.99
Brand: Huckleberry Haven
Who doesn't want their entire house or office to smell of Montana huckleberries? This Huckleberry Candle was made by Huckleberry Haven, a Montana-based company, with the wild berries that grow in the Rocky Mountains. They are all hand-picked in the wild, making the berries a highly prized Montana food. They are also a delicious fall treat for the bears! Soothe your senses with the wonderful aroma of wild huckleberries!
Price: $16.00
Brand: Big Sky Carvers
It is always a great sight to see a butterfly floating through the summer skies. What makes this view extra special is when the butterfly offers kaleidoscope-like colors on its wings! Just look at this awesome mug boldly emblazoned with a printed butterfly by watercolor expert Dean Crouser. Crouser creates nature-inspired works brimming with both color and simplicity. This is the perfect gift for the coffee or tea drinker in your life! Made with care from Big Sky Carvers.
Price: $19.99
Brand: DC Designs
These lovely earrings have a contrast of bright green leaves and grey trunks of aspen trees against streaks of deep black, giving the jewelry a tasteful contrast. Each set of DC designed earrings by Illustrated light is handcrafted using a UV laminated giclée print, making them water resistant, and finally allowing you to relax in your hot tub without going through the trouble of taking them off. They also use hypo-allergenic, antiqued cooper ear wires to finish them off with a stylish rustic look.
Price: $185.00
Brand: Big Sky Carvers
Regal indeed! This beautifully crafted Marc Pierce sculpture "Regal" makes a perfect centerpiece for your credenza or entryway table. Nestle it neatly between your fine china, or peeking over your family photos.

Manufactured from a proprietary "Montana Bronze" resin by Big Sky Carvers, Marc Pierce's Regal is sure to impress your friends and relatives.
Price: $42.99
Brand: Montana Gift Corral
There is nothing more adorable than the Flap Jack Bear Bottoms by Lazy One! Imagine spending the holidays all cozied up with an extra soft cotton ribbed onesie. Get one for yourself, your kids, even your dog!

Coming in many sizes, these funky and funny pajamas are available for any family or friend! We also offer a version for your puppy! Enjoy these warm, fuzzy pajamas every morning with the family.
Price: $114.99
Brand: Meissenberg Designs
Karen Savory's Huckleberry Heaven Metal Box Art is a genuine piece of western contemporary art. Printed on an aluminum box, this piece depicts a bear in a huckleberry patch at night. The dark colors twilight colors, contrasted to the golden brown bear and the bright huckleberry garden, make this piece especially appealing.
Price: $29.99
Brand: Ne'Qwa
Wish your loved ones a Merry Christmas with a pair of cardinals nested in a festive wreath adorned with a large bow. This signature Ne'Qwa ornament features the work of artist Cindy Shamp with the centuries-old technique of hand painting in reverse on the inside of hand-blown glass. The Cindy Shamp Merry Christmas Cardinals Ne'Qwa Ornament comes packed in a satin-lined hinged gift box and includes a certificate of authenticity, making this Ne'Qwa piece a beautiful gift!
Price: $21.99
Brand: Lazy One
Who says you can't grill in the winter? Get the meat on the grill, sip a hot drink, and sport this awesome Grillin' and Chillin' Apron from Lazy One. Made from heavy-duty cotton with contrasting dark brown trim, this cooking apron will keep your clothes splatter free and give all your guests a chuckle! Clearly, this little moose has the right idea about barbecues!
Price: $16.99
Brand: S-K Designs
A unique cut is featured on each of these nightlights, and each piece will be unique in color, cut, and shape. This particular piece is approximately 5" tall and 3" wide, although colors and sizes will vary, so if you'd prefer a particular color or size, please let us know in in the order comments section.
Price: $7.99
Brand: Huckleberry Haven
Huckleberry Body Cream is a must-have staple for your bath and body products. As a Montana made lotion, this luxuriously decadent cream takes care of extremely dry skin while leaving a light, fresh scent of Montana huckleberries on your skin. This rich cream contains sweet almond oil, shea butter, and vitamins A, D, E, and B to invigorate skin and make you crave the mountains of Montana.
Looking for gifts for him? Check out our 10 Christmas Gift Ideas for Him post! Happy Holidays!
By Zach Altman