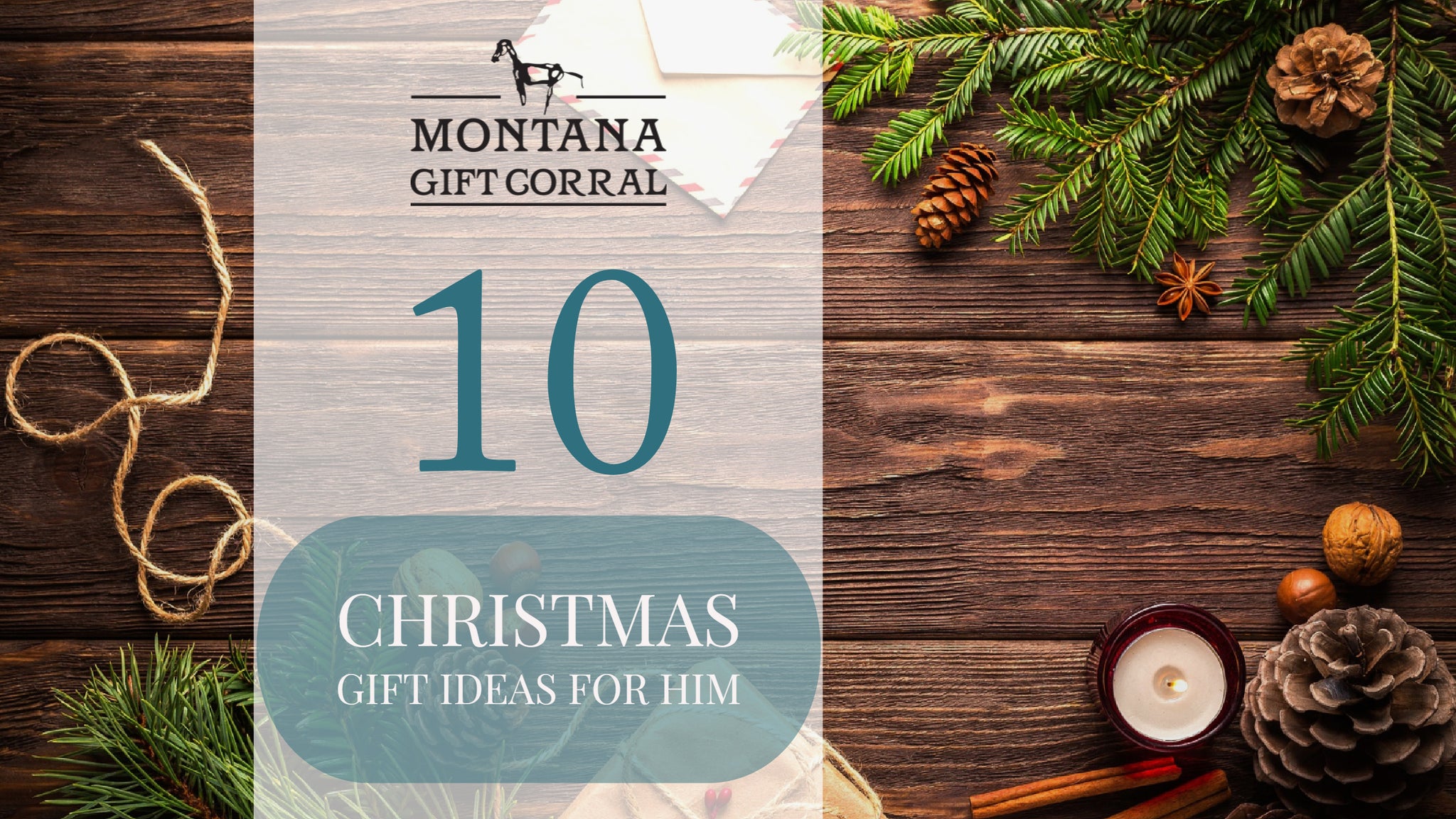 10 Christmas Gift Ideas for Him
The days are getting shorter, the snow is falling, and the holidays are on their way - time to start checking Christmas gifts off your likely extensive list! But what will you get for the man in your life who has everything? Here's Montana Gift Corral's top 10 Christmas Gift Ideas for Him to get you started and in the gift-buying mood!
Looking for gift ideas for the woman in your life? Check out this post.
Price: $38.99
Brand: The Leather Store
This fine, handcrafted leather wallet is made right here in Montana. Cut from the center of the back of the hide, these buffalo-leather wallets are sewn together with a heavy nylon thread, making them ready for the most intensive of adventures - these are a great idea for any traveler! Bound to hang around for quite a while, this wallet is as trustworthy and loyal as the man who owns it.
Price: $13.99
Brand: S-K Designs
Having some friends over for a bit of wine and conversation? Pick up these wine tasters, featuring an etched image that conveys the nobility of the elk. Based in Belgrade Montana, S-K designs offers a wide variety of different etched designs and glassware perfect for the bar in any man-cave.
Price: $31.99
Brand: Heritage Metalworks
These pieces are individually hand-crafted using a proprietary pewter alloy developed by Heritage Metalworks known as Heritage Pewter. The addition of silver to this alloy provides a brighter, more luxurious finish that will last for generations to come. Detailed using traditional pewter-smithing techniques practiced by our forefathers, these items are of the highest quality and detail.
Price: $34.99
Brand: Mountain Brook Studio 
This gift is equally perfect as the go-to daily mug or as special-occasions only drinkware! These fabulous pottery products are hand made here in Montana on a potter's wheel, and are hand painted and fired in a kiln by Mountain Brook Studio. Great at heat-retention and available in a variety of masculine colors, this mug makes a great gift for any coffee-loving guy!
Price: $210.00
Brand: Big Sky Carvers
When you see a moose, you know you are indeed somewhere remote. These mighty creatures are no less majestic for their somewhat shy behavior, and are truly breathtaking in their stature and strength! The Wild and Noble sculpture by Marc Pierce wonderfully captures the essence of these burly beasts through its depiction of a stoic moose posing for the camera; it's a perfect centerpiece for your dining room, and would look superb hanging around an entertainment center!
Price: $34.99
Brand: Great Rivers Art
It is always interesting looking at old maps to see the way the land was split up a couple centuries ago. The Montana Territory Print measures 16"x20", and offers an interesting glimpse back into the 19th century. This map has rivers, settlements, reservations and many more hidden gems to find throughout the Montana Territory. A perfect and unique gift for the history buff in your life, this map would be a great addition to any man's study.

This original print was made by Lisa Middleton in Kalispell, Montana.
Price: $25.00
Brand: Big Sky Carvers
This wall art will look amazing anywhere in the house, or make a perfect gift for someone who loves wildlife. Water-colorist Dean Crouser is the talent behind this beautiful picture that Big Sky Carvers has adopted to make items perfect for the home. Great for adding a pop of color to a gloomy man cave, this piece is sure to be a hit!
Price: $114.99
Brand: Meissenberg Designs
Shelle Lindholm draws much of her inspiration from the nature and animals that reside on and around her property. Living near the Rocky Mountains, she feels her best art is when she has effectively told an animal's story through her paintings. A quirky addition to the den, this piece of wall art is perfect for the sensibly style-focused guy!
Price: $19.95
Brand: Farcountry Press
"Wanted!" Wanted Posters of the Old West is a visual journey into western history and the days of train robberies on horseback, bank jobs, horse theft, slavery and murder. This fantastic western book shows the reader the actual posters that were hung by law officials to try to help bring in such outlaws as Jesse James, Butch Cassidy and The Sundance Kid along with so many other notorious bandits. Ideal for any lover of the wild, wild west, this book would be perfect as a coffee table or bathroom read.
Price: $135.00
Brand: Monterey Mills
The Earth Spirit Blanket is an American made original Denali design created in a fine acrylic fiber that is softer, warmer and more durable than fleece. This magnificent throw blanket is machine washable and measures 60" x 70." Featuring a moose, bear and buffalo check on one side and a soft, barn red on the other side, this blanket is the perfect camping companion. Give the Earth Spirit Blanket as a gift to the outdoor enthusiast in your life and rest assured that they'll have warm thoughts of you every time they snuggle up.
Looking for gift ideas for the woman in your life? Check out this post.
By Zach Altman