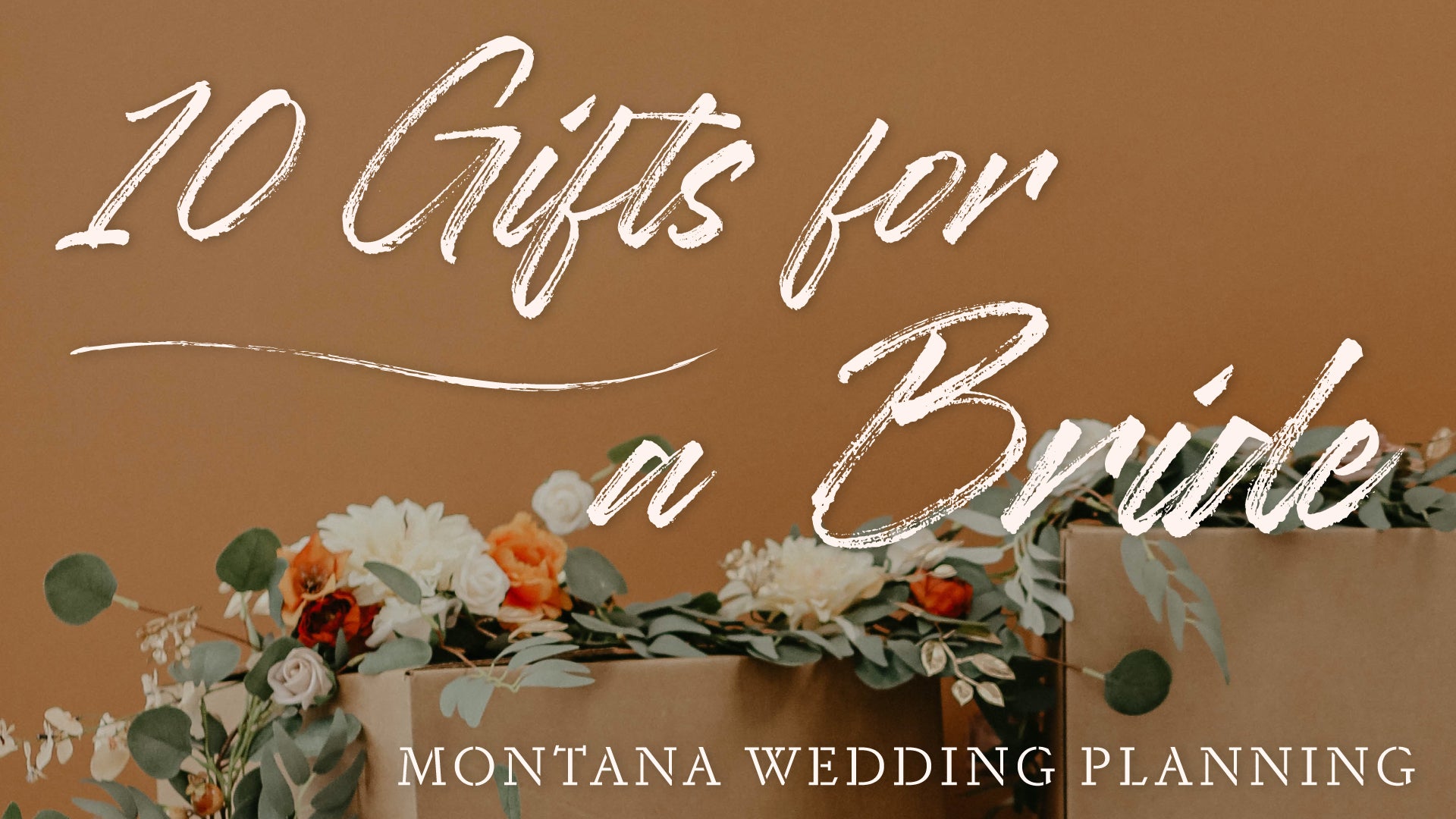 10 Gifts for a Bride: Montana Wedding Planning
Getting married is definitely something to celebrate, it's a union between people who love and cherish each other. I mean, weddings are just big parties that celebrate people finding their best friends and vowing to be silly and sickeningly adorable for the rest of their lives. And while you're excited for your friends you are stressing out about what wedding gifts to get for the newlyweds! Fret not, The MGC is here to help! We have funny wedding gifts, unique wedding gifts, unusual wedding gifts, wedding party gifts, wedding gifts for women and wedding gifts for men! Check out some of our favorite Montana bridal gifts!
A delightful option that won't break the bank, this Montana made huckleberry soap has a delicate scent reminiscent of a summer mountain day. As part of a gift basket paired with other self care essentials, or as a stand-alone gift for those who can't afford something, this rustic soap screams 'good wishes.' This is by far one of the best natural soaps you'll find for sensitive skin! Each bar is completely free of allergens, animal byproducts, phosphates, and any other unpronounceable ingredients. If huckleberries aren't your thing, there are a variety of other scents available on our store!
Any new couple will need to build up their collection of coffee mugs, right? Why not help them on their way with this beautiful mountain-inspired mug. With a oversized shape and a darling design, this speckled mug is sure to become a bride's new favorite in no time! Another idea that would make a perfect complement to a larger gift, or could stand alone without breaking the bank. Not her style? Montana Gift Corral has plenty of exciting and beautiful mugs to choose from! From watercolor paintings to collages to inspirational quotes, the MGC has a mug for everyone! 
Endless adventure awaits for a new bride, one she gets to share with the person of her dreams. This lovely piece of wall art is a constant reminder of what the world has to offer, and is heartwarming – and housewarming – at the same time! With a simple, beachy design and charming pebble-inspired design, this is a perfect gift for the bride with a bit of wanderlust in her heart and a habit of taking the road less traveled.
For the bride who wants to race through the fields and climb mountains while looking absolutely breathtaking, our selection of high-quality jewelry from Roseworks MT would be the perfect bridal gift! These gorgeous pendants and bracelets are everything the bride is, beautiful, wild, and unique. Working primarily with copper, John Rose, the artist behind these designs, cuts, hammers, and shapes each and every piece. Once he has shaped his pieces, he carefully heats his designs with a torch to reveal beautiful rainbow-like colors! For the bride who loves the Big Sky Country, for the bride who dreams of the mountains, for the bride who decorates her home with rustic-inspired accents. Our wide range of pieces from Roseworks MT come in several unique designs, featuring different Montana-inspired features from our state shape to mountains and flowers. Is your bride not a necklace wearer? Roseworks MT also designs some beautiful earrings! So don't forget to check out all our wild and rustic jewelry! 
The quiet and refrained look of the Promise Willow Tree Figurine makes it a perfect option for any bride who sees a charming Montana home in her future. Its simple yet impactful design, highlights the intimate relationship between partners. These figures are the creation of Susan Lordi, an artist known for carving each sculpture from clay which is then cast of resin and painted by hand. Her goal is to represent qualities that help us feel close to each other, heal wounds, or treasure relationships within intimate figurines. When it comes to House Accessories, Willow Tree Figurines are sure to become a treasured collection that accent your home with love.
Help your bride celebrate in Montana style with the gorgeous Tobacco Bark Clear Hurricane Candles by Himalayan Trading Post! These wonderful products are hand poured in Georgia by Himalayan Trading Post's experienced candle makers. With thirty-two ounces of a clean burning, this United States made, fragranced soy wax blend with a high-quality fragrance compound oil is a great way to make a house more homey! Its distinctive fragrances are saturated with layers of nuance, complex and intricate, and are designed to evoke a particular time and place, triggered by memories and nostalgia. What could possibly be a better housewarming gift for a new bride than a wonderfully scented candle? 

A wonderful piece to help the new couple build up their kitchen repertoire, this lovely cutting board is perfect for any Montana-lover, and is perfect for use as a serving tray - trust us, this board will help you serve the charcuterie board of your dreams! Crafted from authentic moso bamboo, these boards are unique and gorgeous pieces of kitchen décor when not in use, and did we mention that they are sustainably-sourced and completely eco-friendly?

If you are looking for the perfectly curated wedding gift, without all of the hassle of crafting one yourself, we've got you covered at the Montana Gift Corral! When it comes to finding the perfect wedding gift, you should take the functionality of the product under consideration. Will your gift be useful in their everyday life? We know for a fact that each piece in this beautiful gift basket will be! Featuring a chirpy top, two custom engraved townie mugs, acacia cheese board set, and a stunning piece of wall art from Sharon Nowlan, your couple have the perfect housewarming gift for their post-wedding life! This gift basket contains a little bit of everything that's perfect for the new couple. From decorating their new home to celebrating their nuptials with cheers, they are sure to be dazzled when they unwrap this wedding basket. 
A gift that's for the groom as much as the bride, the Red Wolf Throw is definitely the way to go! First, do you know any female who doesn't adore blankets? Maybe it's because we're always cold for some reason, or maybe we just enjoy warm snuggly things, but whatever it is I don't know any woman who doesn't have at least three fuzzy blankets. Second, if the bride is one of those women who does get cold, her spouse will thank you for the blanket even more than she will! Nothing is quite as startling as icy toes suddenly on your back in the middle of the night, with the Red Wolf Throw that won't be a problem! Want a more vibrant blanket? Check out MGC's wonderful collection of blankets and throws to help your newlyweds get cozy!
For our Montana-based brides, make sure you get them something that speaks to the love of their home state. Our Montana State Shape Raised Letter Home Wall Art by MT Wild Life is absolutely beautiful! Hand cut and hand-painted in Montana by Montanans, this wall art is bold yet simple. The roughness of the wood and the rich brown color will remind you of Montana's outdoor beauty. The big red heart at the center lets all your guests know where your heart lies. The perfect gift for any Montana-loving bride! 
Looking for something a little different? Check out these and other great western wedding gifts via a handy search bar on our home page. The Montana Gift Corral was a wonderfully wide range of products for all occasions. From Montana pride clothing to books by Montana authors to snacks made in Montana, we have anything and everything a person could want!
And now that you have the perfect gift for the bride, why not get a gift for the groom as well? Check out our other blog about the Ten Best Gifts for the Groom!
- Emma Katherine Roberts, Alexa Jorgenson
Edited by Alexa Jorgenson, MGC Content Creator
Blog Cover Designed by Averi Thompson, MGC Graphic Designer
Photos by Haven Windsor, MGC Photographer