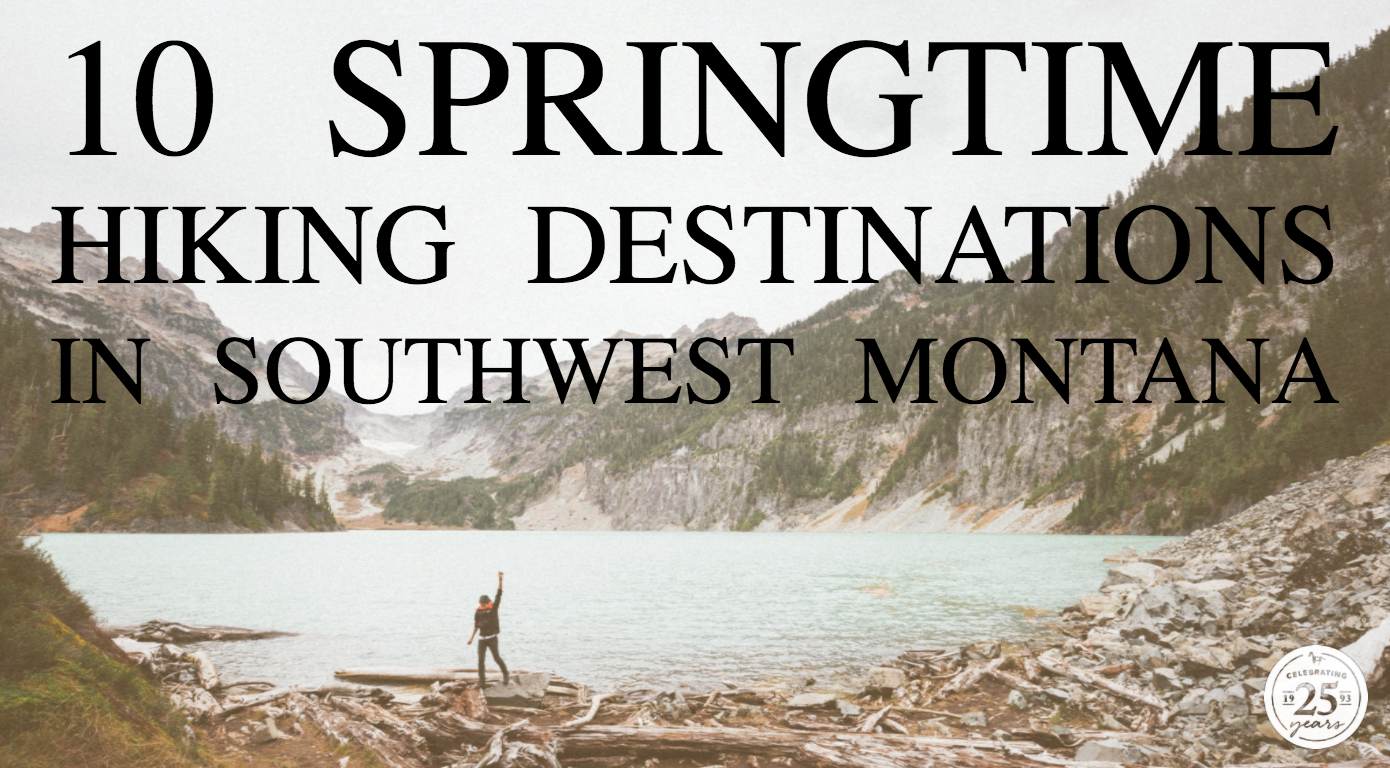 10 Springtime Hiking Destinations in Southwest Montana
We get it - springtime in Montana can be challenging. Mud season is upon us, and many of our favorite stomping grounds are either covered in snow or a muddy disaster.
Don't be discouraged, hikers! If you are willing to drive a little, there are plenty of interesting (and often dry) destinations in southwest Montana for you and your family to explore!
Bear Trap Canyon Trail
The Madison River in Bear Trap Canyon. Image courtesy of visitmt.com.
     Bear Trap is stunning, remote canyon of the Madison River in the Lee Metcalf Wilderness. This is a nine mile trail with minimal elevation change with ample fishing, birding and picnicking opportunities. 
     Getting there: From Four Corners, drive 20 miles west on Hwy. 84. Just before crossing the Madison River, hang a left onto Bear Trap Rd. The trailhead is about three miles in, at the end of the gravel road. 
..
.
Lewis & Clark Caverns State Park
Fun trails at Lewis and Clark Caverns State Park. Image courtesy of Bozeman Running Company.
    There are plenty opportunities for adventure above ground at Lewis & Clark Caverns State Park! With over ten miles of stunning trails, you can take a mellow hike to the Jefferson River for some fishing, or climb of 1,500 ft to gain stunning panoramic views of the entire valley!
    View the trail map here. 
    Getting there: Taking I-90 west towards Three Forks, take the exit for highway 287. Turn west for highway 2 and follow the brown signs for Lewis and Clark.
..
.
Storm Castle Peak 
View of the Gallatin Range on the way up Storm Castle Peak. Image courtesy of Zach Altman.
     Storm Castle Peak is a fortress of limestone jutting out of Gallatin Canyon. The hike starts near Storm Castle Creek and follows a steeply-climbing trail up the south face. While the climb is steep, the views are worth every step - 360 degree views of the Spanish Peaks, the Gallatins and everything in between. Start this one early because the trail is exposed and gets very hot! Not to mention the sunrises are magnificent! 
    Getting there: From Four Corners, take Hwy. 191 south toward Big Sky. Drive 16.7 miles to Storm Castle Rd. (formerly Squaw Creek Rd.) on the left, between mile-markers 66 and 65. Turn left, cross the bridge over the Gallatin River, and curve to the right. Continue 1.9 miles to the posted parking area on the left. 
 ..
.
Chestnut Mountain Trail
Image courtesy of of Matthew Grobe of Alltrails
    Chestnut Mountain Trail is a moderate to difficult trail that is roughly ten miles round-trip. The Chestnut Mountain Trail follows Bear Creek as it snakes its way through the canyon. After wandering through the canyon the Chestnut Mountain Trail climbs up Chestnut Mountain from the south side. As you hike you'll be able to see a wonderful view of Frog Rock, a popular climbing destination. After a mile into your hike take a small detour to the west. This short spur trail will take you right to Frog Rock!
    Getting There: From Bozeman simply hop onto I-90 East. Follow I-90 East to Trail Creek Road. Take Exit 316 from I-90 East. Turn right onto Trail Creek Road and Chestnut Mountain Trail will be on your right!
 ..
.
Foothills National Recreation Trail
A runner enjoys the Foothills trail during the spring. Image courtesy of Jim Bridger Trail Run.
     The Foothills Trail is a classic trail in the Gallatin Valley. With numerous trailheads, you can do a quick out and back after work, or make a stunning spring backpacking trip out of your backyard mountain range! Keep an eye out for the Arrowleaf Balsamroot, the large yellow flowers that bloom in the spring near the M trailhead!
     Getting there: The closest trail head to town the the College M Trail. Take Rouse Ave. north out of Bozeman until it becomes Bridger Canyon Rd. Look for the brown signs!
 .
.
Story Hills Trail
Image courtesy of Outside Bozeman
    If you're looking for a nice, casual day hike Story Hills Trail is perfect for you! Story Hills Trail is a short 3-mile hike round trip, and that's including both the upper-north and lower-south portions. The elevation gain is only 400 feet which makes it a popular running trail, if you bring your pooch make sure you have a leash too! Also don't forget to be mindful of signs and daylight, Story Hills Trail is on private property and is only open to the public during daylight hours. But Story Hills Trail is the perfect place to get great views of the city and valley without having to dedicate your day to climbing a mountain!
   Getting There: As your drive down Main Street turn north onto Wallace Ave. Wallace Ave turns to the right over the train tracks and becomes L Street. After crossing over the little creek and before the road takes a hard left, you'll want to turn right onto Story Mill Road. Then you just have to continue to one of the parking spots, hop it and hit the trail!
 .
.
Bangtail Divide Trail
Image courtesy of MTB Project.
     The Bangtail Divide is a stunning, 20-mile trail traversing the entire length of the Bangtail Mountains to the east of the Bridgers. This trail starts with a steep climb out of Stone Creek in a pine forest, leading you into gorgeous meadows and a sweeping view of the Bridgers to the west and the Crazies to the east.
     Getting there: Heading north on Rouse Ave. out of Bozeman, continue as it becomes Bridger Canyon Rd. Look for the Stone Creek TH signs. 
.
.
Livingston Peak 
Livingston Peak watching over the town. Image courtesy of the Missoula Current.
     If you have climbed Mt. Baldy in the Bridgers, Livingston Peak is comparable in terms of terrain and difficulty - but still with dramatic views! This trail will take you up 3,000ft for a commanding view of Livingston, Paradise Valley, the Crazies, and so much more! Be sure to bring a jacket, as the weather in the Absarokas can change quickly in the spring.
     Getting there: There are several access points to this climb, but the most direct is to follow Swingly Rd. east out of Livingston. Look for the brown signs that say Livingston Peak!
.
.
Yankee Jim Canyon
Image courtesy of Zach Altman.
     Yankee Jim Canyon is a stunning river trail just north of Gardiner, Montana. The trail follows an road bed with plenty of boulders to explore! There is a campground nearby as well. This section has the largest whitewater rapids on the Yellowstone River outside of the park (you won't miss the roar of the rapids!).
     Getting there: After taking the Livingstone exit on I-90, head south on highway 89 to the turnoff for Tom Miner Basin Rd. After crossing the bridge, keep left at both forks in the road until you reach the trailhead.
 .
.
Beehive Basin
Photo courtesy of  Carolyn Jander of Alltrails
    If you're willing to make the drive out to Big Sky, why not take a quick stop at Beehive Basin Trail? Beehive Basin is a moderate level trail that is roughly seven miles that has a steady elevation gain of 1,500 feet. The Beehive Basin trail offers beautiful views of Lone Peak and after a little over three miles you will enter Beehive Basin, a U-shaped basin with a crystal clear lake that overlooks Lone Peak!
    Getting There: From Four Corners turn onto US-191 as if you were going to Big Sky. Follow US-191 as it snakes through the beautiful valley, all the way to the Big Sky Canyon Village. Turn right onto Lone Mountain Trail, which will turn into Mountain Loop Road. At the traffic circle take the first exit onto Jack Creek Road. Turn right onto Mountain Trail Road, which will curve to the left and become Ulerys Lake Road then take another right.
.
.
By Zach Altman
Edited By: Issa Rabideaux