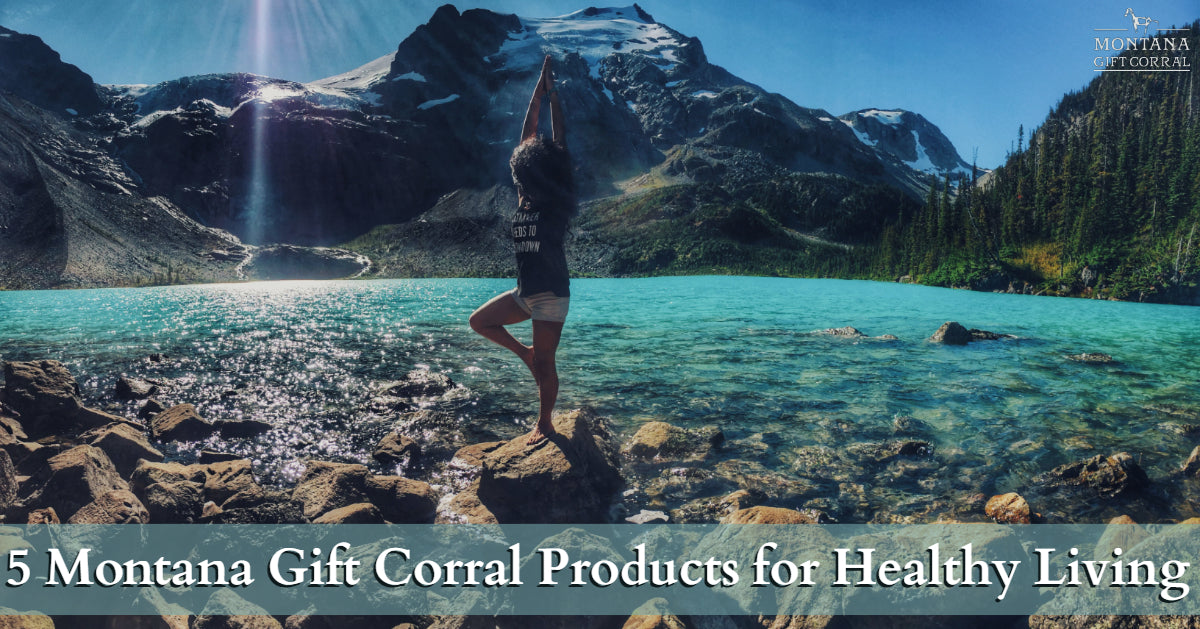 5 Montana Gift Corral Products for Healthy Living
Healthy living can mean so many things in our modern world, which can actually make it difficult to achieve. Exercising, eating right, mental health, work/life balance, supplements, and vitamins, it's a lot to take in. Literally. It seems, almost sometimes by chance, Montanans have a good handle on healthy living. With easy access to the outdoors, it really is easy to recharge both the mind and the body. We want to help you make that recharge easier no matter where you live, so here are some of our favorite items that will help you live your best life.
Hiking and Guide Books
Any time you can get out and explore nature is going to be good for your health. There are obvious physical benefits, but the improvements to our overall well-being are pretty impressive. Being outdoors can actually reduce stress and anxiety, and make you more creative. There's a whole movement now around nature therapy and act of "forest bathing" which involves complete immersion in the sights, sounds, and smells of the outdoors. If you want to amp up that experience, we recommend a hiking book like "Wondering About Wildflowers". Taking a guide book into the wilderness with you makes the experience that much more educational and gives you a goal, like identifying as many wildflowers as possible.
Sunscreen
Image Courtesy of DaySpa Body Basics
Unfortunately, it's taken us too long to really push the benefits of sunscreen as part of a healthy life. We've always known it was important but it's only in recent years that we've really tried to emphasize it's dire importance in all outdoor activities. One of our favorite sunscreens is the All Natural Sunscreen Stick from DaySpa Body Basics out of Missoula, Montana. That whole name itself just screams health. Sweat and water-resistant for up to 40 minutes of activity, this SPF 25 stick can offer quicker, fuller coverage that traditional sunscreens. In addition, it's hypoallergenic, GMO-free, gluten-free, and basically devoid of any icky ingredients. This is holistic sunscreen at it's finest.
Salt Soaks
Images Courtesy of Windrift Hill and Medicine Springs Mineral Therapy
The value of relaxation is essential when it comes to your health. Today's world can feel like a rat race, where stress and anxiety are the winners. Again, here it's about the mind and the body. Baths as an act of relaxation offer a unique array of benefits. Physically, they can help improve skin conditions and reduce blood pressure. Mentally, baths can actually help you sleep better with a clear mind! Who knew? At Montana Gift Corral, we actually carry two awesome Montana made salt soaks. Windrift Hill specialized in goat's milk soaps and lotions, but their line of salt soaks bring in the fantastic scents we've come to love to this relaxing bath addition. Medicine Springs Mineral Therapy takes the compounds of actual natural hot springs and delivers them in a concentrated form straight to your bathtub. How cool is that?
Buffalo Jerky
A lot of people struggle with snacking when trying to eat a healthy, well-balanced diet. It's those late-night cravings or quick on-the-go gas station snacks that can derail anyone's good intentions. One of our solutions for healthier snacking is buffalo jerky. Bison meat is actually chock full of good vitamins. It's a leaner protein than regular beef and is nutrient-heavy. We carry some delicious buffalo meat products from Chalet Market out of Belgrade, Montana, and their jerky is a great, healthier snack alternative. Plus, it's portable. Carry it in the car to curb travel snacking or stash it in your cupboard for those late-night kitchen trips. 
Canvas Totes
Image Courtesy of Tote+Able
On average, 75% of US adults suffer from chronic dehydration. There are a number of reasons for this, again often attributed to busy modern schedules both in school and at jobs. It seems nowadays every office has a water bottle to help with our dehydration problem, but sometimes those are clunky to carry around. We love the canvas totes and canvas flasks for an easier means of carrying water. Made from heavy-duty cotton canvas, firstly they are completely BPA free and leak proof. They are also easy to carry. From the office to the hiking trail, you can fill these babies up and stay hydrated. When emptied, they fold or roll up neatly for storage. It's truly a great way to stay hydrated while you are busy.
No matter how you choose to live a healthy life, we mostly hope that everyone out there is happy. That's the healthiest way to live:)
Written by: Cassi Miller