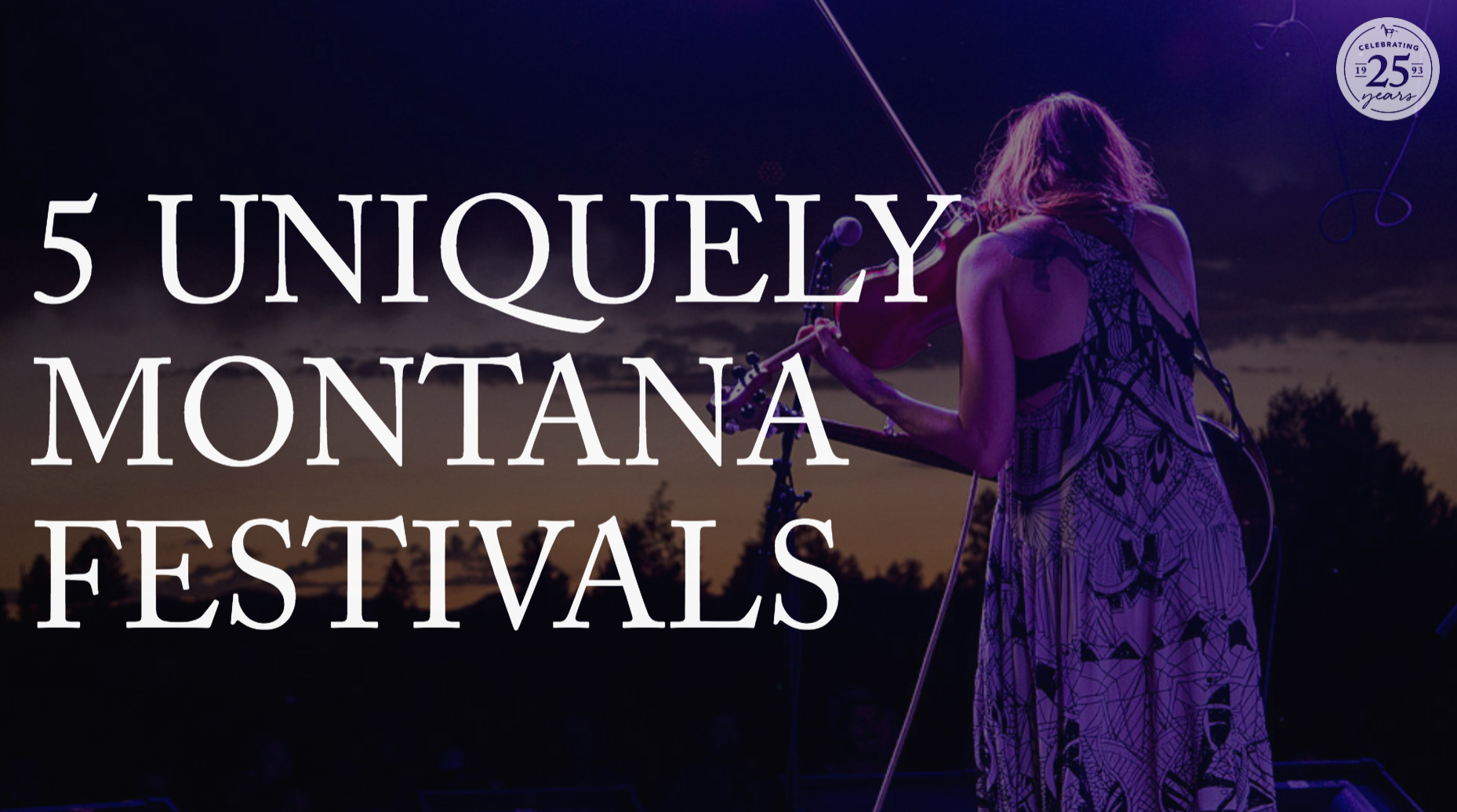 5 Uniquely Montana Festivals
Montana has no shortage of festivals.
From long-distance mountain running to powwows, Montana has it all. This week we've compiled some of our favorite lesser-known festivals and events to grace the big sky in 2018, and we're sure you'll love them!
Huckleberry Festival in Trout Creek
August 10-12, 2018
The huckleberry, which grows wild in the high mountainous areas of the region, is a tasty purple fruit unlike any other. This festival celebrates it.
More than 30 years ago, the Huckleberry Festival was started in our little town of Trout Creek in northwestern Montana by a group of artists who sought a spot to sell their creations. Vendors of freshly-picked huckleberries liked the opportunity to sell their wares, too.
Now this fest has grown to host over more than 120 Arts and Crafts vendors display and sell their wares at the Trout Creek Park. Scheduled events include entertainment on stage throughout the weekend, the Huckleberry Festival Parade, 5K Run For Fun, Huckleberry Hounds Dog Agility Performances, Huckleberry Homesteader Pentathlon, Little Miss Huckleberry and Huck Finn Talent Contest, Festival Auction, Horseshoe Tournament, and an interfaith worship service on Sunday morning. This is a family-friendly event.
Rut Mountain Runs in Big Sky
August 31 - September 2, 2018
Image courtesy of the Rut.
The Rut is a three-day running celebration in Big Sky. As part of the Skyrunning World Series, this event is one of the toughest mountain runs in North America. Featuring vertical K, an 11K, 28K and 50K race distances, this weekend is not for the faint of heart - the 50K climbs over 10,500 feet over the course of 31 miles, and even summits Lone Peak! 
Moonlight Music Fest in Big Sky
August 17-18 2018
Image courtesy of Moonlight Music Fest.
Introducing the newest music festival to the Big Sky scene! Moonlight Music Fest couples a stellar local and national lineup with endless outdoor recreation opportunities that surround Moonlight Basin in Big Sky. 
View the lineup here.
The Bob Marshall Music Festival in Seeley Lake
June 28 - July 1 2018
Image courtesy of Bob Marshall Music Fest.
Featuring three days of music, trail runs of multiple distances, group hikes and mountain bike rides, kid-friendly activities and camping on site, if you go to the Bob Marshall Music Fest you may never leave Seeley Lake! 
Crow Fair Celebration Powwow and Rodeo
August 15 - 20 2018
The 100th Annual Crow Fair Celebration Powwow & Rodeo will include parades, a four-day powwow, a rodeo and horse races! The Crow Fair Celebration is the largest Native American event in Montana, and one of the biggest powwows in the country. The event is hosted each year by the Apsáalooke people of the Crow Indian Reservation just South of Hardin, Montana - also known as the "Tipi Capital of the world," Crow Fair begins on the third Thursday in August and attracts more than 50,000 spectators and participants from the around the world.
Looking for more Montana festivals? Check out our other blog post!
By Zach Altman