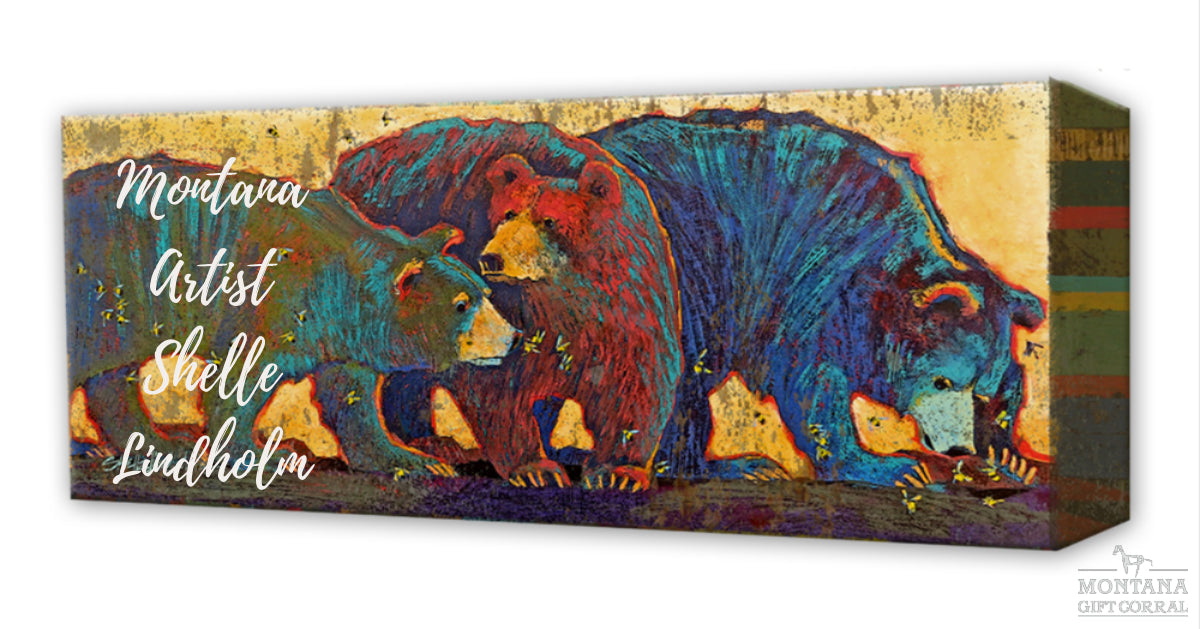 Montana Artist Shelle Lindholm
Shelle Lindholm uses color, geometry, and a pure understanding of the animals that become her subjects to fulfill her artistic vision. Inspired by the natural world outside of her studio west of Kalispell, Montana, her work casts icons of Montana and the west in a contemporary lens. In one piece you can see the playfulness of a bear and with the next see the quiet intensity of survival. In 2013, Shelle Lindholm was named a "Treasured" artist by the Montana Secretary of State. Shelle Lindholm's work fits both in the gallery and at home; whether as an accent or the centerpiece to drive the style and design of a space.
In the Studio
Photo Courtesy of @ShelleLindholmArt on Facebook

Lindholm's paintings layer acrylic and wax that are then scraped with a razor blade to blend colors and create texture and depth while paper cuttings create the rigid animal forms. Each piece is finished with several coats of hand rubbed paste wax to make a sturdy final product with a satiny finish. 
Shelle Lindholm is currently a featured artist at The Art Spirit Gallery of Fine Art in Coeur d'Alene, Idaho. Her piece Thunderin' Tarnation is on display at the CM Russell Museum in Great Falls, Montana for their permanent exhibition, The Bison: American Icon. You can also find her work on our website and at our Main Street store.
At Montana Gift Corral we are fortunate to work with Meissenburg Designs to bring you Shelle Lindholm's work. Meissenburg Designs produces 100% made in the USA wood and metal signage in Big Fork, Montana. This Montana collaboration takes Lindholm's art and brings it to you on a metal background worth nearly as much appreciation as the art itself. The boxed wall art design wraps color around the edges of each of the 3 inch sides creating a dimensional effect. The depth of the piece allows you to place it on a table, mantel, or simply against a wall in addition to hanging it from a single nail with the notch in the center of the metal backing.
Midnight Buffalo
The image above is a personal favorite, Midnight Buffalo. The American bison fills the space between myth and reality for many: weighing as much as 2,000 pounds, reaching speeds of 35 miles an hour, horns arcing out of an enormous head. Lindholm's rendering gives us this amazing creature with a coolness not often captured. The blue stretches up from the ground and holds the bison in a spectrum from deep navy to turquoise until the starlight bathes it's shoulders in warmth. The confetti-like stars in the background brighten the midnight sky, the only light you need on a clear night in big sky country.
We are so pleased to get to share the work of this great Montana artist with you. Her work will be livening up our store until it becomes yours!
Written by: Stephen McNeal