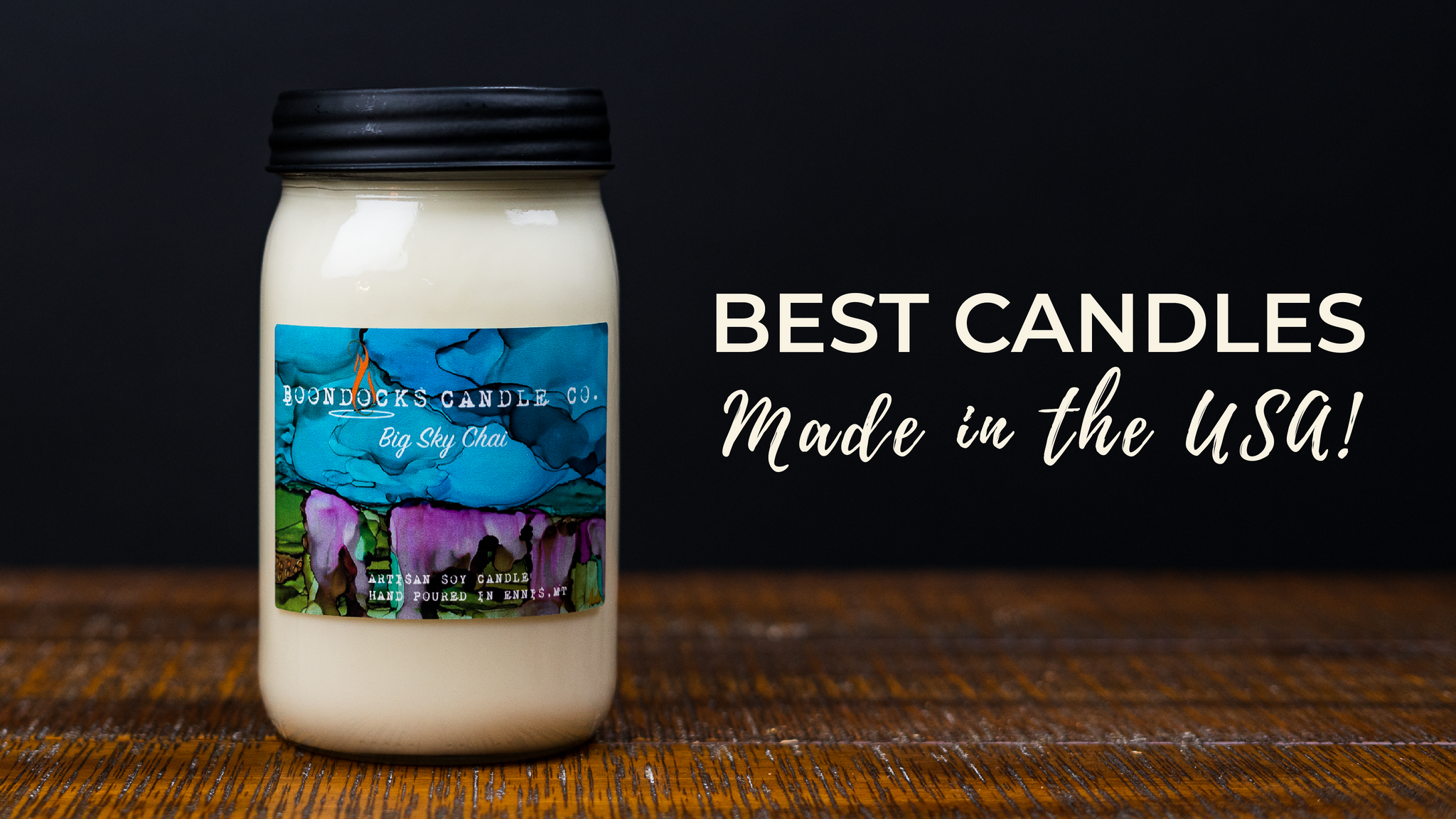 Best Candles Made in the USA
At Montana Gift Corral, we pride ourselves on sourcing as many of our products as we can from our home of Montana. If the products aren't made in our state, then we strive for products that are made in the United States. Today, we are proud to announce that all of our candles are made in the USA, and many are crafted right here in Montana! From paraffin free, hand-poured soy candles, to candles with a cause, we offer the best candles made in the USA for you to gift to yourself or to a loved one!
Check out these awesome candles made in the USA, available only at Montana Gift Corral!
Craft Beer Soy Candle by Rescued Wine
It seems like candles are a dime a dozen these days. With overpowering scents that just don't seem to last long, it can be difficult to find that perfect candle. That's why we recommend the Craft Beer Candle by Rescued Wine! Long burning with a scent that isn't too much, it's a great way to add fresh scent to your home while communicating your love of craft beer and giving back. You see, Rescued Wine gives 10% off their profits to animal rescues! How cool!
These candles are hand mixed in small batches and then hand poured into reused wine bottles. So much of what Rescued Wine stands for is about recycling and giving back. It's those kinds of values you want in a company that you spend money with! Add the Craft Beer Soy Candle by Rescued Wine to your collection and enjoy!
Big Sky Chai by Boondocks Candle Co.
Boondocks Candle Co. is one of our absolutely favorite lines of candles. All Montana made, this husband and wife duo pour all their candles and create all their labels in their own home. The love and care that they put into their craft helps them create really beautiful candles that you're sure to love for as long as they burn. Each scent comes with its unique label. Plus you can get this candle in a small or large size, to completely fill your house with your favorite scent.

Big Sky Chai brings together the warm, inviting feeling of chai teas and lattes with the beauty of Big Sky Country. Chai combines the intense aromas of spicy cinnamon bark, cardamom, cloves, ginger, and nutmeg. It is the most distinct scent that fills your nostrils with warmth and comfort. Imagine heading up the ski slopes of Big Sky while sipping a mug of your favorite chai. That's what this Big Sky Chai Candle smells like. So if you love cold winter mornings and warm chai lattes, you have to get yourself the Big Sky Chai Candle by Boondocks Candle Co.
Industrial Fill Soy Candle by Mixture
The Industrial Fill Soy Candle by Mixture corrugated metal creates a trendy and rustic industrial look perfect for a country cabin or cozy downtown loft. Relax with one of three western scents, and build an inviting and safe environment for your home.

A company based in a facility outside Kansas City, Mixture produces candles, bath & body blends, and home cleaning products, all hand-mixed in small batches with over 60 luxurious fragrances. Mixture supports small businesses with thousands of locally and family owned retail stores all over the country! An environmentally friendly company, Mixture uses packaging chosen to minimize their carbon footprint!
Montana Huckleberry Candle by Huckleberry Haven
Come home to the smell of Montana. And what does that smell like, you ask? You'll be smelling the mountainous scent of huckleberries! These little bundles of joy aren't only tasty, but they smell as beautiful as the Montana sunrises that overlook the mountains and the prairies. Bring a piece of Montana into your home with Montana Huckleberry Candle by Huckleberry Haven!
This glass huckleberry candle was made by Huckleberry Haven, a Montana based company, with the wild berries that grow in the Rocky Mountains. They are all hand-picked making the berries a highly prized Montana food. In the fall they also become a favorite food of the bear population. Each of these Montana hand-crafted candles contains 5 ounces of delicious smelling huckleberry heaven. Give this Montana-made product to a friend or family member. Enjoy the wonderful aroma of huckleberries while you soothe your senses!
Cedar Candle Holder by Wood You Tell Me
A perfect accent piece for the rustic cabin or modern home, these cedar candleholders come in a variety of wildlife inspired styles and designs. Get them set up with a cozy tea light inside this rustic candle holder, and relax the day away.

Hailing from Detroit Lakes, Minnesota, the owners of Wood You Tell Me, Jo and Jeff, are encouraged and inspired by their love of nature, the mountains, and the great American West in the creation of their unique cedar gifts. Using laser systems to cut and design their products' decorative etchings, each piece is designed, cut, assembled, finished, and shipped by Jo, Jeff, and their staff. From candle holders to boxes, nightlights, and more, Wood You Tell me products invoke the sights and smells of a cedar forest.