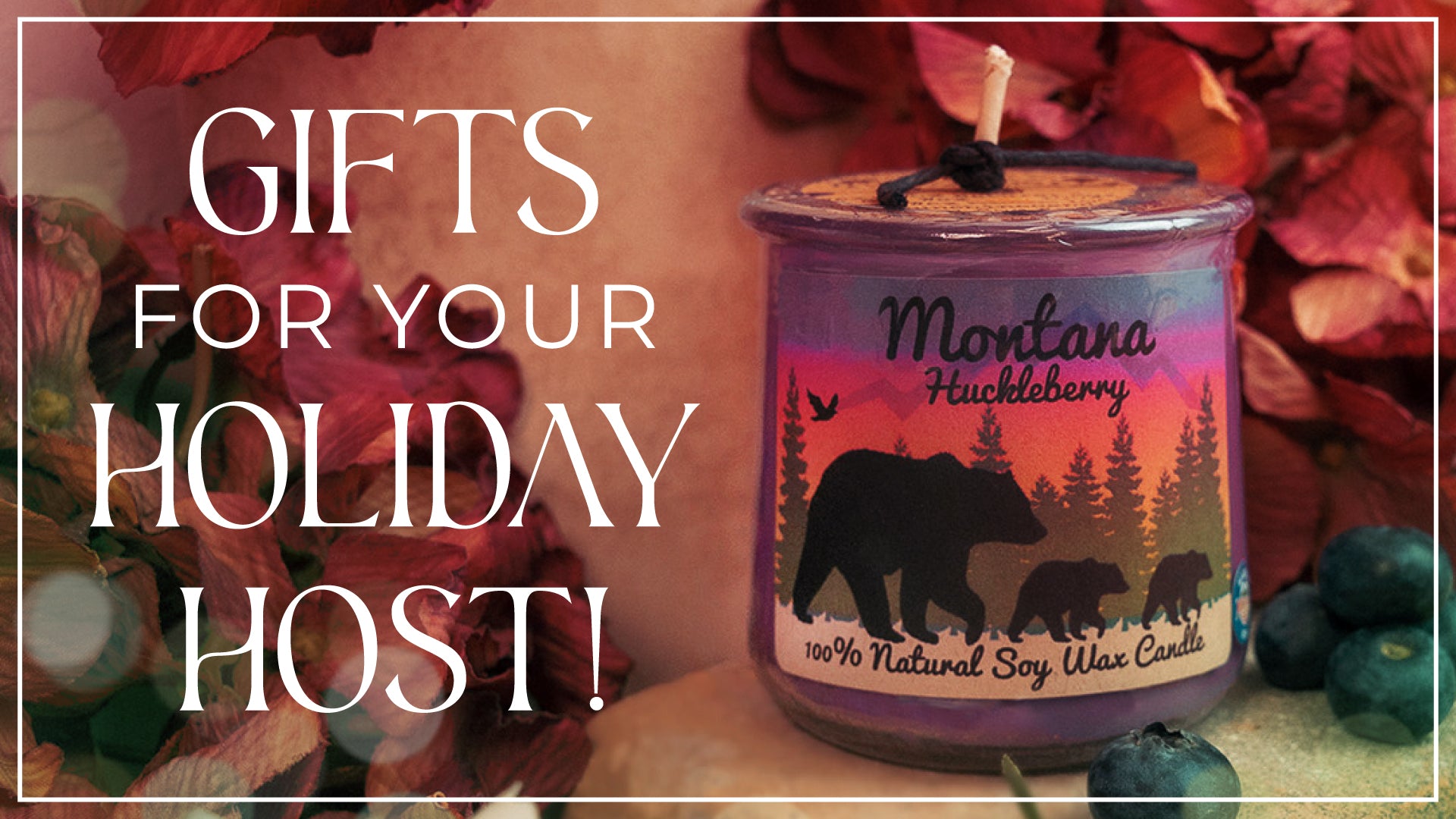 Best Montana Gifts to Give The Host!
Whether you're heading over to a loved one's home for a dinner party, attending an annual Christmas party, or even staying at a friends/family members home for the holidays, make sure you show your host/hostess how grateful you are for their kindness! 
From casual get-togethers to full-blown holiday celebrations, don't arrive empty-handed! When choosing the perfect gift for your host/hostess, you can never go wrong with products made right here in Montana. From sweet treats to greeting cards, or even barware, check out our list of goodies perfect for holiday gifting!
A Greeting Card from Claire Emery Art!
Finding the perfect gift for a host/hostess can be a frustrating process. Should you go small or should you go big? When it comes to a fool-proof gift that anyone will enjoy, make sure to check out our line of beautiful greeting card designs from Claire Emery Art!
Claire Emery, the artist behind this array of stationery goods, is based in beautiful Missoula, MT! She has worked with scientists, botanists, conservation groups, and other artists to find a way to make masterpieces that incorporate art, science, and vitality. Claire carefully researches, designs, carves and prints limited edition woodblock art in an effort to conserve our wild and working landscapes through art. Her utmost goal is to create designs that bring joy to the human spirit!
Featuring a variety of nature and wildlife-inspired motifs, we know that your host will simply love any of our greeting cards from Claire Emery Art!
Lupine Woodblock Card by Claire Emery Art
A Handcrafted Bottle Opener from Blue Moose Metals!
When it comes to giving gifts to your host/hostess, we love to choose options that are beautiful and functional! Our line of products from Blue Moose Metals will make the perfect addition to any hosts barware collection. 
Blue Moose Metals started out in Missoula, MT with founder Kirk Holfeld designing gaming bottle openers for himself and friends. A love for Montana and the outdoors soon translated over to Kirk creating metal working designs. Each piece starts as an idea and a sketch that is then laser cut out of 10-gauge steel. Blue Moose Metals is still run out of Kirk's garage in the Bitterroot Valley of Montana, where he and his wife continue to make each item with their own hands!
From bottle toppers to magnetic bottle openers, check out our selection of goods from this Montana-based company!
Bottle Opener by  Blue Moose Metals
Red Hen Jams for their Favorite Appetizers!
When it comes to hosting the perfect holiday party or get-together, appetizers are a no-brainer! Whether your host is baking up a delicious wheel of brie, or even curating a beautiful charcuterie board, our selection of delicious Montana-made products from Red Hen Jams will amplify any holiday dish.
Red Hen Jams is a company that has quite literally perfected the art of jam. This business, local to Bozeman, MT, is passionate about crafting jams that are rich and thick, as they should be. In fact, the owner of Red Hen Jams is the self-proclaimed Jam Queen! They fully believe that there is nothing worse than a jam shortage, simply due to the fact that "A boiling pot of jam and big spoon are a lot cheaper than the therapist"! 
From classic flavors of apple, blackberry, flathead cherry, strawberry, and raspberry, we know you'll love our array of jams from this Bozeman-based company. Looking for something a little different? We adore Red Hen Jam's Hot Huckleberry, Raspberry, and Flathead Cherry Jams. 
A Sunshine Can-dle to Help their Home Smell Like Montana!
If you are running out of ideas for what to get your host/hostess this holiday season, a candle is always a good option to fall back on! No one can complain about their home smelling lovely, right? Personally, we love candles that represent the unique scents of our beautiful state - think flathead cherry or Montana huckleberry. If these scents sound like something your friends, family, and/or loved ones would be interested in, make sure to check out our collection of scents from Sunshine Can-dles, a company based in Polson, MT!
Lisa, the owner of Sunshine Can-dles is known for finding inspiration in her children and her never-ending love of nature. Her outdoorsy passion helps her envision the scents of her candles. Lisa's candles are made of all-natural soy wax, high-end fragrance oils, craft brewery recyclable cans and upcycled glass tasting room bottles that have been cut, polished, and poured by hand. We love a company that uses environmentally-friendly and/or sustainable materials!
We all know that classic scent of huckleberry and flathead cherry, as it is representative of the the state we love most - Montana! Don't worry, if your host is more of a wax-warmer person; we have Montana Wax Melts by Sunshine Can-dles in a variety of scents! All in all, we can't wait for you to try out a Montana Candle by Sunshine Can-dles. 
StoneTek Whiskey Stones for their Glass!
One of our favorite parts of attending holiday events is enjoying a delicious cold cocktail! This being said, ice cubes are known to melt and water down drinks. Trust us - any host will adore our Whiskey Stone Gift Box Sets by StoneTek LLC!
StoneTek was a family-owned Montana company, started in 2011 by Shane and Shawn Petersen. The Petersen brothers wanted to be more involved in the sustainability of the stone industry, as well as keep their company diverse in a challenging economic environment. They discovered a way to create beautiful sustainable stone products from the waste material generated by the Granite fabrication industry! Whiskey stones, or whiskey rocks, are small cubes of clean, cut natural stone used to chill whiskey and other spirits. These stones are designed to be stored in the freezer, and added to straight shots of whiskey, bourbon, or scotch, in order to chill them without the risk of diluting the drink. What a lifesaver!
While StoneTek no longer offers housewares, we still have a few Whiskey Stone Gift Box Sets available. Make sure to secure yours now before they sell out!
Written by: Alexa Jorgenson, MGC Content Creator
Photography by: Haven Windsor & Luke Clark, MGC Photography Team
Blog Cover by: Averi Thompson, MGC Graphic Designer