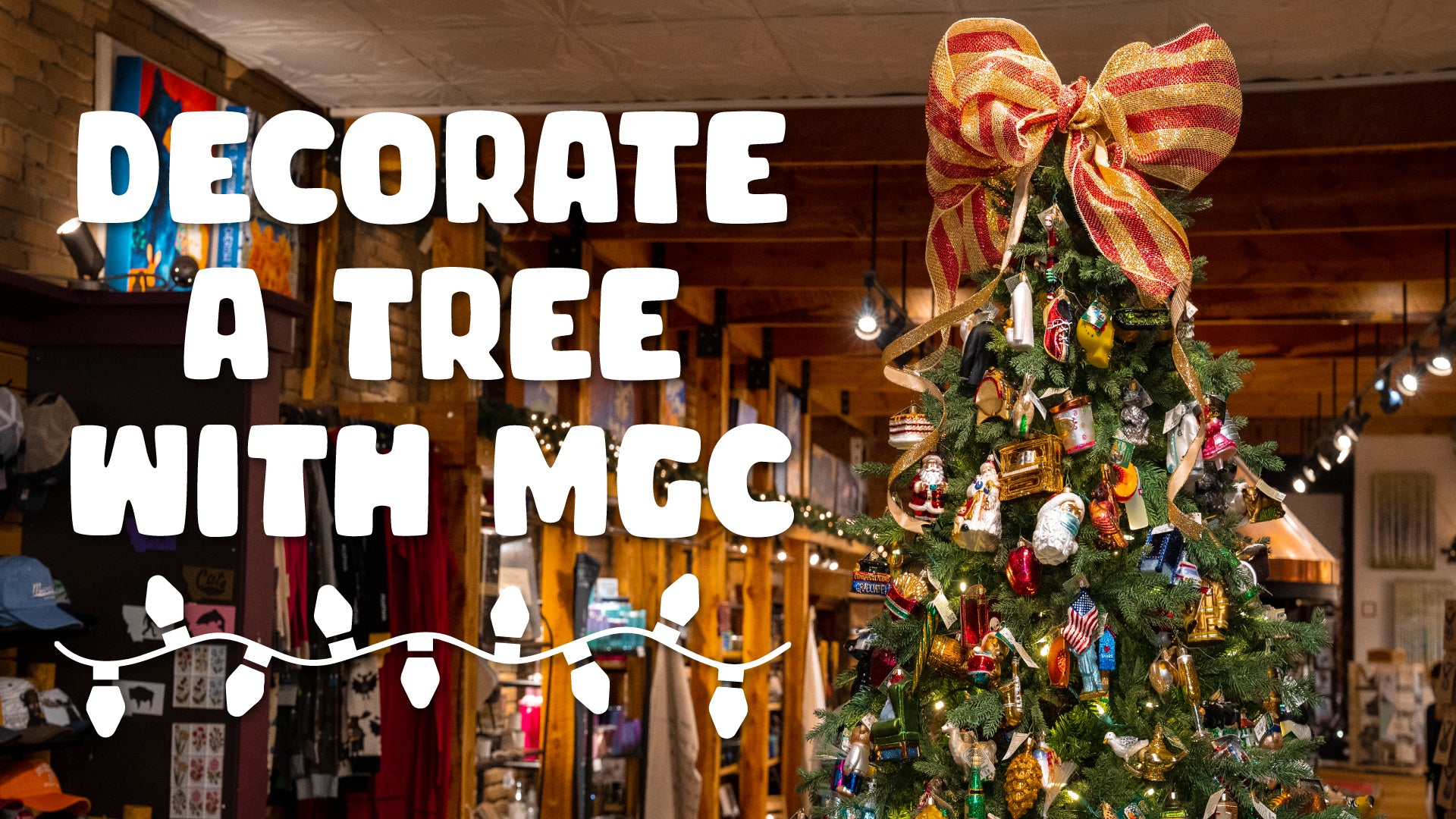 Decorate a Christmas tree with MGC!
How many Christmas trees are too many Christmas trees? Well, here at Montana Gift Corral we live by the adage that you can never go overboard with holiday décor!
At each of our stores located around the Gallatin Valley, you'll find beautifully themed trees, decorated to the nines with ornaments available for purchase! Here are a few of our favorites:
Glitter & Glass Christmas Tree
Give us all the glitter! When it comes to decorating for the holiday season, there is nothing we love more than a tree that stands out. At our beautiful downtown Bozeman Montana Gift Corral location, you will find a grandiose tree meticulously decorated with our line of Old World Christmas Ornaments. 
In 1979, Tim & Beth of Old World Christmas were inspired to revitalize the lost art of mouth-blown fine glass ornaments. Sharing a special love for the Christmas season, this pair created what is now known as the most extensive line collection of glass ornaments, with over 1,400 unique designs! From traditional holiday-inspired scenes to whimsical keepsakes, we guarantee you will love Old World Christmas just as much as we do. 
Each ornament from Old World Christmas is mouth-blown from molten glass into finely carved molds, coated with a solution of liquid silver, and hand-painted/glittered. While this process is tedious, it ensures that each and every ornament from this company is beautiful and meets strict quality standards!
With such a large selection of fun ornaments to choose from, Old World Christmas really lets you curate the Christmas tree of your dreams. Check out our stunning downtown tree below, or better yet, head downtown and see it for yourself!
Quirky Christmas Tree
While we undoubtedly love a Christmas tree that is filled to the brim with beautiful designs from Old World Christmas, it is always fun to get extra creative and throw in some other quirky designs. For our Christmas tree at our fulfillment center, we did just that!
With the entire warehouse at our fingertips, we were able to choose our most quirky ornament designs for this one-of-a-kind tree. From Mother Moose to Art Studio Company, and of course, Old World Christmas, we have to say - our quirky theme really came together. Featuring awesome wood carved, glass, and even felt ornaments, this statement-making tree has no lack of personality!
You'll find many of the ornament designs featured on this tree on our website, however, don't be afraid and head over to any of our Montana Gift Corral locations to browse!
Rustic Christmas Tree
Throughout Montana, you will find homes that show off a beautiful rustic style. Here at Montana Gift Corral, we are proud to carry a selection of housewares that are just perfect for this home aesthetic, and our Christmas ornaments are no exception!
Based in Holladay, Utah, Earthwood is a company that is passionate about offering an array of wooden Christmas ornaments that are meaningful and authentic. Each ornament, nativity, and cross from this company are hand-crafted in Bethlehem using fine olive wood. Straight from the Holy Land, these ornaments are designed to remind you about the true reason for the Christmas season! As they put it, "Our company works with the Giacaman family to bring the gorgeous and sacred olive wood Christmas decorations to your homes at the most affordable prices."
Using an array of designs from Earthwood, we were able to put together a beautiful rustic tree at our Gallatin Valley Mall location. Head over there and check it out for yourself! Keep an eye out, we will be listing these beautiful ornaments on our website soon!
Wildlife-Inspired Christmas Tree
Montana is known as a popular tourist destination, and for good reason! From Glacier National Park to Yellowstone National Park, we truly live in one of the most beautiful places on earth. Not only is Montana beautiful, but it is full of life! From bears to deer, elk, moose, and bison, there is no lack of fascinating wildlife in the Big Sky state. 
At our beautifully decorated downtown Bozeman location, you'll find a tree filled with fun wildlife-inspired ornaments. Many of these designs are from Art Studio Company! Art Studio Company is a brand that is determined to offer only socially conscious and hand-crafted goods. In fact, they travel the world in search of beautiful products that are made by communities in foreign countries! When sourcing goods, they ensure that they're the highest of quality, and are made from earth-friendly materials and workmanship. In addition to offering an array of beautiful products, a portion of all their proceeds goes directly back to benefit the local people of the communities in which they were crafted!
Not only are these wildlife-inspired ornaments beautiful, but they support a great cause! It is the season of giving, after all!
Written by: Alexa Jorgenson, MGC Content Creator
Photography by: Haven Windsor, MGC Photographer
Blog Cover by: Averi Thompson, MGC Graphic Designer