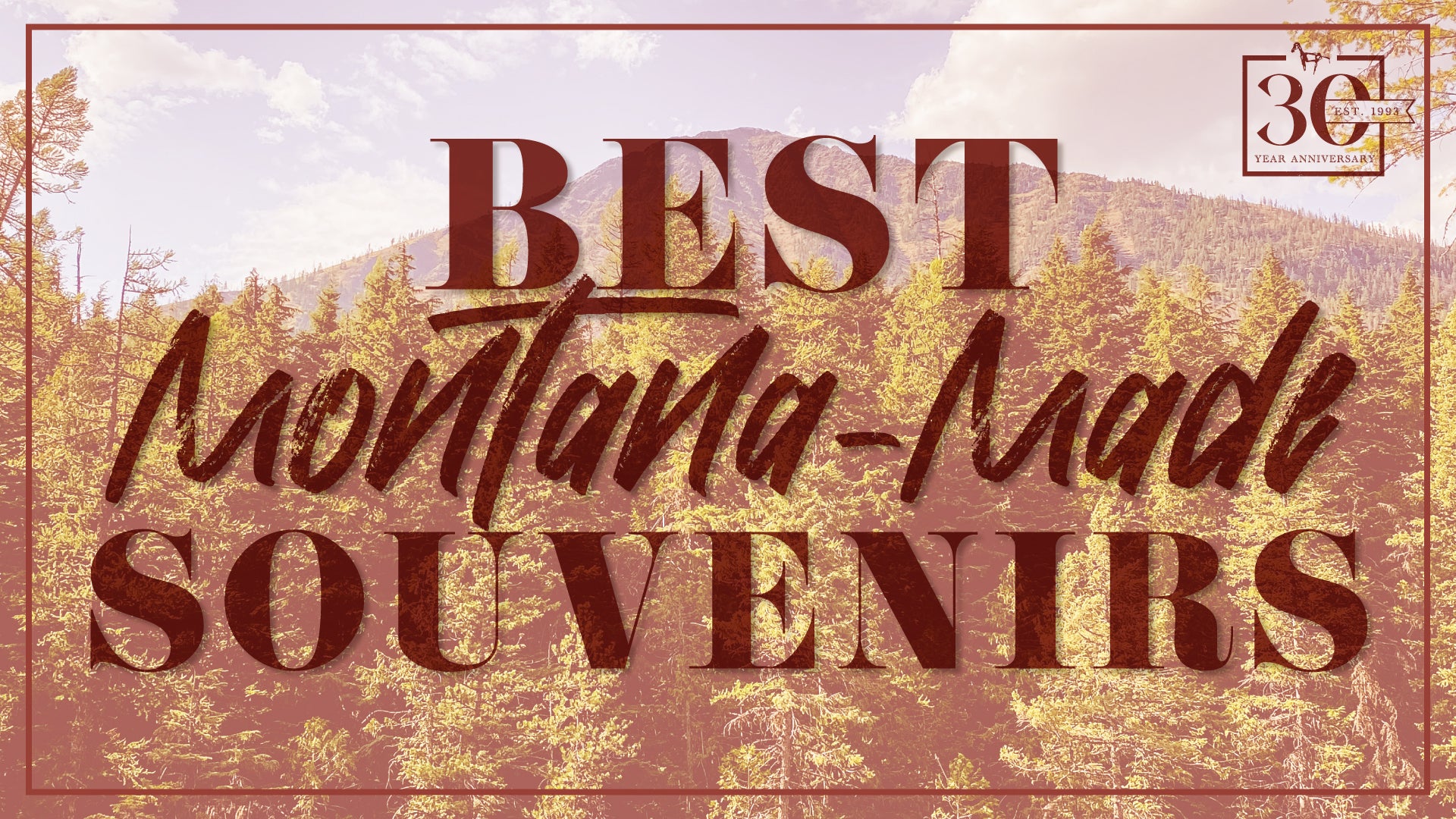 Best Montana-Made Souvenirs at Montana Gift Corral
There's no denying it - Montana has it all.
Welcome to the wonderful Treasure state of Montana! This place is simply brimming with breathtaking rivers, alpine lakes, snow-capped mountains, and vast prairies teeming with bison and antelope. But guess what? There's even more to discover! Montana is also home to a plethora of small businesses and talented local artists who create some of the most incredible products you'll find anywhere in the world.
Here at Montana Gift Corral, we couldn't be prouder to support these amazing creators and entrepreneurs, who truly add to the beauty and uniqueness of our beloved state. Now, let us share with you a few of our absolute favorite souvenirs made right here in Montana! 
Huckleberry Treats
If you're searching for a keepsake that is authentically Montana it would be criminal not to mention huckleberries. These berries are like hidden gems, known for their unique flavor and cherished by the locals here in the Big Sky State!
Here's a fascinating tidbit about Huckleberries that will surely pique your interest: these delightful berries cannot be grown commercially! That means the dedicated makers have to embark on into the mountains, oftentimes venturing into rugged terrain and even competing with bears to gather these precious gems. 
At Montana Gift Corral, we are absolutely thrilled to team up with not one, but two amazing companies: Huckleberry People and Huckleberry Haven. Together, we bring you an extensive assortment of hand-picked, Montana-made huckleberry goodies that are simply irresistible! We've got everything your heart desires, from flapjack mix that will make your breakfasts a true delight, to jams and syrups - a unique take on some favorite treats. And let's not forget about the indulgent huckleberry chocolate bars that are definitely a fan favorite!
Huckleberry Flapjack Mix & Huckleberry Syrup by Huckleberry Haven
Western Accessories from Cowboy Collectibles
When it comes to embracing the true essence of Montana's western culture, there are a few things that immediately come to mind: ranching, farming, and the art of raising and wrangling livestock. If you're eager to fully immerse yourself in this captivating way of life, we have something special just for you. Introducing our incredible collection of accessories from Cowboy Collectibles! Get ready to embrace the spirit of Montana and take a piece of our rich western heritage wherever you go.
Cowboy Collectibles is known for its vast collection of western-accessories, meticulously crafted by local Montanans. The company goes to great lengths to ensure the ethical sourcing of materials, particularly their horse hair, which is obtained from cold climate horses that naturally grow and shed hair more rapidly. Since 1995, Cowboy Collectibles has remained dedicated to its roots. Founder Laura Wikstrom, a lifelong horse owner and equine enthusiast, is deeply committed to promoting the ethical treatment of animals. From hair barrettes to necklaces, bracelets, and even bolo ties, Montana Gift Corral is proud to offer a selection of accessories from Cowboy Collectibles both online and in-store!
Montana T-Shirt by Montana Mud Shirts
Are you ready to show off your love for the Treasure State? Well, look no further because Montana Gift Corral has got you covered with an awesome collection of Montana t-shirts. While we have dozens of designs to choose from, one company we've been particularly fond of is Montana Mud Shirts!
When you purchase a shirt from Montana Mud Shirts you are getting way more than any average top. These accessories are a true embodiment of Montana, hand-dyed in the Big Sky State and decorated with designs from talented local artists. Crafted from 100% cotton, Montana Mud Shirts are infused with rich terra-cotta-colored mud, colored naturally by the clay's iron oxide, and screen printed with love, representing the best of "Made in Montana." Every shirt is a completely unique, created through a simple, quality process that captures the essence of Montana with no chemicals or artificial additives!
Original Landscape Bear Montana T-Shirt by Montana Mud Shirts

Drinkware from Lester Lou Designs
If you're on the lookout for a Montana memento that's not only fun but also totally practical, then boy, do we have a treat for you! Lester Lou Designs is a fantastic Montana-based vendor that specializes in the coolest drinkware under Montana's big skies.
Leslie Swenson, the mastermind and creative force behind Lester Lou Designs is passionate about her collection of custom goodies that are designed to ignite your love for the great outdoors. Picture this: oversized custom campfire mugs that are perfect for cozying up around the fire, and stunning etched glassware that adds a touch of MT magic to your evenings. Leslie's dedication is clear as she strives to offer products that resonate with Montana's outdoor-loving population and adventure enthusiasts!
Etched Stemless Wine Glass by Lester Lou Designs
Montana-Inspired Magnets & Stickers by Quipet
If you're searching for a charming little keepsake to remember your incredible trip to Montana, fret not because we've got just the thing for you! Our collection of Montana-inspired magnets and stickers is perfect for you, courtesy of the amazing Quipet—a proud Montana-based company. These little treasures are bound to steal your heart and bring back all those incredible memories of Big Sky Country.
Based here in Bozeman, Quipet will ignite your wanderlust and make you want to hit the road for a thrilling Montana escapade! This company specializes in bringing you the coolest Montana magnets and stickers around. With their fun and vibrant designs, you'll be sporting the ultimate Montana swag, letting you travel in style while showcasing your love for this breathtaking state. So, whether you're exploring majestic mountains, wandering through scenic national parks, or simply soaking up the natural beauty of Montana, don't forget to bring Quipet along for the ride!
***

Written by: Alexa Jorgenson, MGC Content Creator
Blog Cover by: Averi Thompson, MGC Graphic Designer
Photography by: Luke Clark, MGC Photographer