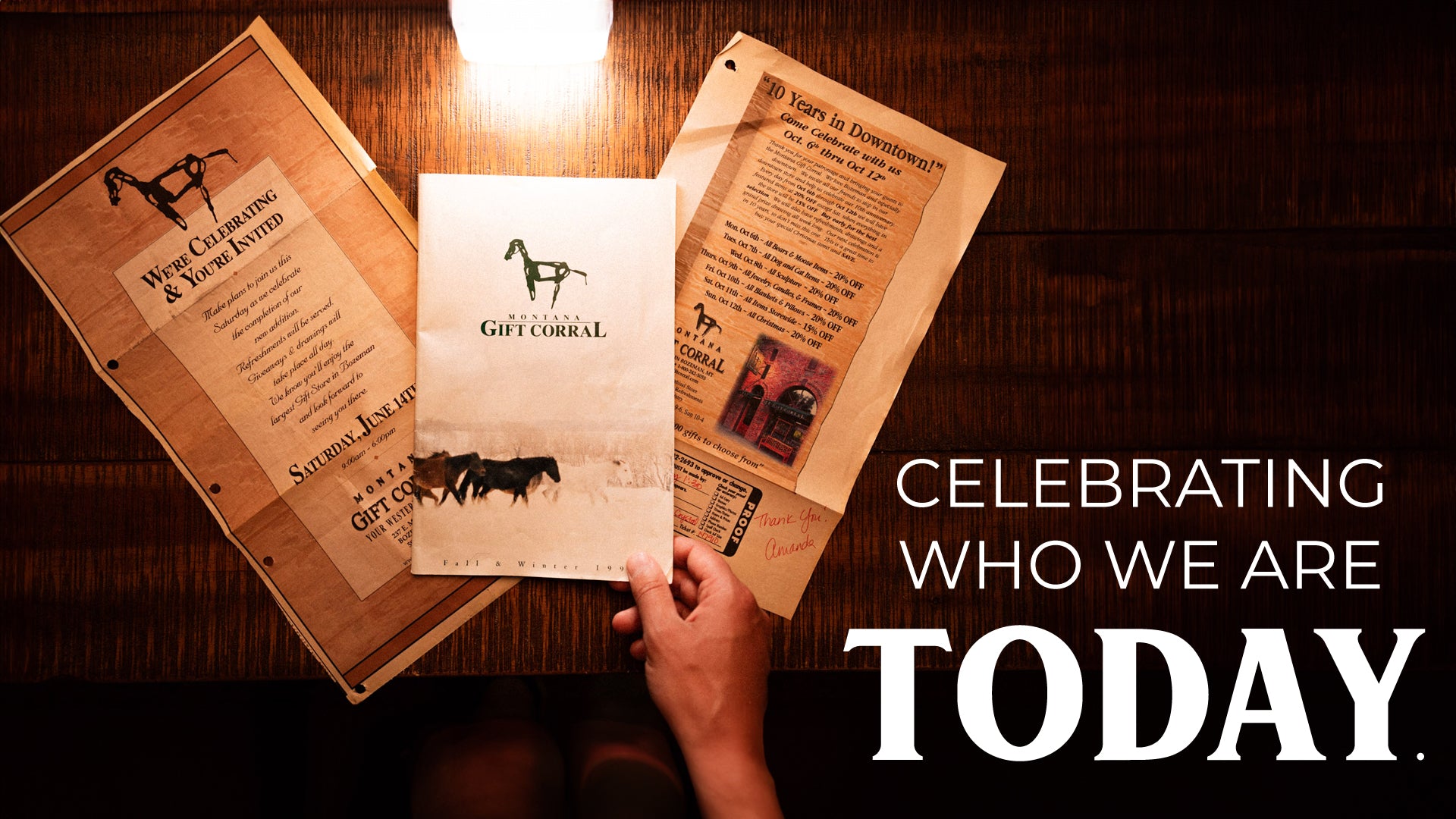 Celebrating Who We Are Today
As we excitedly prepare to celebrate our 30-year anniversary, we can't help but feel a rush of nostalgia and gratitude for the wonderful journey we've shared with this incredible community. To celebrate, we're taking a trip down memory lane, where we'll be dusting off the archives to showcase some of our print advertisements from the past 30 years. Join us as we revisit these charming blasts from the past and reminisce about the moments and memories that have shaped our shop into the warm and welcoming Bozeman classic it is today. So, grab a cup of your favorite brew and get ready to bask in the heartwarming memories of Montana Gift Corral!
1990s
Montana Gift Corral was first opened in 1993. Back then, we were just a rustic mom & pop gift shop nestled right in the heart of downtown Bozeman, MT. The charm of those early years still fills the air, and we're hit with an overwhelming sense of nostalgia as we look through our ads from the 90s. Our ads reflected that rustic, down-to-earth feel that made us stand out from the crowd, embracing the spirit of Montana and the friendliness of our community. Small-town hospitality and heartfelt connections have always been at the core of who we are, and even though our advertisements were simple back then, we can't help but believe they convey that comforting feeling.
Time sure flies when you're having fun, and since the 90s, we've been teaming up with some absolutely amazing and passionate Montana-based companies that have made our offerings extra special. From Sam Ferraro's incredible, handcrafted jewelry to delicious goodies from Huckleberry Haven and Huckleberry People, or our line of body products from Marcha Labs, these partnerships have been the heart and soul of our journey through the first decade of business, and we can't help but be grateful for the wonderful connections we've made along the way.
2000s-2010s
Back in 2009, there was a natural gas line incident that caused an explosion in downtown Bozeman. Unfortunately, four businesses were destroyed, and the situation was so serious that a two-block area had to be evacuated as an emergency measure. The fires and rubble continued to burn for over 24 hours, making it a very tense situation for everyone involved. Our flagship store in Bozeman was situated right in that block, but we were incredibly fortunate. Although some of the brickwork in the back was damaged, we can count ourselves lucky that nothing major was destroyed. The timing was on our side too, as most downtown businesses don't open until 9 or 9:30, and at the time of the incident, no employees were yet present in our store.
It's hard to fathom how many people were spared from harm that day. Despite the minimal damage, we were able to open our store again shortly thereafter, thanks to the resilience of our team. However, it's important to remember that amidst the fortunate outcomes, there was also a heartbreaking loss. Tara Reistad Bowman tragically lost her life. Her absence is still deeply felt by her friends, family, and the entire community. It serves as a poignant reminder of the fragility of life and the importance of cherishing those we hold dear.
Despite the downtown explosion that rocked our community, the 2010s were a decade of incredible growth for Montana Gift Corral. In that time frame, we were able to significantly increase our product range, shaping the shop into the wonderful place you know and love today. From body products to captivating home décor, unique jewelry, and a whole lot more, our offerings grew in every direction. And guess what? Our print ads from the 2010s reflected this awesome transformation! While still keeping things simple and straight to the point, our ads proudly showcased more of what our shop and incredible staff had to offer. We just couldn't resist showing off our growing selection, sprinkling a bit of product placement magic to let our audience in on all the goodies we had in store. Oh, the memories!
During this incredible decade we were fortunate enough to bring in so many new lines of product that are beloved by both locals and tourists. Ranging from stunning, handcrafted jewelry from Nature Cast Metalworks, beautiful pottery from Mountain Brook Studios, character-filled Christmas decorations courtesy of Old World Christmas, and let's not forget our range of Montana souvenirs from The Hamilton Group – these gems quickly became some of our bestsellers!
2020s-Today
Something we take pride in here at Montana Gift Corral is our constant drive to keep growing and evolving, even when faced with significant economic challenges. In 2020, when the unexpected COVID-19 outbreak hit, we had to make the tough decision to temporarily close our doors to keep our community safe. Thanks to the unwavering support of our fantastic customers, we swiftly adapted to the situation, fulfilling online orders and finding creative ways to stay connected with you all. Once the storm passed, we seamlessly bounced back into our regular business practices, stronger than ever!
In the 2020s it has always been a priority for our Creative Content Team to produce print ads that are vibrant, full of life, product focused, and aesthetically pleasing! During this time, we truly breathed new life into our advertising efforts, fully embracing the comforting and heartfelt environment that Montana Gift Corral has always stood for. We're passionate about creating an inviting space where everyone feels at home, and our print ads have been the perfect way to reflect that spirit.
From 1993 to 2023, our top priority at Montana Gift Corral remains unchanged – we're dedicated to bringing you the very best gifts in the breathtaking Big Sky Country! With hundreds of lines from talented Montana and USA-based artisans and companies, we're thrilled to offer you a space where you can walk in and instantly feel connected to the beauty of our state and the warmth of our community. Your support has been the driving force behind our journey to this 30-year milestone, and we can't express our gratitude enough!
Here's to many more wonderful years ahead, where we'll keep spreading the magic of Montana Gift Corral with each and every one of you. Thank you for being a part of our story!
***
Written by: Alexa Jorgenson, MGC Content Creator
Blog Cover by: Averi Thompson, MGC Graphic Designer
Photography by: Luke Clark, MGC Photographer