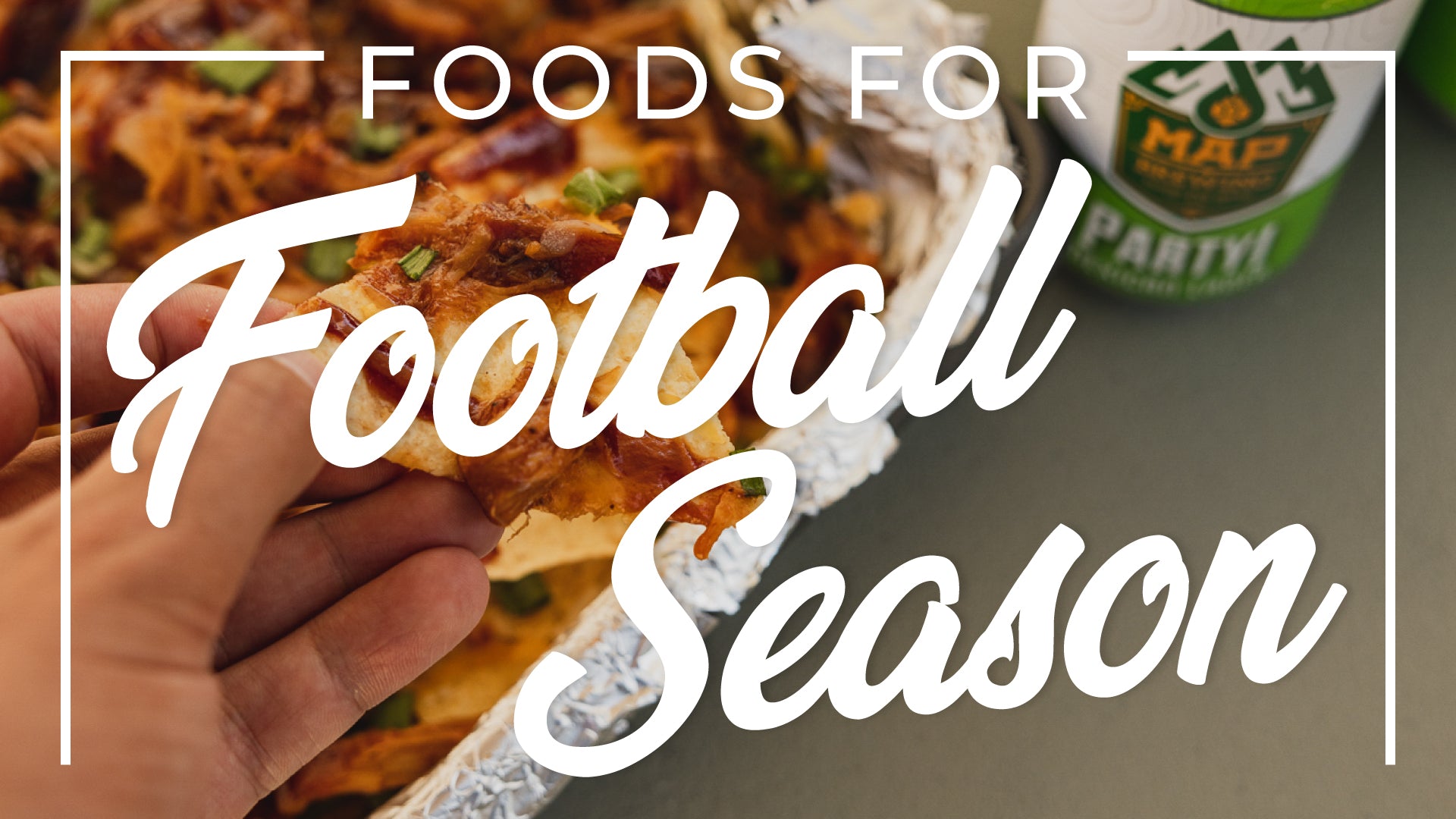 Hut, Hut, Bite! Our Favorite Foods for Football Season!
What's that sound? Could you be the roar of a victory-driven crowd, or is it the sound of hungry football lovers, anxiously stuffing their faces as they hope their go-to team wins?
If there is one thing we know for sure, it is that football season is back, baby! There is nothing quite like getting together with your friends, family, loved ones, and fellow football stans for some Sunday night fun. This being said, where there are people, there must be food!
Here are our top picks for splurge-worthy football season hors d'oeuvres and quick bites:
Two words: finger foods! The last thing you want to do when feeding a crew of hungry football fans is take their eyes away from the screen. Trust us, if they miss an important fumble, the world just might come to an end! 
This is where our Wild Huckleberry Jam Glazed Meatballs come in handy. This recipe is quick, easy, and absolutely delicious. What could get better than that? Featuring our customer-favorite Huckleberry Jam by Huckleberry Haven, this dish perfectly pairs savory and sweet flavors, making it the perfect appetizer for any Montana-based football get-together.
Ingredients:
Directions:
Combine whisked eggs, bread crumbs, onions, milk, salt, Worcestershire sauce, and pepper. Crumble in ground beef, mix until well-combined! Shape into 1" meatballs.
Heat oil of your choice in a large pan over medium-high heat. In batches, cook your meatballs in the oil until they are evenly browned. Once cooked thoroughly, allow your meatballs to drain on paper towels!
Once your meatballs are cooked, begin preparing your huckleberry-chili sauce. In a large pan combine Huckleberry Jam by Huckleberry Haven with chili sauce, stirring occasionally. Once combined, add cooked meatballs to the mixture. Ensure each meatball is evenly coated in the 

huckleberry-chili sauce!

Plate & serve with toothpicks! 
Sunflower Snack Plate by Dean Crouser
Here at Montana Gift Corral, we are huge bread lovers. In fact, we believe it to be sacrilege to not include a loaf of bread at any party or get-together! The bread-making process can oftentimes be tedious; however, we are happy to report that with the help of our Moose Grub Beer Bread Mix by Huckleberry People, you will be enjoying a plate full of delicious carbs in no time at all!
Our delicious beer bread mix is so easy to use, never crumby like in-store bread, and will be sure to impress even the most particular of guests. Plus, the recipe isn't a complicated, kneady process (pun intended) 😉. Just add beer! So stop loafing around and get baking!
Ingredients:
Directions:
Stir together 1 can of beer and 1 bottle of Moose Grub Beer Bread Mix. 
Bake in a greased standard loaf pan at 350°F for 50-60 minutes.
Remove baked bread from the pan, cool on rack for 10 minutes.
Serve and enjoy!
By the way, we used the delicious MAP Brewing Party Mexican Lager in ours!
Football season is known for its diverse range of delicious dips. While we surely love a good bean dip, we do things a little differently around here! If you are looking for an incredibly easy recipe that will wow your guests, you have got to try our salsa and cream cheese dip. 
Using our Boot Scootin' Cranberry and Green Chili Salsa by Huckleberry Haven, we guarantee that you won't be able to get enough of this delectable appetizer. Trust us when we say that this salsa goes beyond traditional recipes. With a mix of rich port wine and cranberries and the kick of jalapenos and green chilis, you'll be licking your lips with every bite!
Ingredients:
Directions:
Allow one block of cream cheese to soften.

Once softened, pour Boot Scootin' Cranberry and Green Chili Salsa over top of the cream cheese.

Serve and enjoy! 
See? We told you this recipe was quick and easy. 
If you are looking for a meal that is a bit more substantial, but will still be well-loved by your guests, you've come to the right place! Our delicious BBQ Pork Nachos are sure to hit the spot. 
While being a super quick & easy recipe, there is something about these delicious nachos that simply stands out. Do you know what that something is? Huckleberry of course! Made right here in Montana, our Huckleberry BBQ Sauce from Huckleberry Haven combines that classic BBQ flavor with the richness of huckleberries and the sweetness of honey, making it an absolute powerhouse for your kitchen. Better yet, these delicious nachos will keep your whole crew of football fans satisfied throughout the entire game!
Ingredients:
Directions:
Preheat your oven to 350°F.
Spread a layer of tortilla chips on a large baking sheet. Top with pre-cooked pulled pork, onion, jalapenos, and cheese!
Bake in the oven until the cheese has melted, approximately 5-10 minutes!
Drizzle with Huckleberry BBQ Sauce, and garnish with cilantro.
Serve & enjoy! 
A party wouldn't be a party without a little bit of dessert, am I right? This being said, you have better things to do that labor over a difficult recipe (i.e., watch the game, duh!). Fudge to the rescue!
With the help of our Campfire Fudge Mix by Montana Bounty Foods, you will get your sugar fix within minutes. This gourmet dry mix is made right here in Montana from high-quality ingredients including sugar, cocoa, corn starch, and vanilla. Satisfy your guests Montana-made cravings with this scrumptious selection from our line of gourmet mixes and savor the flavor of the Big Sky state!
Ingredients:
Directions:
Combine Campfire Fudge Mix, undiluted evaporated milk, and butter in a pot. 
Cook over medium heat until the mixture begins to boil.
Remove from heat and the mixture into a buttered baking dish.
Cut & serve when cool!
Pro Tip: The smaller the baking dish, the thicker the fudge!  
Looking for more seasonally appropriate recipes? We've got your covered. Check out this family fall recipe, Montana roasted pumpkin seed recipe, or even our fantastic recipes for your fall feast!
Written by: Alexa Jorgenson, MGC Content Creator
Photography by: Haven Windsor & Luke Clark, MGC Photography Team
Blog Cover by: Averi Thompson, MGC Graphic Designer