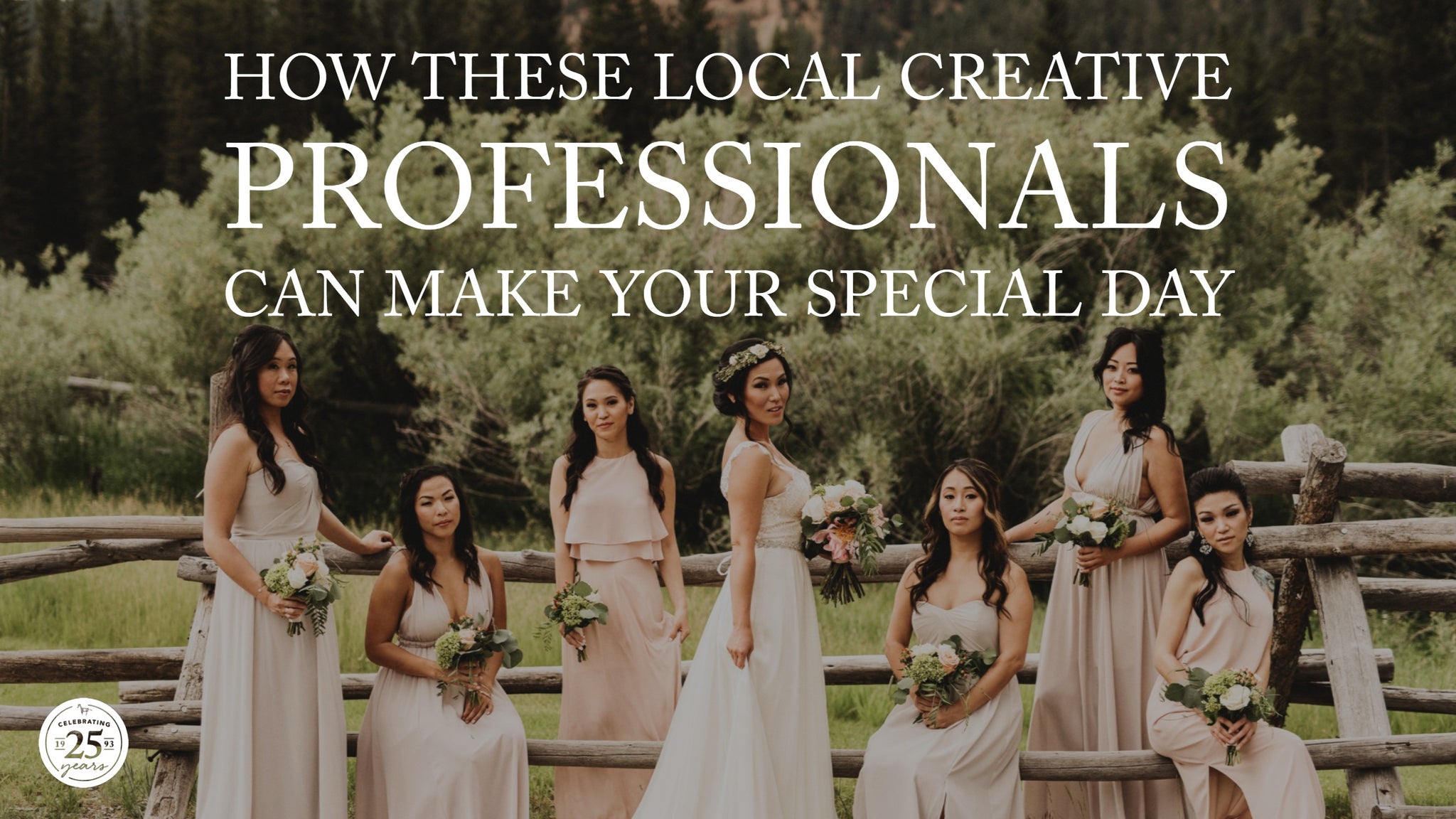 Montana Wedding Planning: How These Local Creative Professionals Can Make Your Special Day
Preparing for your wedding can be a stressful experience.
With months of planning, hiring caterers, designing invitations, finding the perfect Montana venue - the process can be overwhelming. All this planning on the front end makes your special day even more memorable. Be sure not to forget the most important part of a wedding, you. Your family. Your friends. These are characters in a story you will continue to write the rest of your life - it's important to capture them!
Here at Montana Gift Corral, we love supporting businesses and professionals based in the Big Sky State!
Luckily for us, we have plenty of talented creative professionals in Montana to help make your wedding a day to remember. Here's a shout out to some of our favorites!
Cover photo courtesy of Ethereal Hair and Makeup
Destinie Fouche Photography
Introducing Des and Dan of Destinie Fouche Photography, the creative minds ready to weave together luxe and the raw beauty of Montana's outdoors for your dream elopement. Based in Columbia Falls, Montana, nestled between Glacier National Park and Whitefish, they're the perfect team to capture your special day. Their passion lies in curating authentic elopement experiences that feel like you, whether you're exchanging vows on a mountain peak or in an intimate forest setting. 

As your Montana elopement photographers, Des and Dan are there for every step. They thrive on helping couples bring their unique visions to life, whether it's an intimate "just us" affair or a small gathering of loved ones. Their expertise extends beyond photography – they're dedicated to ensuring your planning process is smooth and your memories are turned into tangible moments that last a lifetime. With an eye for detail and a heart for storytelling, Des and Dan will encapsulate the emotions and beauty of your day, resulting in breathtaking photos that you'll cherish for a lifetime! 
Photos courtesy of Destinie Fouche Photography
 .
Events by Killian
Based here in Bozeman, Events by Killian is a dedicated wedding planner that thrives on bringing your wedding dreams to life. Specializing in both comprehensive full-service planning and flexible partial planning, this Bozeman-based gem is fueled by a genuine passion for curating seamless celebrations.
Lead by Killian, the team approaches each event with an open canvas mentality, blending creativity and meticulousness to curate events that mirror each couple's unique love story. With a keen understanding of the importance of this day, Events by Killian weaves local charm with current trends to ensure that every detail resonates perfectly, promising couples a wedding day that is just as extraordinary as their journey together.
.Photos courtesy of Charles Moll Photography
Bakes & Cakes by Brie
Introducing Bakes and Cakes by Brie, a haven of beautiful and delicious treats masterminded by Brie herself. With enthusiasm and creativity, Brie is known for adding a unique touch to any couples wedding day with her incredible baked goods.

Brie's passion ignited during her high school days, when she joined in on cake decorating classes, sparking a lifelong fascination with baking. This passion has only grown over time, as she continues to learn and refine her skills. From delighting college friends and family with her creations to bringing joy to elementary school students during her years as a teacher, Brie's path led her to embrace baking orders on the side. Following years of perfecting her craft and dedicated practice, she embraced the pivotal moment in 2022 to transition her passion into a full-fledged business. The subsequent year has been a whirlwind of transformation, as Brie turned her cherished endeavor into the heartwarming reality that is Bakes and Cakes by Brie. 
 .
SĀJ Floral & Lifestyle Boutique
Based in Phillipsburg, MT, SĀJ Floral and Lifestyle Boutique is an adorable floral and gift shop. Under the visionary leadership of Shannon, this boutique specializes in a la carte wedding design that takes the hassle out of crafting a perfect event. From stunning bouquets to elegant flower crowns that are sure to make any bride feel her best, SĀJ Floral offers beautiful pieces with a straightforward twist – no contracts, no exhaustive consultations. With an easy online ordering system, clients can simply choose their desired pieces and allow Shannon's expert touch to work magic and turn their visions into reality!

Led by Shannon's passion and expertise, SĀJ Floral and Lifestyle Boutique has earned its reputation as a space for brides to catch their breath. The boutique's commitment to a la carte wedding design resonates with those seeking a stress-free approach to planning their special day. By offering an array of meticulously crafted floral designs, SĀJ Floral ensures that every client has access to stress-free wedding florals. 
Food For Thought
Food For Thought was founded by culinary visionary and Registered Dietician, Emily Ryan. This venture began its journey in 2008 as a deli and has since blossomed into a sought-after catering service that's has made waves across the Northwestern United States.
Headquartered in the heart of Four Corners, MT, Food For Thought takes pride in serving up not only delicious cuisine but also a hearty dose of inspiration to its valued clientele throughout the Gallatin Valley. With every dish crafted from scratch in their very own kitchen, the dedicated team delivers a modern, farm-to-table dining experience that's as fresh as it is flavorful. From its humble deli origins to its current status as a top-tier catering company in Bozeman, Food For Thought's evolution speaks volumes about their passion for food and the community they serve!
.
Tailored and Tied
"The best part of our job is getting to know our clients, hearing their stories, embracing their lives and ultimately being a part of the way they tell their narratives through design. It is a great responsibility and an honor to assist people with the communication of their experiences in a meaningful way. Tailored and Tied happens to merge our personal skill sets and brings to life our dream of working together side by side."    
From New York City's Manhattan to Manhattan, Montana comes the creative Tailored and Tied! Tailored and Tied was founded by Lexton Moy and Cooper Madison Moy to help others communicate their unique story in creative ways on their special day! Lexton is the creator of custom "Tailored" pieces while Cooper is the curator of stunning decor that is elegantly "Tied" to each client's individual ideas. The duo met in New York City and after spending some time traveling the world and having endless unique experiences they have been inspired to lead a life of "creation and curation." Now Tailored and Tied helps others turn their love stories into breathtaking decorations to make their wedding day one-hundred-percent theirs.
.Photos courtesy of Rachel & Jeramiah Photography
 .
Joe's DJ Service
"My favorite part of DJ-ing is when you look out and see people from different generations, countries, and backgrounds all experiencing the common joy of celebrating the beginning of a new couple's life together."
Music is one of the most powerful forms of expressions humans have. It has the ability to conjure memories with more detail than we normally would, taking us to another time and place. And Joe Trudgeon knew that over twenty years ago when he founded Joe's DJ Service in 1997, it was a licensed mobile DJ Service that specializes in weddings. Joe's DJ Service has now served over three thousand weddings and averages roughly 160 weddings every year. And their goal is to help make your day as smooth and stress-free as they can. Joe's DJ Service has multiple DJ's in their employment that specialize in different genres and even venues, to help make your day as special as possible. Whether you need someone to play some country background music or a full-on rock and roll Emcee, Joe's DJ Service has just what you need to make your wedding perfect for you! Today Joe's DJ Service is owned by AJ Rohrer who joined the team as a DJ back in 2007. Four years later he was helping Joe run and manage the DJ Service. After managing for six years and helping expand the company from four teams to seven, AJ took over in 2017. With a fun and diverse crew, Joe's DJ Service is more than ready to help you find the perfect music that tells your story.
.
Seventh and Anderson
Seventh and Anderson, a talented stationery designer based in Billings, MT, specializes in crafting a blend of timeless elegance and contemporary flair. With a dedicated focus on creating classic yet captivating wedding stationery, Seventh and Anderson offers couples a glimpse into their special day right from the start. Each  handcrafted invitation is a work of art, offering a sophisticated first look that sets the tone for your wedding celebration. These stationery pieces aren't just cards; they're conversations waiting to happen, and will even become an heirloom that is cherished for generations to come. 

Stationery from Seventh and Anderson resonates with the modern couple seeking to add a touch of timeless charm to their big day. From the moment your guests receive their invitations, they'll be transported into the world you're crafting for your wedding day, making every piece from Seventh and Anderson a tangible, cherished part of your love story!
Ethereal Hair & Makeup
Meet Brittnee, the heart and soul behind Ethereal Hair & Makeup, a Bozeman-based haven for all things bridal beauty. With roots nestled deep in the heart of Montana, Brittnee brings a touch of magic to every wedding and photoshoot she works on. 

Ethereal was born from a fusion of two of Brittnee's passions: her love for hair and makeup and her desire to empower people to feel as beautiful as can be on their big day. With a belief that everyone possesses their own distinctive beauty, Brittnee's mission is to let your inner and outer radiance shine through. Having worked with countless brides and clients over her eight-year journey, Brittnee feels incredibly blessed to be a part of her clients' special moments!



Photos Courtesy of Opal & Ox Photography and FIlm

We hope this helps you plan for your next big adventure. Be sure to support these local talents and start planning! 
Did you know we have a wedding registry? Check it out here!
By: Zach Altman, Alexa Jorgenson