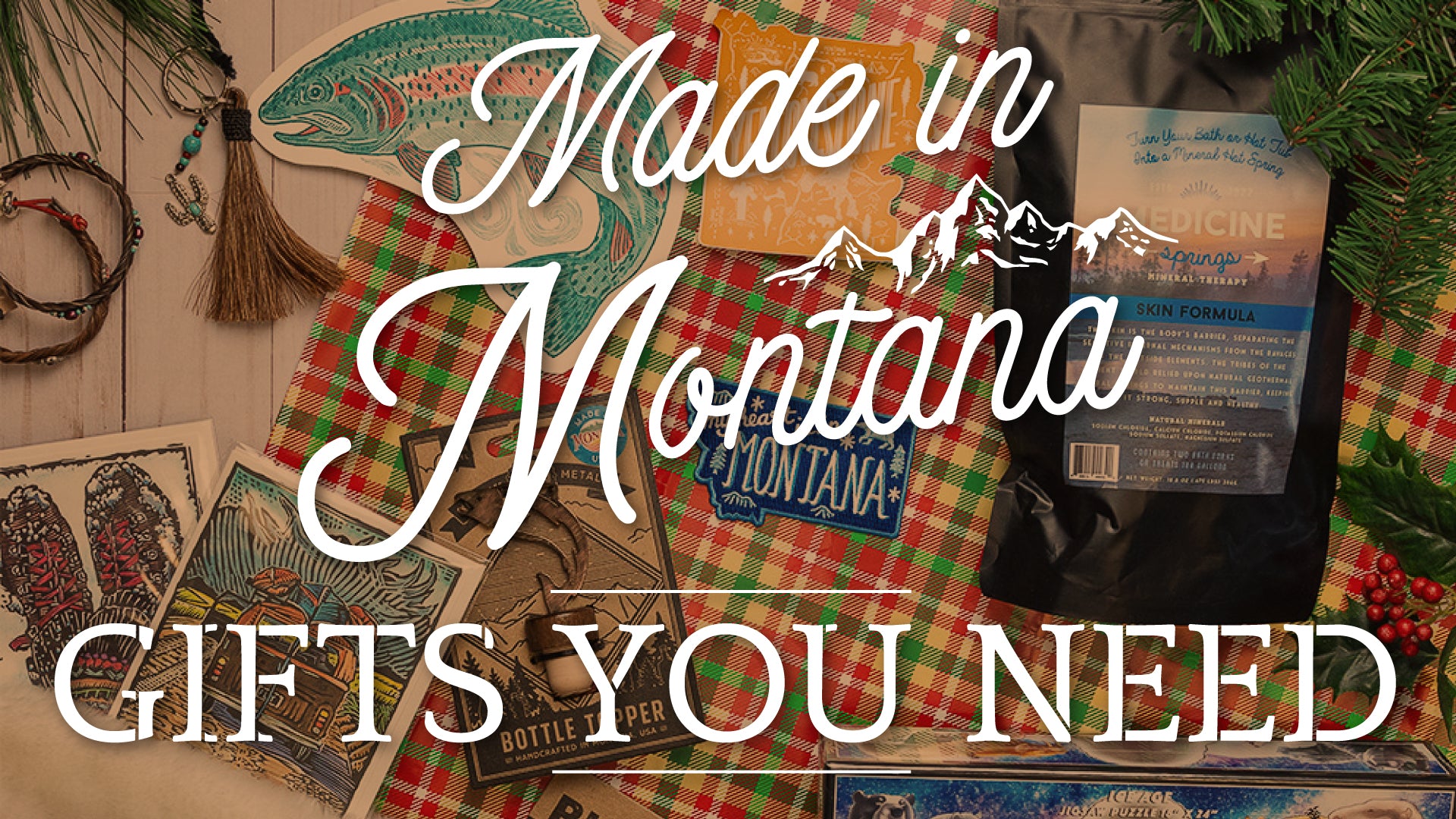 Made in Montana Gifts You Need!
To be Made in Montana, means to have been created without any shortcuts. Montanan's take pride in their work; that's how we have kept our heritage strong, and our history alive in the Treasure State. We're a Montana store, selling Montana products, and supporting Montanan vendors!
Since we love Montana, supporting our local economy is extremely important to us. We continue to look for new ways to support the community and local companies. When choosing our local product, we look for passion, love, and quality. If they weren't fun, friendly, and customer focused, chances are we don't carry their product!
From Montana Huckleberry products, Huckleberry Gifts, Made in Montana Gift Baskets, and Montana Jewelry, we take pride in our state and what it has to offer! Here is a list of must-have goodies to gift to your family, friends, and loved ones:
Made in Montana Food
When it comes to choosing the perfect gift, food is a no-brainer. Whether your friends, family, or loved ones love a good sweet treat, or prefer more savory options, we've got you covered here at Montana Gift Corral!
Start your loved ones day off with a bag of our delicious Made in Montana coffee from Morning Glory! Morning Glory Coffee is a local company established in West Yellowstone, right next to Yellowstone National Park! This family-owned business has been serving coffee here since 2005 and pride themselves on using ethically and sustainably sourced coffee beans. We have you say, there is nothing that wakes us up like a good cup of this company's campfire blend!
For your snacky loved ones, you don't want to miss out on our selection of meat products from Ranch House Meat & Sausage Co! Ranch House is a family-owned and operated company with several locations in central and eastern Montana, but their production facility is located in Sheperd, Montana. As a USDA-certified meat processor, they are dedicated to creating an extremely high-quality product. Trust us when we say that their snacks, bursting with flavor and quality, are not something you're going to want to share!
Looking for something a bit sweeter? We know you and your loved ones will adore our selection of huckleberry goodies from Huckleberry Haven and Huckleberry People! If you're looking for the perfect gift for someone that says Montana, there's nothing better than the gift of huckleberry food! The huckleberry cannot be grown commercially, so it must be hand-picked from the fields and meadows that border the mountain ranges. All of our huckleberry treats are made in Montana with the finest quality and ingredients!
Featured Products:
Made in Montana Body Products
When it comes to choosing body products that are luxurious and gentle on the skin, Montanan's do it right! From bath salts to essential oils, soap, and lotion, we have a wide array of Montana-made body product that will make the perfect gift any time of year.
 One of our top sellers here at Montana Gift Corral is our line of healing remedies from Windrift Hill. Based in Conrad, Montana with help from their goats, a herd of 40 happy, healthy Nubian Goats who spend their days grazing in the shadows of the Rocky Mountains. Deena, who owns the company with her family, was an occupational therapist and often saw her clients struggle with dry skin that couldn't be helped by medical creams and soaps. Once she did some research, she started making goat's milk products right out of her own kitchen. Her hydrating products are perfect for dry, irritated skin, and are a favorite among many Montana locals!
For those that highly prioritize the healing benefits of natural oils, our selection of products from Natural Essentials are awesome! Based in Churchill, MT, Natural Essentials is a family-owned and operated business that we love. Beginning as a way to help their young daughter with her eczema, this company now sells a range of homemade bath and body products to promote overall health and wellness!
Our friends over at Huckleberry Haven also craft body products. Two of our favorites are the Huckleberry Body Cream and Huckleberry Lip Balm. Making the perfect gift, this duo will keep you and/or your love ones skin and lips hydrated all day long!
Featured Products:
Unique Montana-Made Gifts
Not in the market for Montana made food or body products? Don't worry! From greeting cards to accessories, and even barware, we have plenty of other Montana based products to choose from. 
If you are searching for a gift that is simple and fool-proof, you have to check out our wide array of greeting cards & postcards! One of our favorite Montana-based paper products shops is Noteworthy Paper & Press, a locally owned company based out of Missoula, Montana. They have a unique style that is classy and fun and they use hands on technique to make their product! If you are searching for more nature-inspired designs, we recommend you check out Claire Emery Art! For more than 20 years, Claire Emery, of Claire Emery Art, has worked with scientists, botanists, and conservation groups to create a collection of artwork that is educational, true-to-life, and inspiring. Through a technical process of designing, carving, and printing a variety of stunning wildlife and nature designs, Claire Emery is truly able to inspire people with her unique style of woodblock printed greeting cards!
Are you and your loved ones less likely to be spending time writing and more likely to spend it crafting delicious cocktails? If so, make sure to check out our line of hand-crafted metal goods from Blue Moose Metals! Blue Moose Metals started out in Missoula, MT with founder Kirk Holfeld designing bottle openers for himself and friends. A love for Montana and the outdoors soon translated over to Kirk creating metal work designs! To this day, Kirk and his Wife continue to make their Montana-inspired products in the beautiful Bitterroot Valley!
Featured Products:
Written by: Alexa Jorgenson, MGC Content Creator
Photography by: Haven Windsor, MGC Photographer
Blog Cover by: Averi Thompson, MGC Graphic Designer