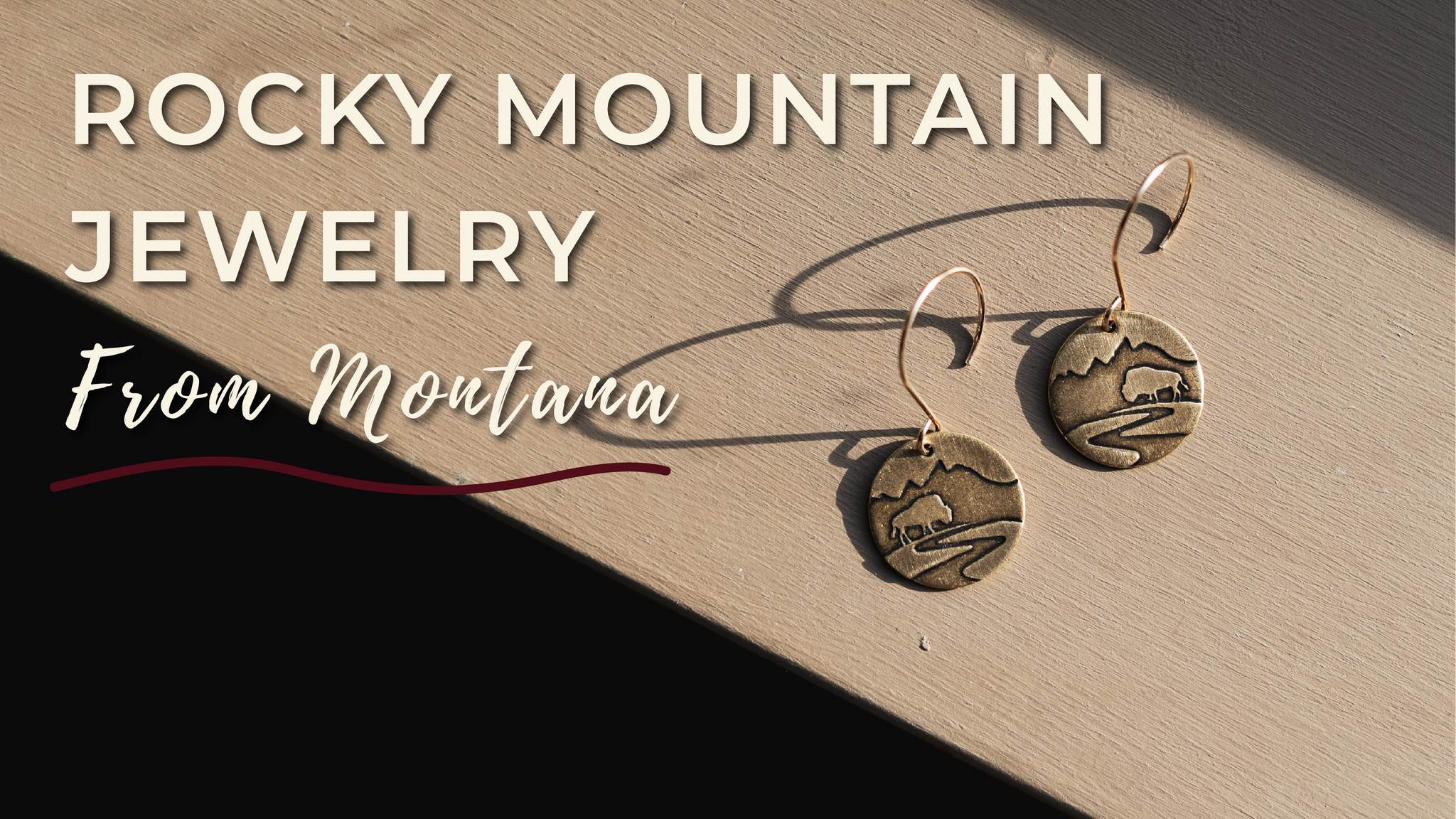 Rocky Mountain Jewelry from Montana
Montana is beautiful. It would only make sense that this state would also produce some of the most beautiful jewelry in the Rocky Mountains. From beautiful spacious skies to purple mountains majesty, the gorgeous scenery of Montana is clearly reflected back in the jewelry-making process. We love Rocky Mountain jewelry as much as you do, so here are some of our recommendations to help you turn Montana scenery into your next favorite accessory!
Large Textured Disc Earrings by RoseworksMT
You can't talk about all things shiny and pretty without talking about RoseworksMT. At the base of the Swan Range Mountains, you'll find the jewelry-making shop of John Rose. He began as a fabricator and welder, amassing years of experience working with metals like copper and brass. Once he understood how these metals can be molded and shaped, he put that knowledge into creating jewelry.
Montana State with Heart Necklace by RoseworksMT
Each piece is hand cut and hammered from a sheet of heavy gauge copper. Then, John applies heat with a torch, which gives each of his pieces a unique array of colors, just like a Montana sunset. From purple and blue to orange and red, no two pieces of this Rocky Mountain jewelry are exactly alike. But one thing's for sure: they are all stunning!
Buffalo in the Tetons Earrings by Daphne Lorna.
This is my personal favorite from the Montana jewelry that we carry. I just love the whole vibe of Daphne Lorna! In fact, I just gave my mom this Daphne Lorna necklace and she wears it all the time! Daphne Lorna jewelry is the creation of a sister duo: Daphne and Cindy. They design all of their own pieces with style and adventure in mind.
Poya Bear Necklace Matte Silver by Daphne Lorna
They are most inspired by their mother, who collected beadwork. The neat thing about this Montana made jewelry is how the two sisters meld together their unique styles. Cindy has a flair for bright tones which comes from her love of the deep south and East Coast beaches. Daphne has a casual mountain-girl femininity and love for everything outdoors. With their powers combined, they create fun and funky Rocky Mountain Jewelry!
Sam Ferraro has been making jewelry in Bozeman, Montana since the early 1970s. And, he's one of our legacy vendors, meaning we've carried his pieces since the day we opened our doors in 1993. We love working with Sam because he produces Rocky Mountain jewelry unlike anything else out there. Using real gold and silver and a bevy of blacksmithing tools, Sam begins by casting and molding each piece with clay, wax, and ceramic before he even thinks about the metalsmithing.
That's why you really get something wonderful when you purchase Sam Ferraro jewelry. We at Montana Gift Corral feel a special connection to Sam, having worked with him so long, so be sure to check out our Sam Ferraro Jewelry blog to learn a little bit more about this unique Montana character.
Nature Cast Metalworks is a Montana jewelry company.
Nature Cast Metalworks is another favorite of ours among Montana jewelry. They've been in the business for over 20 years handcrafting jewelry out of Great Falls, Montana. Three best friends design every piece of this Rocky Mountain jewelry and they take their inspiration from none other than the great outdoors of Montana! They especially feel connected to our National Parks, which symbolize a place of tranquility and repose for them. Each piece of jewelry they create is a balance of sterling silver and mixed metals. You can see that beautiful inspiration in their designs that include leaves, paw prints, and favorite animals of the Rocky Mountain region. Nature lovers rejoice for Nature Cast Metalworks!
Horse Hair Charm Bracelet by Cowboy Collectibles
Now when you're talking about unique Montana jewelry, it doesn't get much more unique than Cowboy Collectibles. Based out of Hungry Horse, Montana since 1995, Laura Plain is the founder and owner of this horse hair jewelry line. There's such a deep connection that the people of Montana have to their horses.If you know a horse person, you know they live and breathe that equine lifestyle. Horse hair jewelry allows them to accessorize with their favorite companion. Cowboy Collectibles uses the hair of horses who have gone onto greener pastures, and braids it into beautiful bracelets, bolo ties, and more. Combined with some beaded accents and conchos, there's a little of something for everyone from these jewelry makers! 
As you can probably tell, when we find a maker of Montana jewelry who we adore, we never let them go. We love our jewelry makers and how well they represent the beauty of our home state. We hope you find a little glitter and a little shimmer in this stunning array of Rocky Mountain jewelry. 
Written by Cassi Miller.
Photos by Zach Altman. 
Last updated Feburary 11, 2021.