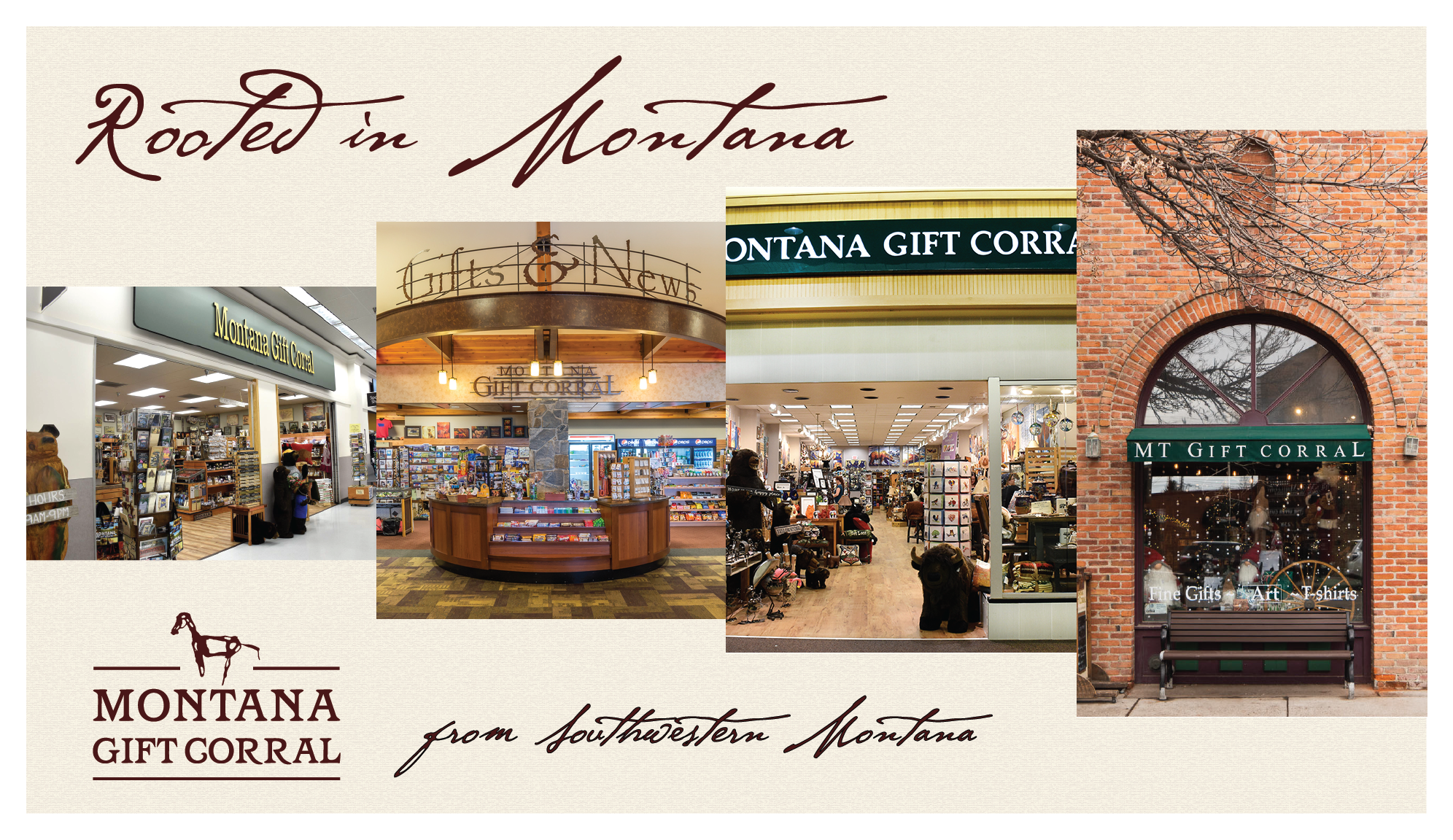 Rooted in Montana: Montana Gift Corral
For more than 25 years, our roots have grown deeper throughout Montana. Thanks to the community of Southwest Montana and beyond, we continue to deliver wonderful gifts and Montana products unlike anywhere else! As we reflect in the new year, we want to showcase why each of our six locations are special.
With locations from the Lewis & Clark Caverns State Park to Downtown Bozeman, you're never too far from one our stores filled with unique products. With friendly smiles and a knowledgeable staff, whether you're flying in and out of Bozeman Yellowstone International Airport, or sneaking into Walmart for some groceries, we are standing by to help you get the best gifts and specialty huckleberry products from Montana!
237 E. Main Street, Bozeman MT
First stop is Downtown Bozeman. When shopping in Downtown Bozeman, look no further than the Corral located at 237 E. Main Street. Our flagship store has been around for 25+ years even withstanding an explosion back in 2009 (and 11 years later, our neighbors are still working on rebuilding). After rocking Main Street and the City of Bozeman, we had some cleaning up to do as well! We are proud to be a staple of the downtown community welcoming locals and guests of Bozeman. With the largest selection of any of our locations, 237 E. Main is the best option to find gifts and Montana Made products in all of Bozeman! We guarantee you'll be greeted with friendly faces and smiles because, after all, you're family when you walk into Montana Gift Corral. Depending on the season, our storefront display will be filled with holiday greetings or scenes featuring of our wonderful wilderness neighbors like our friendly family of plush bears!  From amazing artwork and pottery, ornaments, local foods and sweets, dog items, and more, it's truly a one-stop-shop in the heart of Bozeman MT. 
2825 W. Main Street, Bozeman MT

Next up is our location in the Gallatin Valley Mall, just past 19th on W. Main Street in Bozeman. If you're staying on the western part of town, head over to the mall! With tons of parking, the mall has less traffic and you won't have to worry about parallel parking. In the winter, this is a wonderful alternative as well for staying out of the bitter cold Bozeman is famous for. With the food court located just a few steps away, you can enjoy your Gift Corral shopping while having a snack! Does it get any better? Ask our wonderful mall staff to help you find the perfect item for any situation! With many of the same great huckleberry products and gifts as our downtown location, if anything is out of stock at this location, chances are we can get it delivered to the store for your convenience. We'd love to see you, so stop on into the mall and say hello! 
850 Gallatin Field Road, Belgrade MT
Flying in and out of Bozeman Yellowstone International Airport is always a treat. No matter what part of the airport you find yourself in, you're bound to have beautiful views of the Bridger Mountain Range at your gate, and the best staff of any airport out there! Just past the easiest TSA security you'll ever experience is our Airport Montana Gift Corral location. Grabbing a snack or refreshment before your flight is a breeze, and, if you forgot to pick up that souvenir or gift for that special someone, we've got you covered! Taking a piece of Montana home with you is made simple with our airport location. Luckily, if you need a little more than a snack, the Copper Horse Restaurant, Grab & Go, or Taco Jet is there to satiate the hungriest visitors of Bozeman Yellowstone International Airport with quality ingredients brought to you by great wait staff that make dining while travelling enjoyable. 
 109 Pipkin Way, Belgrade MT
The heartbeat of Montana Gift Corral is over in our unassuming fulfillment center in Belgrade, MT. This special location is filled to the brim with the friendliest employees, managers, dogs, and drivers. Every single employee working for Montana Gift Corral, Taco Jet, and Copper Horse Restaurant has stepped foot into the fulfillment center. Our website, giftcorral.com is operated here as well, pumping out content for all our companies from photography, videography, advertisements, community outreach, and more! Our warehouse workers keep Montana Gift Corral organized and running smoothly, making sure each of our locations are stocked properly and helping customers receive their products on time and with care. From operations to relations, the fulfillment center can do it all. Each and every person that makes up this location are passionate about the company and care deeply about creating a positive experience for everyone who interacts with any of our Montana Gift Corral locations. 
1500 N. 7th Avenue, Bozeman MT
Our last stop is at the end (or beginning) of 7th in Bozeman, whichever way you're traveling. We have the wonderful opportunity of having our very own Montana Gift Corral location in the Bozeman Walmart. Not only can you grab groceries, home goods, electronics, and more, but you can find all the quality products and gifts we offer, without leaving the doors of Walmart. We have the same local and friendly staff in the Walmart location that we directly hire; meaning you will have an unmatched customer experience that is the hallmark of everything we do at the Montana Gift Corral. Carrying the same products as our other locations, you will find the endless huckleberry product selection to satisfy your taste buds and the Montana made gifts we have always been proud to offer.
Our six locations are designed to bring the same feeling of warmth and genuine care we give to all our customers regardless of which store is your home corral. We're fortunate to be a part of this wonderful community and look forward to many more years to come.
Written by: Chris Wood and Stephen McNeal