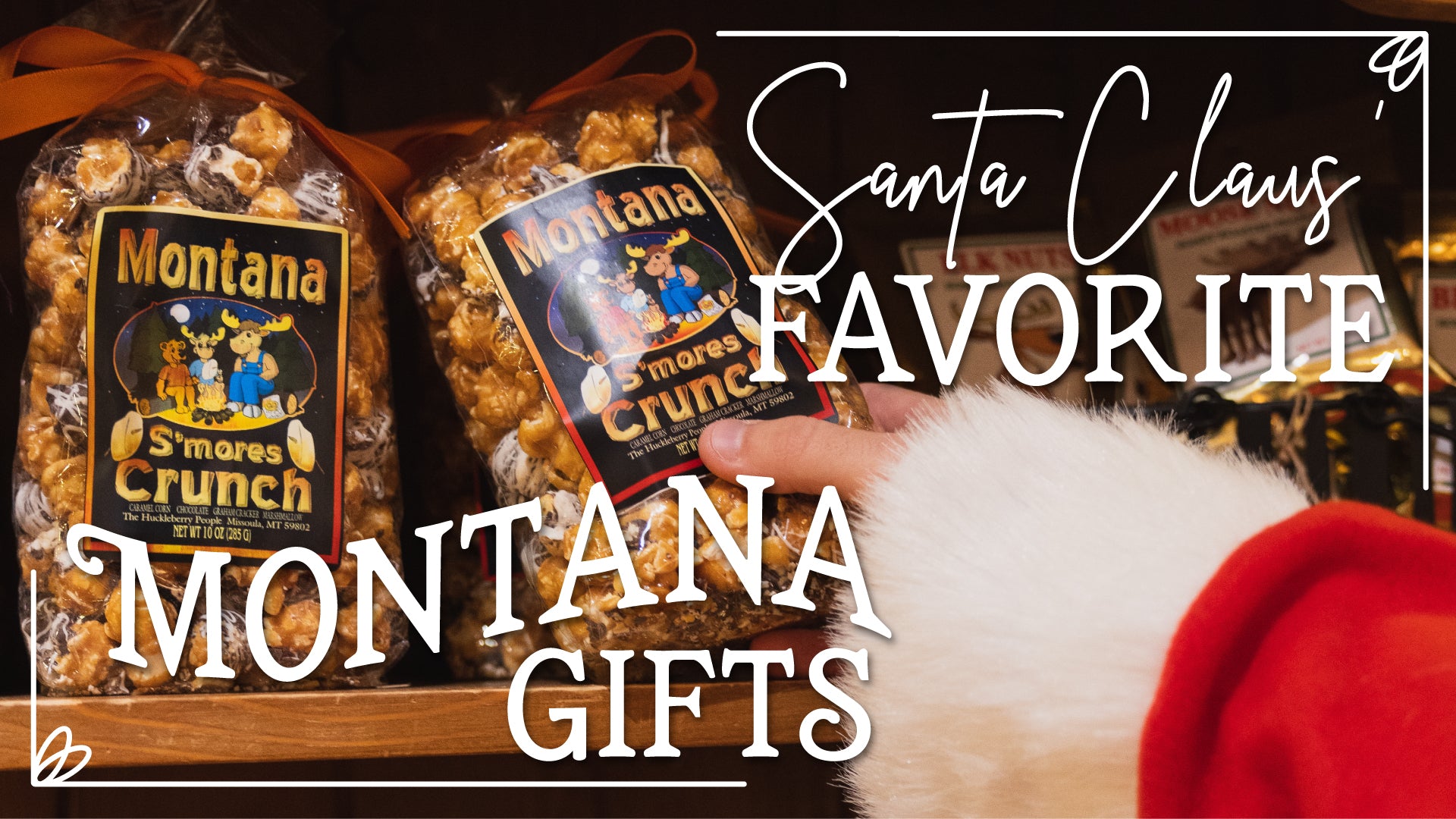 Santa's Favorite Montana Gifts to Give!
Christmas is just around the corner, and now is the perfect time to get a head start on your Christmas shopping! 
As you may have heard us say, it's always Christmas at the Corral! Whether you are looking for holiday home décor, Montana-made gifts, or even delicious holiday treats, Montana Gift Corral has you covered. But don't take our word for it, Santa himself hits up our shops for last-minute gifts and stocking stuffers! Here are some of his go-to products:
Christmas & Home Décor!
Let's be honest, there is nothing Santa loves more than showing up to a house that is fully decorated for his favorite season - Christmas, of course! This being said, he always make a beeline for our holiday décor when visiting our stores. 
Lighted Water Lanterns
There is something about water lanterns that bring the magic of the holiday season to any space. Once turned on, these lanterns are lit with LED lighting and feature whimsical swirling glitter - perfect for any Christmas decorating extraordinaire! 
Lighted Water Lanterns make Santa feel right at home - just sayin'! 😉
Holiday Wall Décor
Santa doesn't just love tabletop décor, in fact, we have some insider information that Christmas-inspired wall art makes him especially giddy! If you've been on the hunt for that special statement piece to bring some Christmas cheer to your space, you've got to get your hands on the Santa Stops Here Wood Framed Wall Art by Raz Imports! We guarantee that you will be the jolliest home on the street with this brightly designed wall art. 
By the way - a little birdy told us that the best decorated homes get extra big presents from Santa!
Based in Texas, RAZ Imports is known for offering a wonderful array of home decor and whimsical holiday designs. From lit wall art to metal prints, and of course, high-quality wooden decorations, we are huge fans of this company here at Montana Gift Corral. Since 1979, this company has been providing stores and consumers with heart-warming decorative pieces that are worth investing in!
Santa Stops Here Wood Framed Wall Art by Raz Imports
Unique Glass Ornaments
While Santa thoroughly enjoys roaming our store and viewing all sorts of beautiful Christmas décor, there is something about ornaments that simply calls to him. From hand-painted Inner Beauty ornaments to our sparkly assortment of ornaments from Old World Christmas, we have the perfect glass ornaments for any holiday home.
Beautiful and meaningful, Santa has been loving our selection of glass ornaments from Kitras Art Glass for last-minute gift giving. Kitras Art Glass prides itself in crafting unique, one-of-a-kind glass art! In fact, because of their hand-blown nature, no two Enchantment Trees are going to be the exact same. These glass ornaments are perfect for those of you who are looking for an inspirational piece of home décor as they hold great meaning and messages fit for everyone!
We love Kitras Art Glass so much, that we carry a variety of their products. Click here to view our full selection of art from this wonderful company!
Tree of Family Enchantment Ball by Kitras Art Glass
Sweets & Treats!
While Santa is extremely productive, sometimes even he can't get everything done! When in a pinch, Santa is known for visiting our stores in search of lovely stocking stuffers that will be a hit for everyone. Montana Gift Corral and Santa Claus are in agreeance that you can never go wrong with delicious sweets and treats!
Binge-Worthy Popcorn
Montana Gift Corral is known for its delicious goodies - in fact, some of our treats are so yummy that they are nearly impossible to put down (a blessing and a curse)! When it comes to Santa's favorites, however, the S'mores Crunch by Huckleberry People is at the top of his list. 
Starting with a caramel corn base, chocolate and marshmallow cream are drizzled over top. Then, a sprinkling of graham cracker crumbs is added to complete the flavor fest of this one-of-a-kind popcorn! Trust us - nothing hits the spot quite like this delectable treat. If you get the S'mores Crunch Popcorn in your stocking this year, consider yourself lucky!
Looking for more unique popcorn flavors? Our selection of Gourmet Popcorn from Hammond's Candies are to-die-for!
S'mores Crunch by Huckleberry People
Huckleberry Favorites
Just like any other MT visitor, one of the fist stops Santa makes when visiting the Big Sky state is to get his jolly hands on some delicious huckleberry goodies. Unfortunately, since huckleberries only grow in the rocky mountain region, and cannot be farmed, he can't grow them in his garden in the North Pole! That's okay, however, Santa knows that the Montana Gift Corral is a huckleberry-lovers paradise.
For over 30 years, Huckleberry Haven has been producing delicious Montana-inspired goodies out of their location in Northwest Montana. This unique brand is well-known for manufacturing delicious huckleberry delicacies that are adored worldwide! Huckleberry Haven takes pride in meticulously preparing their huckleberry recipes in small batches, ensuring the high-quality nature of their classic offerings. If you've been craving some huckleberry goodies, check out our range of products provided by Huckleberry Haven, we guarantee you won't be disappointed!
Whether you opt for our fan-favorite Huckleberry Jam, our classic Wild Huckleberry Chocolate Bar, or even our Huckleberry Syrup and Jam Gift Crate, you truly cannot go wrong!
Buyer beware: once you've tasted our delicious huckleberry products, there is no going back. You'll be hooked for life!
Huckleberry Syrup and Jam Gift Crate
Bar Essentials!
If there is one thing we know for sure, its that Montanans know how to work hard, and play even harder. After a long and productive work week, there's nothing better than winding down with a good adult beverage! Santa knows best, and he definitely understands that every adult deserves to celebrate the weekend. Trust us, after 1,750 years of life, Santa knows the difference between good and bad barware!
Hand-Crafted Bottle Openers
While Santa crafts most of his gifts in his workshop, he enjoys supporting local economies when looking for last minute gifts! One of his favorite gifts for adults from Montana Gift Corral is the range of bar essentials from Blue Moose Metals.
Blue Moose Metals started out in Missoula, MT with founder Kirk Holfeld designing gaming bottle openers for himself and friends. A love for Montana and the outdoors soon translated over to Kirk creating metal working designs. Each piece starts as an idea and a sketch that is then laser cut out of 10-gauge steel. Blue Moose Metals is still run out of Kirk's garage in the Bitterroot Valley of Montana where he and his wife continue to make each item with their own hands.
Here at Montana Gift Corral, we carry an array of hand-crafted bottle openers and bottle toppers from Blue Moose Metals. Cheers to the Christmas season!
Wine Pourers
While we all love beer here, Santa also makes sure to pick up fun gifts for wine lovers. Whether you love white or red, Santa Claus is definitely heading to the Montana Gift Corral to grab you, your friends, and loved ones our fan-favorite Chirpy Top Wine Pourers!
The Chirpy Top Wine Pourer by GurglePot, Inc. is a cute new way to pour your wine! The Chirpy Top Wine Pourer is sure to make your wine pouring experience less of a 'birden". Made from silicone rubber, you won't have to worry about it falling and breaking, the stopper is also made of silicone to help prevent leaks or spills! When we say that we can barely keep these wine pourers on the shelves, we totally mean it. 
There will be no need to 'wine' when you get one of our Chirpy Top Wine Pourers in your stocking this year! 😉
Red and Orange Chirpy Top Wine Pourer by Gurgle Pot, Inc.
Gifts for your Furry Friends!
Santa doesn't just shop at our stores for gifts for your kiddos, he makes sure to pick up a little something for your fur babies as well! From dog toys to treats, we have the perfect gifts for your pups this year.
Dog Treats
While there are plenty of dog-related items to choose from at Montana Gift Corral, Santa's favorites are our dog treats from Treat Planet! 
Based in Earth City, Missouri, Treat Planet is a company that is committed to offering natural, healthy, and eco-friendly pet treats throughout the nation. Offering both meat and plant-based treats, this company wow its customers with a range of options to meet the dietary needs of your furry family member. As they put it, "Our Treat Planet brands include innovative products made from unique proteins and all-natural ingredients." We want the best for our dogs, and we are sure you do as well!
Made with sweet potato, these healthy and low-fat Dog Doughmutts are the perfect bite to get your pup's Christmas morning started off on the right foot!
Written by: Alexa Jorgenson, MGC Content Creator
Photography by: Haven Windsor, MGC Photographer
Blog cover by: Averi Thompson, MGC Graphic Designer