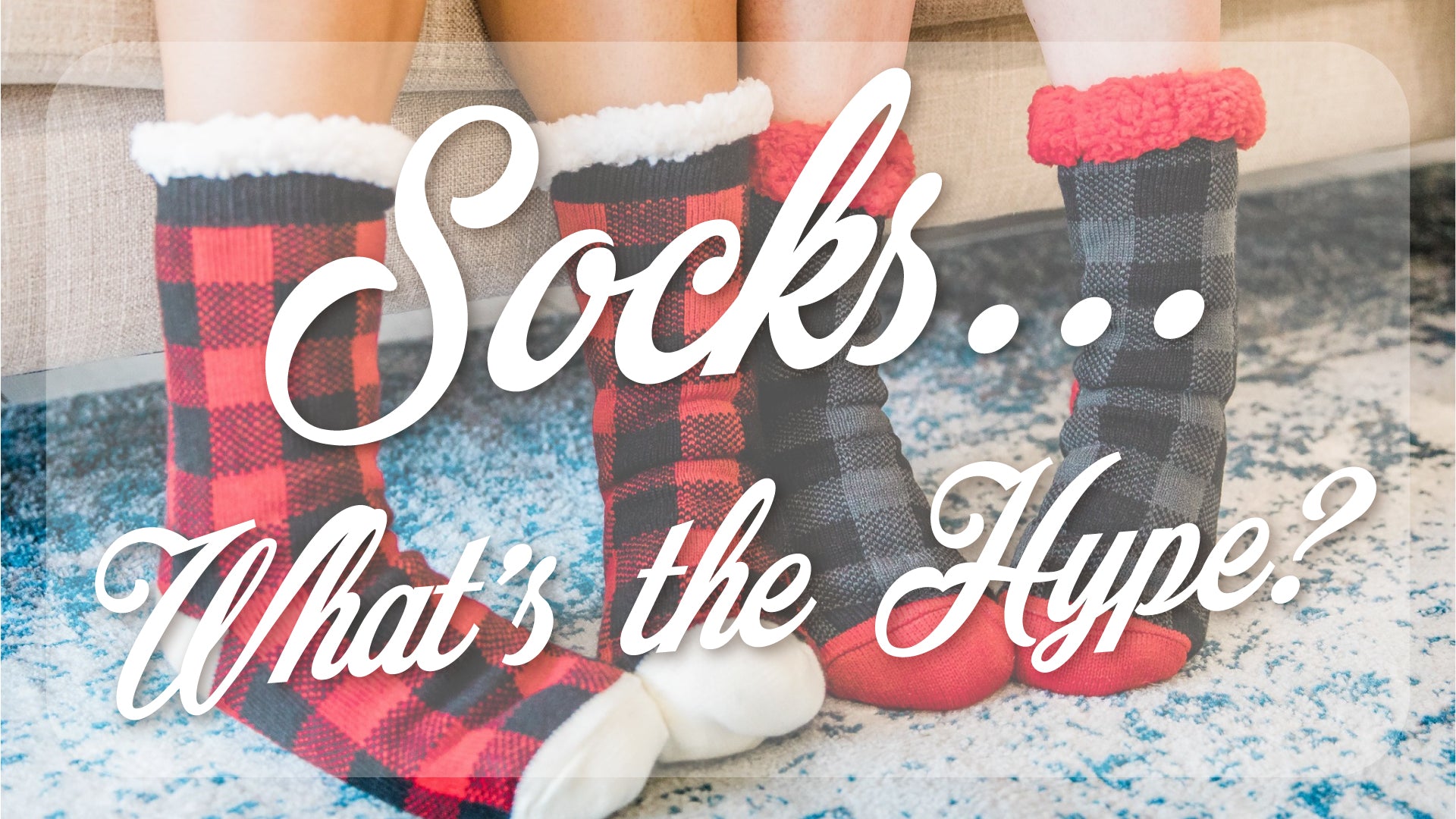 Here at Montana Gift Corral, we are firm believers in the power of a fun pair of socks. Whether you are looking for the perfect pair of novelty socks to show off your personality, creativity, or even to liven up a simple outfit, we've got you covered! From avocados to adorable bears, we have the perfect pair of funky patterned socks that are sure speak to your individuality! 
Fly Fishing Crew Sock by Lazy One
The invention of socks is one that we will surely remember for a lifetime, while these accessories serve a highly-obvious purpose for protecting our feet and providing warmth, socks have actually become decorative within the last century! As clothing styles change and we discover new textile changes and techniques, sock styles continue to evolve as we do. This being said, now is the perfect time to implement novelty socks into your life. 
One of our favorite brands offering novelty socks, is undeniably Lazy One. Lazy One is a company that is committed to providing high-quality and well-made loungewear that is sure to impress even the most picky of individual. In the words of this fun company, "Our mission is to not only bring a lot of laughter and smiles to you, your family, and your little ones—but to help all of our customers feel comfortable from the inside out".  And did we mention that Lazy One is passionate about its environmental friendly practices? That's right! In addition to working only with factories with sound environmental practices, Lazy One displays its items using hangers and hang tags crafted from recycled materials, and dyes its fabrics with azo-free dyes! We love a sustainable company!
Happy Camper Socks by Lazy One
Now, you may ask, "Why in the world would I need a pair of novelty socks?" and lucky for you, we can offer several reasons why the purchase of a pair of these jazzy accessories is an essential one.
1. Show Off Your Personality
The first, and most important, reason why you should pick up a pair of unique novelty socks, so that that you can show off your personality. Let's be honest, life is too short for drab socks, and the sooner you can get your hands on a fun pair the better! Big fan of animals and wildlife? We've got a pair of socks for that. Love avocados? We've got a pair of socks for that. Are you a true believer of the legendary bigfoot? We've got a pair of socks for that, too! 
2. Add Some Life to Your Closet
Have you always felt like your closet is missing something? Are you constantly let down by the lack of life in your current wardrobe? Trust us, we've been there. However, after adding a few pairs of Lazy One novelty socks to our arsenal, we never feel like our outfits are too boring! Just trust us, you seriously need to add some pattern and vibrant color to your closet. 
3. Novelty Socks Make for the Perfect Gift
There is nothing worse than the feeling of not knowing what you should get somebody as a gift. This being said, socks are a no brainer! Not only are socks essential for any functioning human, but they are a wonderful way to make any of your loved ones laugh! Add a touch of joy to any gift that you give with the addition of any of our Lazy One novelty socks. I mean, how could somebody not enjoy these hilarious accessories!
Bearly Tired Crew Socks by Lazy One
By this point, I sure hope that I've convinced you that you seriously need a pair of novelty socks. With the wide variety of socks that we offer from Lazy One, we guarantee that you will find a pair that make you smile. Whether you are looking for an option to show off your personality, add some vibrant life to your wardrobe, or searching for the perfect gift for a loved one, novelty socks are a no-brainer. Check out our diverse collection of Lazy One loungewear here!
There is no denying that Montana winters are cold, warm up with some of the wonderful products we've highlighted in our A Look Into Montana Gift Corral's Cozy Collection blog!
Written by: Alexa Jorgenson, Cheers Content Creator