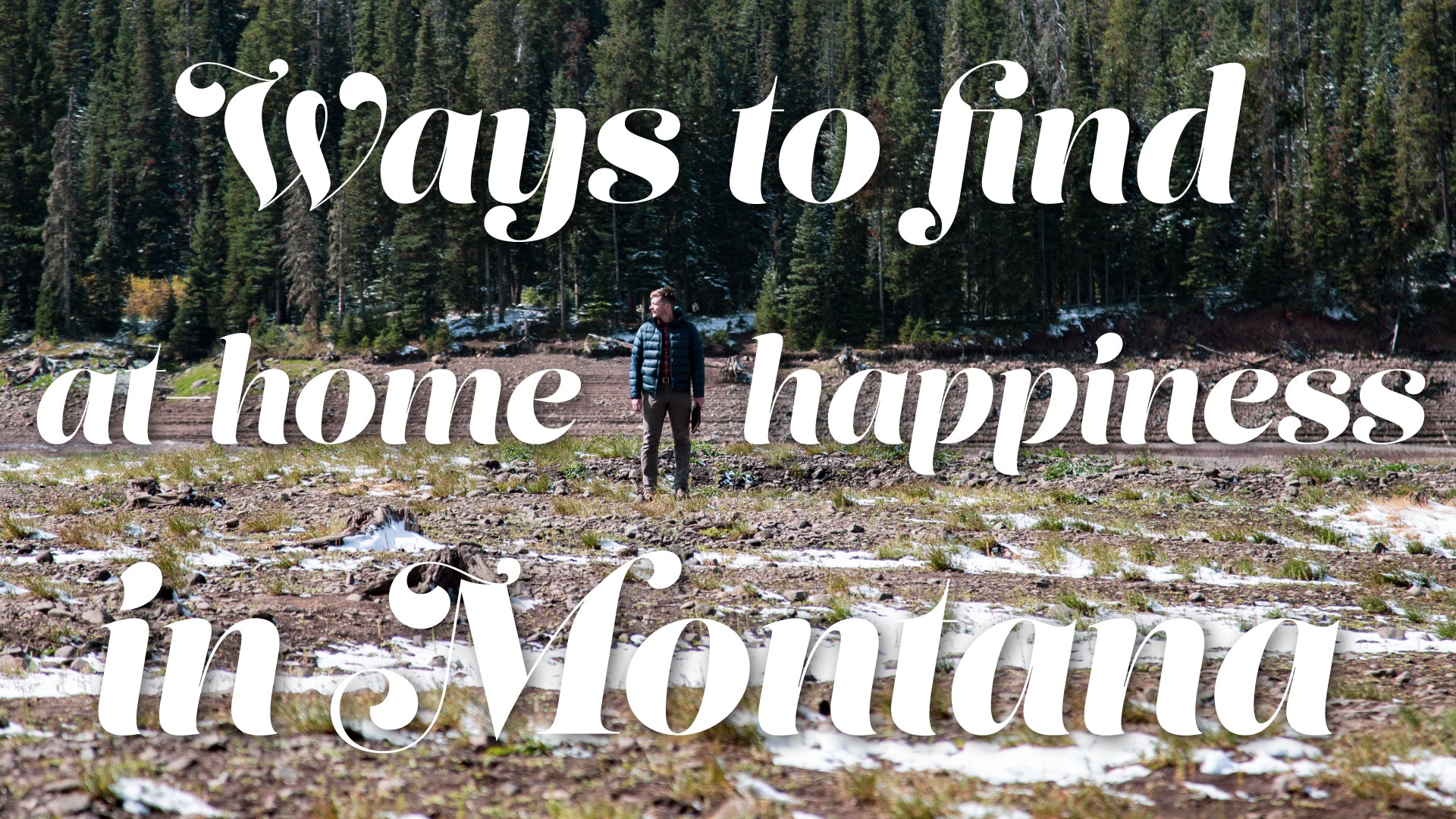 Ways to Find At-Home Happiness in Montana
Ways to Find At-Home Happiness in Montana
You don't have to wait for gray skies to clear up to put on a happy face if you live in Montana! There's a sense of pride that comes with living in Big Sky Country, and it's that pride that makes us happy to be at home in Montana. 
Get Outside in Big Sky Country
The quality of life in Montana is where your happiness begins. The Treasure State is where you'll find the Rocky Mountains, Great Plains, Glacier National Park, and a portion of Yellowstone National Park. The state has more than 147,000 square miles of snow-capped peaks, alpine trails, wilderness, grasslands, and all sorts of natural wildlife. 
Get out of the house for a visit to the Beartooth Mountains, Grinnell Glacier, and the Missouri and Yellowstone Rivers. While the state has its share of cultural events, shopping, and dining, nothing compares to Montana's great outdoors.
The state ranks No. 1 in places to go camping, rock climbing, skiing, fishing, snowboarding, cycling, and hiking. Be happy by staying busy, breathing fresh air, and enjoying native wildflowers like gumbo lily and yellow rabbitbrush. 
Exercise Your Green Thumbs
Being stuck at home can make us punchy and nervous if we're not focusing on ways to be productive. Planting a garden lets you get your hands dirty while creating something useful. 
From Helena Community Gardens to Park Place and Southside Gardens in Great Falls, to Garden City Harvest's 11 community garden sites around Missoula, there are loads of places where you can plant your own farm-to-table ingredients for at-home meals.
Growing flowers and vegetables is a way to connect to Mother Earth. Learning is a life-long task, and with so many tutorials on the internet, you're able to pick up new hobbies like needlework and photography.
Listen to Music and Dance
Whether it's soft, funky, jazzy, or somewhere in between, music goes a long way to improving your mood. Listening to the right kind of music at the right time can reduce anxiety and stress, improve sleep, boost self-confidence, increase energy, and rope in mild depression. 
Songs celebrating at-home life in the Treasure State include "Meet Me in Montana," "Montana Rodeo," and "Montana Song." 
Songs about Montana may not be dance music, but you don't need a barroom dance floor to move to your favorite beat. Dancing improves posture and flexibility, increases muscle strength, reduces stiffness, and gets your heart pumping. 
Montana square dancing is on pause because of the pandemic, but grab your headphones and let your favorite music move you under the Big Sky. 
Dancing helps your body to release endorphins, a chemical that puts you in a good mood. So dance your way to happiness! 
Meditate in Montana
Clearing the cobwebs from your mind reminds you about the good things in life, especially when you're feeling closed-in at home. Meditation improves your mind, mood, and health. 
Places to meditate in Montana include the Bozeman Dharma Center, Namchak Retreat Ranch in Missoula, and Saffron Sun Healing Arts in Whitefish. Or, just meditate wherever you are and whenever you feel the need to enjoy the sounds of Spring Trees in the Montana Breeze.
As you listen to the breeze, you can almost feel your blood pressure dropping and your troubles fading in the distance.
Stress increases blood pressure, heart rate, and breathing. Too much stress produces the hormone cortisol, which negatively affects various organs, the brain, and the immune system. Stress doesn't really go away, but you can bring yourself to a calming state by focusing on ways to relax.
Various meditation techniques focus on the heart, concentration, and mind. Tai chi is a form of meditation that includes physical exercise and breathing. Transcendental methods have you repeating a word, phrase or sound to quiet the noise in your mind. Walking meditation focuses on breathing in time with movement. 
How to Be Happy in Your Montana Home
Making a choice to be happy includes a review of what you have in your life – materialistically, spiritually, and emotionally. 
Simple things bring happiness to your Montana home, such as rooting for your Montana State University Bobcats. 
Redecorating with a few new knick-knacks from Montana antique stores and gift shops brings us a sense of renewal. Adding some homemade artwork can brighten up your living space. 
Being happy in your Montana home starts with knowing your own limitations and what you can accomplish. What you tell yourself is a big factor, too, especially if the words "ought," "should," and "must" are in your vocabulary. Dump those negative words and focus on all the positives of life. 
Written by Clint Whitworth.
Clint Whitworth is a retired real estate agent who alternates spending time between his cabins in Montana and Wisconsin. He enjoys fishing, hiking, skiing, and growing an eco-friendly vegetable garden on both properties.