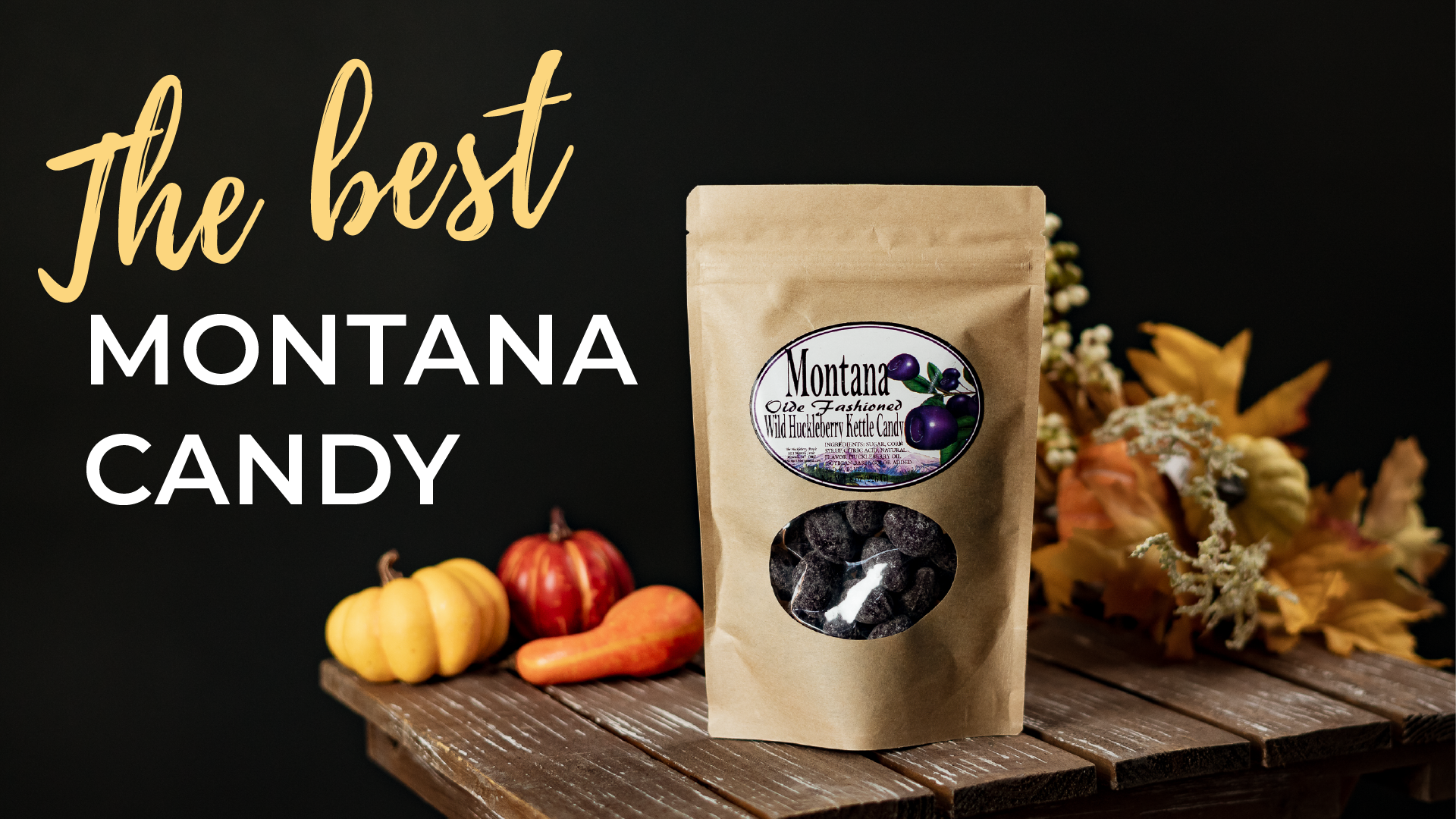 Montana is a big state. Montanans have a big appetite and an even bigger sweet tooth! When it comes to listing our favorite candies here at Montana Gift Corral, it's a challenge. We love all of the candy we carry! After all, that's why we chose to share it with you! In other words, you can't go wrong with any of the goodies in our extensive candy collection.
From huckleberry-infused licorice made in Kalispell to local favorites such at Bequet Caramels, we've got something for everyone. So have some fun, try something new, and see what you love the most. Trust us on this one: Montana does candy pretty darn good.
Montana has no shortage of delicious candy, made right here in the Treasure State. Here are just a few of our favorites!
Jumbo Huckleberry Licorice
This huckleberry licorice is one of our most popular candies of all time. 
With this Jumbo Huckleberry Licorice, you can add a Montana twist to your favorite childhood treat. This licorice is made Australian style, which allows for a softer and chewier snacking experience. Each twist is bursting with huckleberry flavor making it hard to put the bag down!
Huckleberry Haven has been crafting Montana huckleberry food for over 20 years in Montana. From their classic jams to their newest candy creations, each goodie is sure to satisfy the hungriest food explorer. This jumbo huckleberry licorice comes in a 16 oz. pack, perfect for sharing or giving as a Montana gift.
Take yourself back in time with the delightful flavor of this Montana-made jumbo huckleberry licorice!
Chocolate River Rocks
Imagine the colorful rocks of Lake McDonald in Glacier National Park. Don't you just want to eat them? Well now you can! These Chocolate River Rocks by Huckleberry Haven will satisfy your sweet tooth without breaking them.
Made in Montana from colorfully coated milk chocolate, these river rocks are a delicious reminder of those stunning stones that decorate the shallows of the lakes in Glacier National Park!
Old Fashioned Huckleberry Candy
Looking for something sweet during the day? Try a little of nature's berry patch with some old time kettle candy. What makes this kettle candy even better is the huckleberry flavor that gives you a little taste of Montana. The Old Fashioned Huckleberry Candy will be a great Montanan gift or the perfect little sweet every now and then.
The Huckleberry People make great huckleberry treats in Missoula Montana. Just a warning - you cannot just have one Old Fashioned Huckleberry Candy - you will want more!
Caramel Cookie Waffles
We can't talk about delicious treats without mentioning these legendary Caramel Cookie Waffles by Dutch Brothers. Made from scratch in Billings, Montana, these caramel waffle cookies have an almost cult-like following across the country. Many folks in our customer community order these on a regular basis - and who can blame them!
Caramel cookie waffles are originally from Holland, known as stroopwafels in the old country. Gooey, melty caramel is pressed between two sheets of vanilla and cinnamon cookie dough with a flame-fired waffle iron to give the beautiful design to the cookie. And yes, they taste even better than they look!
Bequet Caramels
Give your taste buds an amazing treat with Montana's famous Bequet Confections caramels. These award-winning caramels are a Montana staple and their fame has spread across the country! Give them as a gift or keep them for yourself, but don't miss out on these mouth-watering Montana caramels.

Bequet also offers an assorted gift bag, which is perfect if you're curious about all the flavors (spoiler: they are all amazing). The flavors include green apple, soft, chewy, Celtic sea salt, chocolate, salted mocha, espresso, salted chocolate, chipotle, butterscotch, and cinnamon swirl. With a flavor for everyone, you can share with all your friends and family.

These caramels are made in Bozeman and they will keep you coming back for more!
Photos and story by Zach Altman