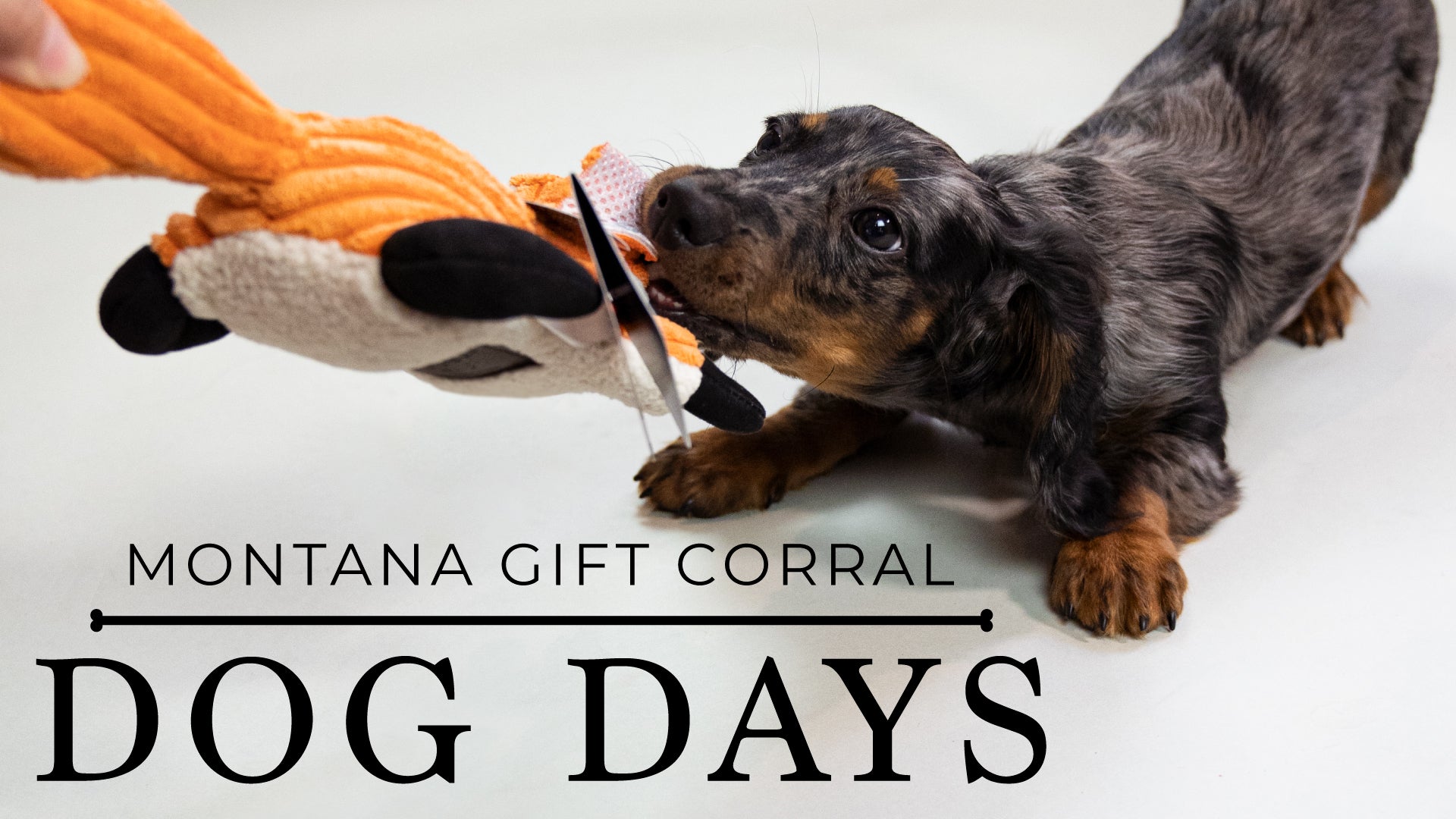 Celebrate the Dogs of Bozeman with us!
If you know Montana Gift Corral, you know our overwhelming love for dogs. Not only are dogs allowed to shop in our Downtown location with their owners, but we have an extremely dog-friendly atmosphere at our warehouse and corporate offices! In fact, we have an ever-growing list of "office dogs" that hang out with us while we work. Talk about a dream job! 
International Dog Day is August 26th annually, and this year, we were compelled to do something special for the dogs of Bozeman. Our Creative Content Team decided to host a "Doggy Picture Day" a fun local event where Bozeman residents can bring their pups and get a few free professional photos of them, graciously captured by our in-house photography team. Events like these fill our hearts with joy; snuggling dogs, meeting new friends, and building strong community ties. What could be better?
The History of International Dog Day! 
International Dog Day was first recognized in 2004, when pet and family lifestyle expert and animal advocate, Colleen Paige, proposed the idea. Motivated by the need for additional awareness about the complex needs of our four-legged friends and the ever-growing population of dogs in animal shelters, Colleen dreamed of a day that would inspire households to open their hearts to a new family member in need. You may wonder "Why August 26th?", and for that, we have an answer! Colleen chose International Dog Day to be on August 26th, since it was the day her family decided to adopt a dog named Sheltie from a local animal shelter when she was only 10 years old. How sweet! 
From 2004-2012 August 26th was unofficially known as International Dog Day, however, in 2013 the US state of New York officially adopted this heartwarming day as a recognized holiday. Since then, many organizations, companies, and families throughout the world have participated in celebrating dogs on August 26th of each year. How could you not! 
Montana Gift Corral Doggy Picture Day!
Prior to hosting our Doggy Picture Day on August 26th, we created a Facebook event and online sign-up form for dog parents to secure a time slot to get some adorable photos of their furry family members. The next Monday, we were awe-struck at the fact that every single time slot had been secured in the matter of one weekend, not including the list of walk-ins that we would receive on the day of the photoshoot. While we were expecting a couple of sign-ups, we were thrilled by the amount of excitement this event had stirred. Obviously, our Creative Content Team was overjoyed that they were given an opportunity to meet a whole crew of adorable new pups! 
We woke up bright and early on the morning of International Dog Day and headed to our Downtown Bozeman location to get prepared for a bunch of doggos to visit our shop. After setting up a couple of locations within our store to shoot the photos, we developed a plan of action for keeping a long list of dogs cool, calm, and collected, within such a fun environment. 
At 9:30 AM, our first subject arrived, with several to follow (this isn't even half of the adorable pups we photographed!). Cassi, Alexa, and Averi, three members of our Creative Content Team were in charge of organizing the day and keeping things running smoothly while Luke and Haven, our talented photographers, snapped photos of each dog in attendance. 
We may be biased, but we think our photographers did an excellent job. I mean, look how sweet these photos are! Not only did we get the opportunity to pet some of the cutest canines, but we were able to meet so many new fellow dog-lovers based in the Bozeman area. Our MGC Doggy Picture Day was a huge success!
So what do you say Bozeman, same time next year? 
Our Favorite Dog-Inspired Goodies!
As we previously mentioned, we absolutely love dogs here at Montana Gift Corral. This being said, it would be only natural for us to carry a plethora of wonderful dog toys, treats, and other dog-inspired products! Recently, we have added a few new lines that we think you will love just as much as we do.
Treat Planet
Based in Earth City, Missouri, Treat Planet is one of our favorite new lines here at Montana Gift Corral. This company has built quite a great reputation for itself as it provides an array of dog treats that are natural, healthy, and eco-friendly! Treat Planet is best known for its line of human-grade dog chews that are innovative, and 100% meat-based. These chews are crafted using only the highest quality proteins, and offer many pet parents solace in the fact that they are providing their pup with treats that they love and promote their health! In addition to these unique chews, Treat Planet offers adorable treats made from scratch, that have been carefully oven-baked. Crafted from high-quality and wholesome ingredients, you will feel great about treating your dog to these goodies!
P.S. How cute are these Dog Doughmutts? 
Deluxe Chew by Treat Planet, Turkey Bacon Meat Snack by Treat Planet, Dog Doughmutts by Treat Planet
Tall Tails
When it comes to choosing the perfect toy for your pup, quality truly matters. This being said, we are overjoyed to offer a variety of dog toys from Tall Tails. For more than 80 years, Tall Tails has withheld its commitment to producing dog products that are crafted with superior quality. These products are specifically designed for a timeless style and extreme durability! From all-leather toys to squeaker toys, and even infinity rope toys, Tall Tails offers a wide range of goodies that will have your pup's tail waggin'!
We have to say, one of our adorable office dogs, Jack, sure loves the Sage and Orange Fish Toy with Squeaker by Tall Tails!
Sage and Orange Fish Toy with Squeaker by Tall Tails
Doggie Style Gourmet Dog Treats
There's nothing we love more than a Montana-based company! Doggie Style Gourmet Dog Treats is a company that is based out of Billings, MT. With a background working in a veterinary hospital, Jennifer and Joanna with Doggie Style are passionate about hand-crafting healthy and wholesome treats for dogs! Formulated with fresh ingredients, and avoiding preservatives, Doggie Style wholeheartedly believes that the treats you share with your dog should not be compromised. As they put it, "In the beginning, we pursued a massive amount of research; both on what ingredients could be harmful, as well as what ingredients would be the best to add to our product. In addition, we had the expertise of various doctors at the clinic, ensuring that our treats would be ideal to feed to household pets. As a result, Jennifer and I collectively came up with 8 different recipes of natural ingredients." From Doggie Breath Mints to Pumpkin Peanut Bites, and even Pup Baskets, Doggie Style Gourmet Dog Treats has exactly what you need to make your dog's day! 
Written by: Alexa Jorgenson, MGC Content Creator
Photos by: Luke Clark and Haven Windsor, MGC Photography Team
Blog Cover by: Averi Thompson, MGC Graphic Designer