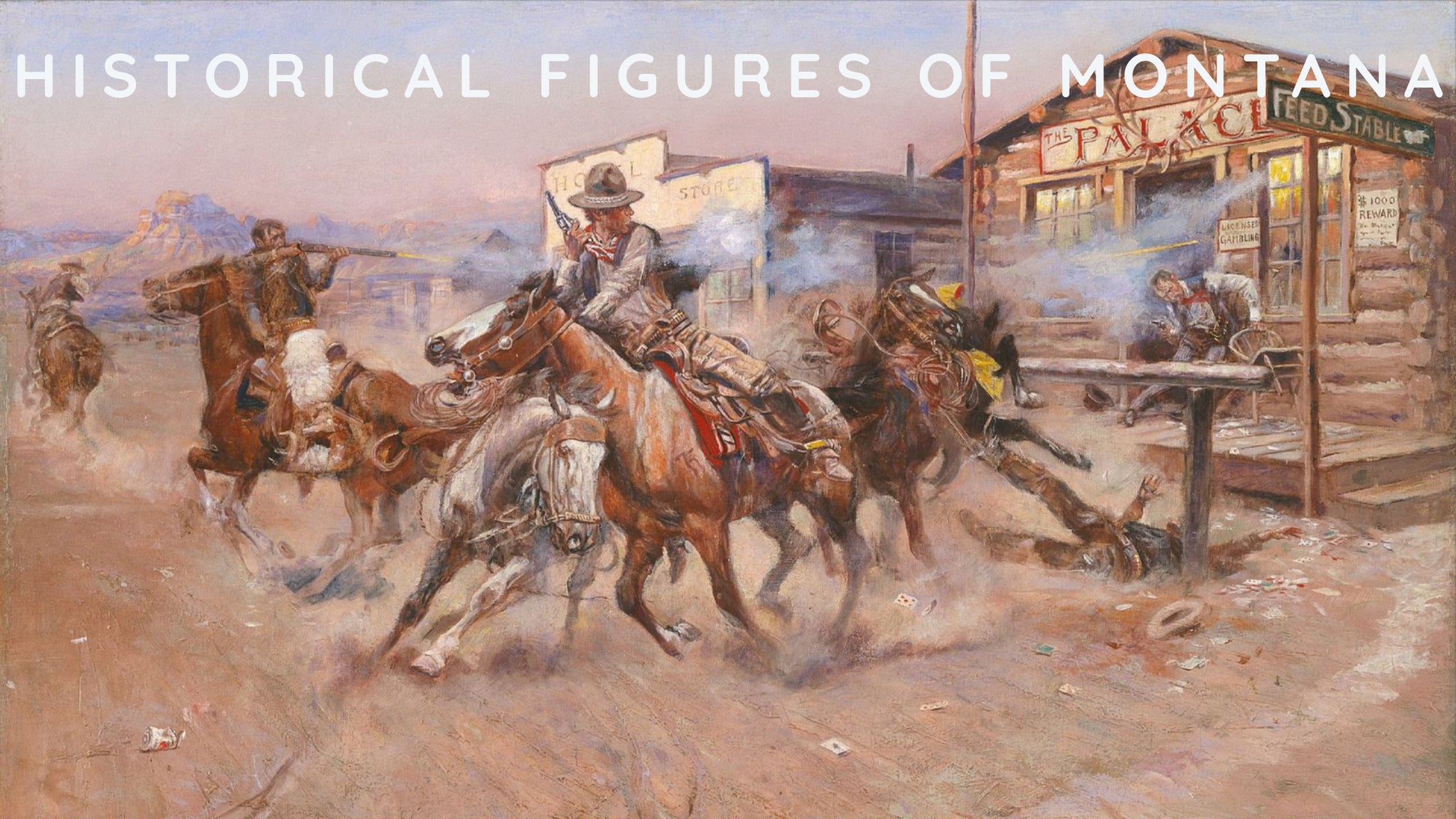 Historical Figures of Montana
Cover Image: In Without Knocking By Charles M. Russell
Learn about some of the historical figures that helped shape the state of Montana. From outlaws and miners to artists and pioneers, the history of Montana tells an incredible story.
Henry Plummer
In 1852, at 19, Plummer headed west to find his fortune in gold in California. He proved successful and in short time owned his own mine, a ranch, and a bakery in Nevada City, California. In 1856, Plummer became the sheriff and city manager. Things would turn for Plummer when acting as city marshal and providing protection for Lucy Vedder, a woman trying to escape her abusive husband, John Vedder. Plummer shot and killed John Vedder and was convicted of second-degree murder. Supporters of Plummer wrote to the governor seeking a pardon which was granted in 1859 with Plummer having served less than two years. Plummer would find trouble again in an attempt to make a citizen's arrest of William Riley that resulted in Plummer killing Riley. Plummer turned himself into the authorities who agreed the killing was warranted. Fearing his past record would interfere with a fair trial, Plummer was allowed to leave California. Plummer headed to the Washington Territory for a brief period where he found himself in another gunfight that he won. Plummer hoped to return to his home state of Maine, but was approached by James Vail looking for protection for him and his family as they set up a mission in Sun River, Montana. Plummer, along with a horse dealer Plummer knew from California, Jack Cleveland, agreed. Both Plummer and Cleveland would fall in love with Vail's sister-in-law, Plummer would end up marrying her. Hearing of gold in Bannack, Montana, Plummer hoped to find luck again in mining to support himself and bride. Cleveland would follow the couple and confront Plummer in a saloon where an altercation ensued resulting in Plummer killing Cleveland. Witnesses agreed Plummer acted in self-defense. A few months after the incident, Plummer was elected sheriff of Bannack. After Plummer was elected sheriff many suspected him of leading a gang of criminals as the rate of robberies and murders in the area rose significantly. In January of 1864, only eight months after being elected sheriff, Plummer was arrested by a group of vigilantes and hanged.
John Bozeman
Originally from Pickens County Georgia, John Bozeman was lured west in 1860, abandoning his wife and three small children, by the promise of gold. Bozeman first headed to Colorado, but, after failing to find the fortune he desired, travelled into the Montana territory in 1862. Hearing of gold being discovered in the Beaverhead Valley, Bozeman joined the rush that would lead to the founding of the first capital of the Montana Territory, Bannack. Bozeman, seeking a shorter route into the goldfields of the Montana Territory, set about widening a long established Native American trail for wagon use. The trail branched north from the Oregon Trail at Fort Laramie to the three forks of the Missouri River, crossed the Gallatin Valley, and over what would become known as the Bozeman Pass. Travellers were often attacked by Native Americans as the trail cut through land promised to several Native American tribes in the Treaty of Fort Laramie. After gold was discovered in Virginia City, more settlers began coming to the Montana Territory and Bozeman was commissioned to guide expeditions to Virginia City. Bozeman established an agricultural colony in the Gallatin Valley to feed the miners pouring into the Territory. He laid out the town of Bozeman in 1864. He became the probate judge of Gallatin County in 1865 and no longer guided Wagons along the Bozeman Trail. Bozeman was killed crossing the Yellowstone river in 1867 allegedly by a group of Blackfeet, though there is speculation that his travelling companion Tom Cover was responsible.
Charles Marion Russell
A Bad Hoss By Charles M. Russell
"The Cowboy Artist," Charles Marion Russell from St. Louis Missouri created more than 2000 paintings of cowboys, Native Americans, and the American west. Beyond his paintings, Russell was a storyteller and author. He became an advocate for Native Americans supporting the Chippewa tribe in their hopes of having a reservation in Montana; this would lead to the Rocky Boy Reservation in Northern Montana. Russell worked as a cowboy in Montana. During the harsh 1886/87 winter, Russell worked at the O-H Ranch in central Montana. Russell's postcard sized watercolor of a steer in a snowy field, skin hanging tight to it's ribs, with wolves staring it down was sent by the ranch's foreman to the ranch owner to tell how the cattle weathered the winter. This postcard would eventually land in a shop window in Helena, Montana and, shortly after, Russell began receiving commissions for new work. He would paint a more detailed version of that postcard and title it Waiting on a Chinook. In 1888, Russell spent some time living with a branch of the Blackfeet, the Blood Indians--this relationship gave him a deep understanding of Native American culture as evidenced by his work. Russell would eventually settle in Great Falls. Montana and work as an artist full-time. His Work Lewis and Clark Meeting the Flathead Indians is displayed in the Montana State Capitol. His 1918 painting Piegan's sold for $5.6 million at a 2005 auction. You can see his work and many other pieces of the American west at the CM Russell Museum in Great Falls, Montana.
Evelyn Cameron
Evelyn Cameron: Montana's Frontier Photographer by Kristi Hager
Born in England, Cameron crossed the Atlantic with her soon to be husband, Ewen, in 1889 arriving in New York City in September before taking the railroad to Montana. There Evelyn and Ewen hunted along the Yellowstone river until returning to England in the summer of 1890. They wouldn't be away from Montana long. In September of 1891, they began their first of three ranching ventures around Terry, Montana. In 1894, Evelyn was introduced to photography by a boarder at their ranch house. She began to study glass-plate photography and her work began to capture the Montana Prairie. She was often requested to photograph public events, weddings, and family portraits. She worked with her husband researching the wildlife of the area. Her photography details life working on a ranch and the unique wildlife of Montana. Evelyn Cameron: Montana's Frontier Photographer by Kristi Hager is a collection of many of Cameron's photographs and is a necessary addition to any history buffs library. 
Jeannette Rankin
Jeannette Rankin: America's Conscience by Norma Smith
Jeannette Rankin was the first woman elected to Congress. She graduated from what is now the University of Montana and then studied at the New York School of Philanthropy to become a social worker. Rankin worked as a social worker in Spokane, Washington before studying at the University of Washington where she joined the women's suffrage movement. Rankin became a lobbyist with National American Woman Suffrage Association (NAWSA). Rankin's work with NAWSA helped Montana women gain the right to vote in 1914. In 1916, Rankin won one of Montana's two At-Large House seats. Rankin opened the first House Floor debate for a resolution to amend the constitution to allow national women's suffrage; the resolution passed the House but not the Senate. A lifelong pacifist, Rankin voted against U.S. participation in World War I. Rankin would not be re-elected to the House of Representatives until 1940 with the U.S. again on the verge of war. Rankin would be the only member of congress to vote against going to war against Japan, later she would abstain from a vote to go to war against Germany. She chose not to pursue re-election. She is remembered for both her work as a suffragist and pacifist.
Written by: Stephen McNeal