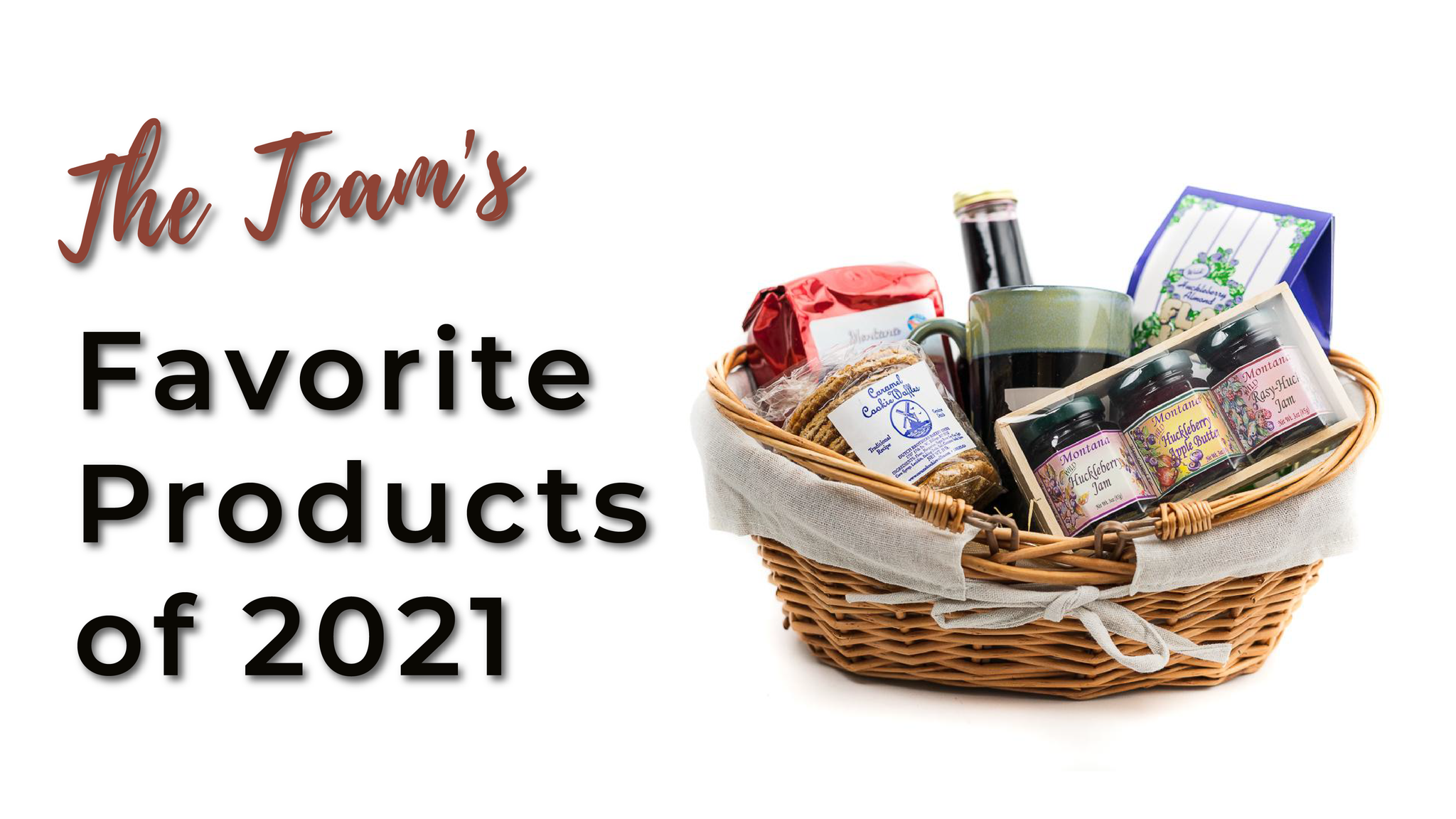 Montana Gift Corral's Favorite Products of 2021
It's an exciting time of year here at Montana Gift Corral. The winter months are the time when our buyers go to markets all over the country to find new product lines to bring into our shops for the year, as well as re-up on some of our favorite classic product lines! (huckleberry products, anyone? ✋)
That being said, we have a lot of new product lines coming in every day, and we are excited to share some of our favorites with you today! You'll also find some of our timeless favorites that we also love. We hope you enjoy!
Last year, our team got together to develop some curated gift baskets because it sort of dawned on us that we sell some really wonderful products individually, so why not put them together for an extra wonderful gift! The Breakfast in Montana Basket was far and away the favorite because who doesn't love a good Montana breakfast? While hard to pick from our gift basket selection, this has become my favorite item partially because if you order a gift basket online, it's usually me who hand writes the gift messages. That's right, we do that! I feel like I get to be a little part of a special gift exchange, from birthday wishes to simple thinking of you notes. It's been one of my most favorite parts of my job this past year! 
This was hard because I love SO many different products (obviously...) But the one I settled on is the Zuma insulated backpack from Picnic Time. What I love about this backpack is that for the price it has so much to offer - the top compartment is a great place for my book, sunscreen and snacks that don't need to be kept cold; then the bottom compartment is insulated so I pop a freezer pack in there with my sandwich and a drink and it stays cold even on a hot summer day! I love that it has the water bottle holders on each side and that the straps are adjustable so if the pack needs to be tightened while I'm out exploring it's easy to just pull on those straps. While it may not be as stylish as the Picnic Time roll-top cooler backpack (which I've purchased for both of my adult sons...) I love the different compartments in this backpack for all my summertime adventures! Bring on the sunshine!
I'm actually pretty excited about our new journals from Sugarboo & Co! We have two sizes but the smaller (4" x 6") journal is great for travel or throwing in your pack. The acid-free parchment-style paper is great for sketching or journaling. The journals feature quotes from artists, authors, and leaders across American culture and history: from David Bowie to Abraham Lincoln. The quotes are pressed beautifully into the leather, and the elastic ribbon keeps the journal closed when you're on the go. All in all, you can feel the quality when you hold one of these journals (there's a larger size too!), and I just love well made, thoughtfully-crafted products.
I love nature and I am a huge fan of a simple yet stylish earring. Time and time again, I have seen Nature Cast earrings that have caught my attention because I am that type of person that likes to purchase versatile earrings that can go with any outfit! I already have two pairs of Nature Cast earrings but keep my eye out for more. I love the Bird on a Branch Circle Disc Dangle earrings because the bird is so simple and the silhouetted design gives off a vintage vibe. These are just so cute. These are definitely my next purchase! 
It started with the horse.
Then the unicorn.
Then the moose, the dragon, the cow.
And, finally, the black bear. 
Now all four of my kids have at least one or two Warmies, the stuffed animals that you heat up in the microwave for a warm, cuddly snuggle.
The Warmies are part of our family's bedtime ritual.
Step 1: Put on pajamas.
Step 2: Grab your Warmies.
Step 3: Heat the Warmies for 1 minute.
Step 4: Grab the Warmies and go to bed.
So the stuffed animals are much more than a toy.
They're the end of another day, a moment of family time lined up at the microwave, and a reminder of what's great about childhood.
They're memories being made, a good night's rest, and the hope that Mom and Dad are about to get a break.
I have so many favorite products, but one of the newer ones I really love is the Clay in Motion Handwarming mugs. They have a great size, so I can enjoy my large morning coffees, with the added bonus of keeping my hands warm on those extra cold Montana mornings. I only have one now, but I have a feeling my collection will be continuing to grow with all the fun colors they come in!
My favorite product is the beautiful jewelry by Rocky Mountain Leaf Company. I love that each piece of jewelry is created from a real leaf that has been hand picked and electroplated, so they are all as unique as nature intended them to be. Because of the stripping process they use, you are able to see every incredible detail of each leaf. The colors are also stunning and remind me of playing with fall leaves as a child.