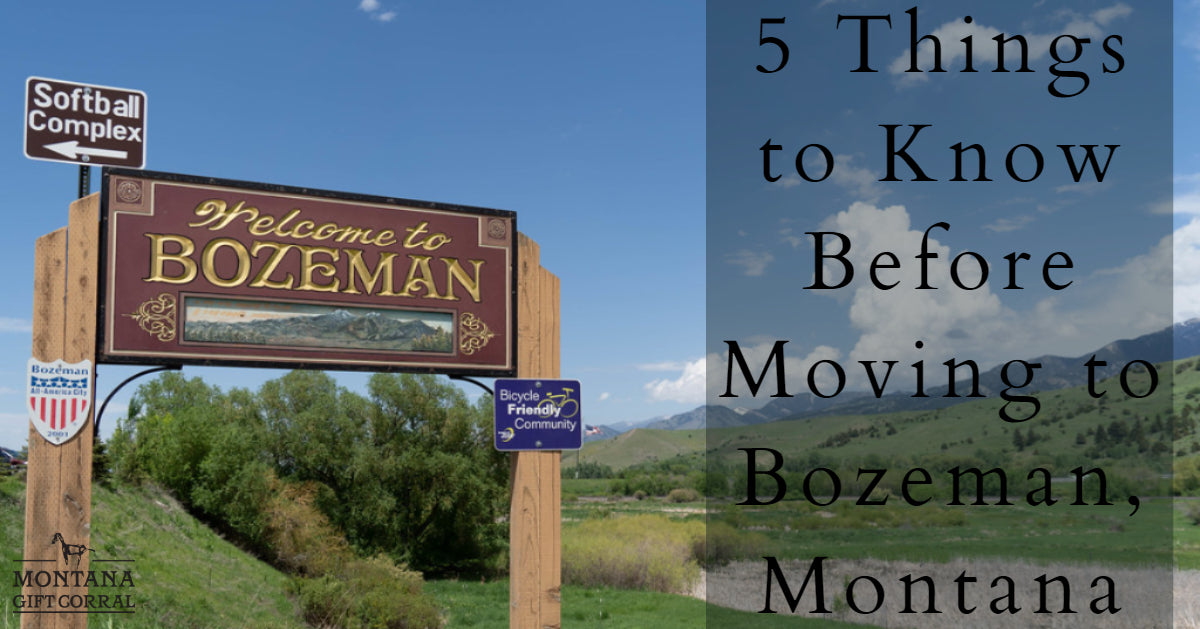 5 Things to Know before Moving to Bozeman, Montana
You're ready for a change. That call for something new and fun and different has become too loud to ignore. So, where do you go? Does Montana hold what you're looking for? It does for a lot of people. Maybe you saw a special about Montana on TV once or maybe your family visited on vacation years back. Whatever the reason, it's hard to deny the pull of beautiful Big Sky Country. However, once you set your sights on moving here, you definitely want to do your research. So many people love what Montana, and particularly Bozeman, has to offer because it is unique. It's hard to define, but it sure is wonderful. To truly enjoy your time here in Bozeman, there are 5 things you should know before moving here.
1. Winter is Not for the Faint of Heart
You've probably read this before, may be seen a picture of the insane amounts of snow of the bitter, bitter cold. We cannot stress this enough. If you've only visited Bozeman in the warmer months, give it a test in the dead of winter. We mean January or February, after the glow and excitement of Christmas has faded. Just prepare yourself. Days are very short. Everything will freeze. Montanans do not believe in snow days; schools and businesses rarely (if ever) close for weather. If you can handle all of that, then you've definitely passed the first test of moving to Bozeman!
2. The Dining is Unique
Photo courtesy of Yelp
Bozeman's best-kept secret is its dining options. There is so much here to choose from. My parents joke that I've lived here over 10 years and we haven't eaten at the same place twice. There's outstanding sushi, delicious Thai, amazing Indian, delicious BBQ, and classic Montana steakhouses. One thing you won't find much of here is chain restaurants. Sure, we have them and they are great for a quick fix, but if you're in love with a chain in your area and Bozeman doesn't have it, decide if that's really something you can live without. Of course, Bozeman is nowhere near a food desert! You'll find something amazing and local to love here, too! But, you want to be aware of that before you move here!
3. The Shopping is Unique, Too
Photo courtesy of Reddit
This is another cautionary tale about chains. Yes, we've got the basics here. We understand everyone's obsession with Target. But, we draw a line in the sand (or snow) over too many chain stores in Bozeman. Can it be frustrating sometimes? Sure. People often lament that we don't have a Best Buy, IKEA, or Trader Joe's. But, what we do have is local flavor. Local soul. We have unique clothing and home decor that's inspired by that Bozeman vibe. We have fun candy and store toys for the kid delights. We have the best record store and book store in the state! And, if you don't mind a little horn-tooting, we've got a pretty great selection of Montana gifts. If you take the time to stroll down Main Street, you'll be quick to find your new favorite Bozeman-based store with fun, funky flair that's just for you. Soon, those department stores and strip malls will be a distant memory. If you go into your move accepting that, an exciting world of shopping awaits you!
4. Your Daily Life Might Need an Adjustment
Photo courtesy of Streamline
We Montanas are proud of our state and our way of life. Depending on where home is for you, life in Bozeman is going to take some adjusting to. While we have an amazing, free public transportation system, it is limited. That means, depending on whether or not you live close to where you work, a car might be a must-have for you, especially in the winter time. Also, your first place in Bozeman might be smaller than what you're used to. The housing crunch is very real here, so you might have to start out in a small apartment or townhouse until you can afford something more. On top of that, things just move slower here. There's less traffic, fewer people. In all, we're just willing to take our time and enjoy what the day gives us. Settle in. Enjoy your new lifestyle. Take time to adjust.
5. Be Prepared to Fall in Love
Photo courtesy of Passions and Places
Change is hard and moving is scary. But changing location and moving to Bozeman, Montana is going to be one of the best changes in your life. We'll bet you'll find some new outdoor hobbies, meet some kind, interesting people, and be nothing but happy about your big change. You might already be in love with the scenery and the beauty of Bozeman, but you'll be unprepared to fall so deeply in love with this town. There's something magnetic about it. That's why people keep coming here. So relax. Enjoy it. You're going to love it!