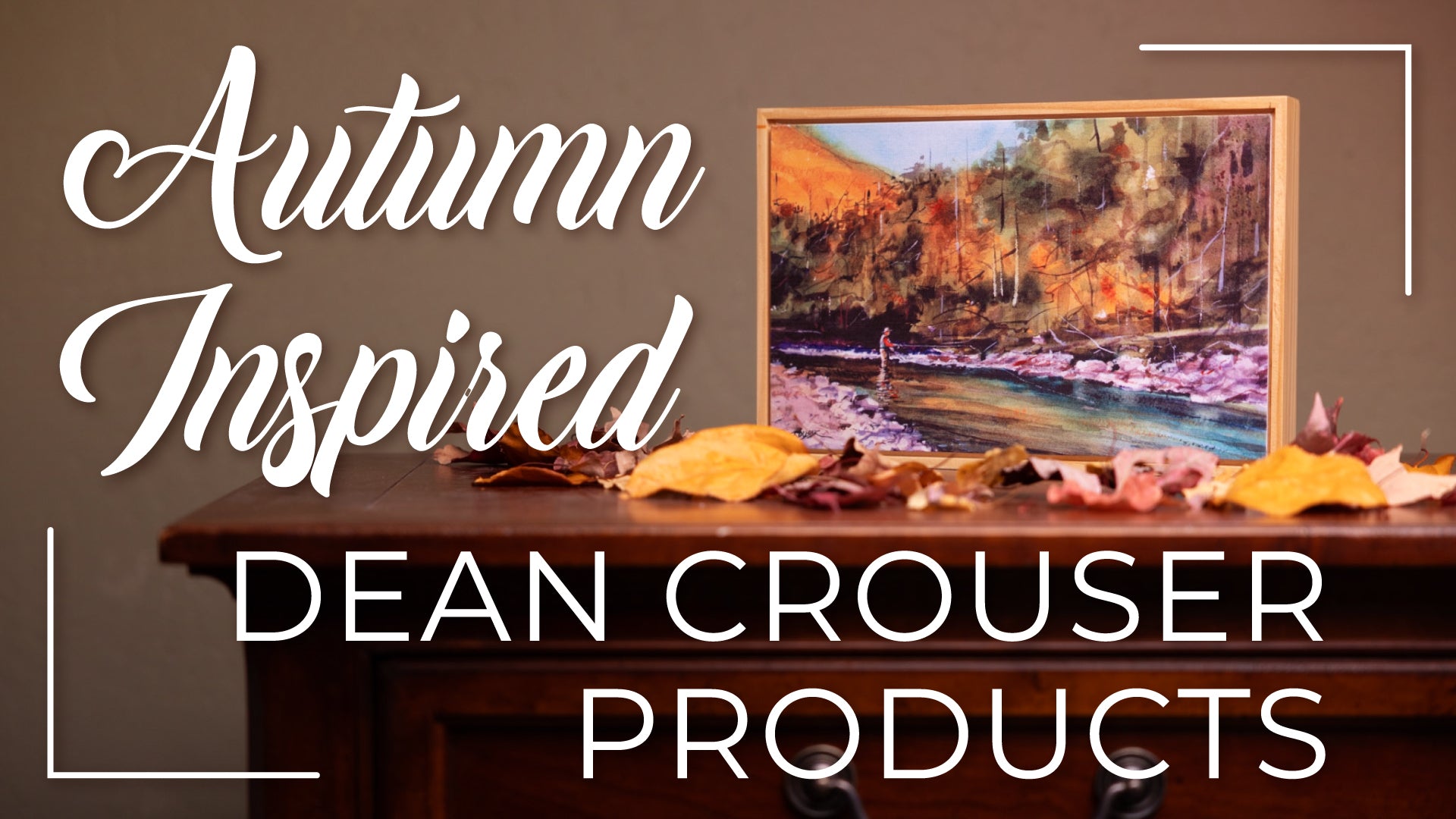 Our Favorite Autumn-Inspired Dean Crouser Products!
As the autumn weather gets chilly, there's nothing more comforting than cozying up in a space that was perfect curated for and by you! From vases full of fall foliage to wall art that exudes that relaxing fall feeling, or even beautifully designed teapots to keep you warm through the season, you'll adore our selection of home decor designed by USA-based artist, Dean Crouser.
Here's some of our top picks for the fall season:
Dean Crouser Sunflower Vase
Sunflowers are known as a symbol of good fortune due to their long life line. Blooming during the summer and living through fall, they have the effortless ability to breath some life back into your home! 
The Dean Crouser Sunflower Vase, designed by Dean Crouser, beautifully represents the enduring spirit of sunflowers as they transition from summer to autumn. It adds a touch of brightness to your home year-round, reminding us to embrace this season of change!


Dean Crouser Big Wood River Framed Canvas
One simple way to bring in the magic of the outdoors this fall season is with functional art. We love art that can be hung on the wall or displayed on a dresser, shelf, or mantel! 
In that light, we love the Big Wood River Framed Canvas. Designed by Dean Crouser, this piece showcases a stunning watercolor fishing in the peak of autumn. Whether you choose to display it in your living room, office, or den, this nature-inspired artwork adds a touch of nature to your home decor, making it a perfect addition to your autumn collection!


Autumn Trees Watercolor Greeting Cards by Dean Crouser
Summer is known for get-togethers with friends, family, and loved ones, since the weather is warm and enjoyable. While there are less gatherings in the fall, don't let your most beloved individuals forget how much they mean to you! One way to make your loved ones feel extra special is by sending them a meaningful card in the mail.
If you are looking to send out some snail mail, you'll love our Autumn Trees Watercolor Greeting Cards! Designed by Dean Crouser with the beauty of fall in mind, these greeting cards are the perfect blank canvas to write your heartfelt sentiments, letting each of your loved ones know how important they are. 
You can even use these greeting cards as invitations to a Fall Harvest Party!


Dean Crouser Triple Planter Set
Summer is over, and its time to say goodbye to your outdoor herb garden. Luckily, many herbs can thrive through the fall and winter when kept indoors! When exposed to ample light, basil, cilantro, parsley, and more, can be successfully grown in the warmth of your home.
If you're planning on starting your own indoor herb garden this autumn, pick up our Herb Triple Planter Set by Dean Crouser. This planter set showcases lovely artwork by Dean Crouser featuring that is perfect for any season, including autumn! These charming pieces bring a touch of nature to your home decor, making them a versatile addition for year-round use. Plus, you can display them in your kitchen, dining area, or any room to bring functionality and beautiful design to your space!


Sunflower Teapot Set by Dean Crouser
When that autumn chill starts to seep in, you'll have to get creative with ways to keep yourself warm and cozy! Cozy blankets will surely do the trick, but why not take it one step further and brew yourself a pot of tea?
If you're a tea lover like us, you'll adore the Sunflower Teapot Set! This ensemble includes a teapot with a built-in tea strainer, a teacup, and a coordinating plate. Whether you're enjoying a comforting cup of herbal tea or a caffeinated tea to keep you energetic throughout the day, this set is the perfect addition to your autumn home, making tea time even more enjoyable!





***

Written by: Alexa Jorgenson, MGC Content Creator
Photography by: Demdaco & Luke Clark, MGC Photographer
Blog Cover by: Averi Thompson, MGC Graphic Designer