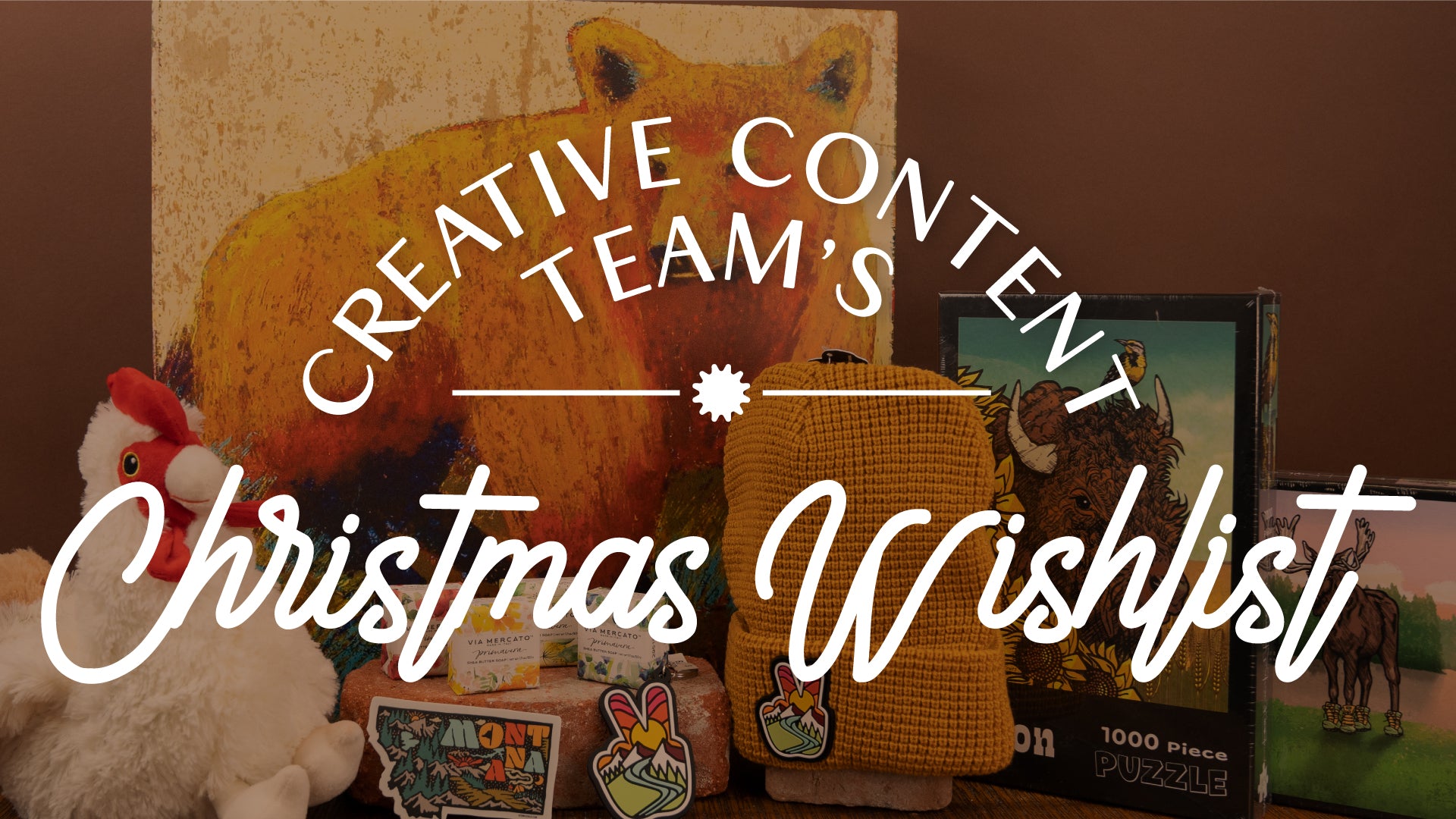 The Creative Content Team's Christmas Wishlist - It's Never Too Early!
Ho, ho, ho, it's Christmas in July! As you may already know, it is always Christmas at the Montana Gift Corral, and we will take any opportunity to celebrate this one-of-a-kind holiday.
It's never too early to starting making your Christmas Wishlist. In fact, with shipping delays and product shortages, it is in your best interest to start choosing your must-haves early. This being said, we would love to introduce you to our Creative Content Team and the fun products that they currently have on their personal wish lists! 
Luke 
• 
MGC Photographer & Filmmaker
In our free time me and my wife, Calli, enjoy spending time with one another and participating in a variety of fun games and past times. This being said, I was overjoyed when we began selling a selection of puzzles from Two Little Fruits! Two Little Fruits, a company based in Denver, is inspired by the mountains and urban areas surrounding them. This fun-loving company creates designs that bring joy to homes nationwide, including my own! The Two Little Fruits crew believes that art is the most important thing, second only to love. Whether you are looking for a marmot puzzle, bison puzzle, or even a puzzle of a frog riding a bike, this quirky company has got you covered! A new puzzle from Two Little Fruits will definitely be on my Christmas list this year!
Bison and Sunflower Puzzle by Two Little Fruits
Cassi 
• 
Creative Content Creator
If you're anything like me, you're a sucker for well-packaged, delicious-smelling soaps. That's why Bath & Body Works gets so much of my paycheck. However, I'm basically ready to cheat on Bath & Body Works with these new European Soaps we just got in. Visually, the packaging is a showstopper for me. There's something about those crisp, white labels with the pretty flowers that just speaks to me. I feel like my house is put together if my soaps look fancy for my guests, even if that's the only part that's put together. But the scents really sold me! Sundrenched Garden?! Sunkissed Snowdrops?! I'm mean, c'mon! I want to live in a sundrenched garden for the rest of my life! But, we live in Montana, so I'll just settle with my soap smelling like that! Ha! 
Via Mercato Primavera Mini Soap by European Soaps
Haven 
• 
MGC Photographer 
I need my home to be beautiful, inspiring, and totally aesthetic. My home is a place I can recharge and get back to feeling 100%. That's why I love our Meissenburg Designs wall art. My favorites are by the artist Shelle Lindholm. She is a contemporary fine artist who tells stories through her colorful and intriguing wildlife art. It's the way she experiments with form and color that speaks to my soul and fills me with inspiration. 
Shelle Lindholm Little Miss Sunshine Metal Box Art by Meissenburg Designs
Alexa 
• 
MGC Content Creator
In my free-time, I love to explore the outdoors and take advantage of the outdoor playground that surrounds me in the beautiful state of Montana! Did you know that around Bozeman alone, there are over 70 scenic trails? It is my personal goal to make it out to every single one! One of my new favorite lines here at Montana Gift Corral is Atomic Child. Based in the quirky town of Denver, Colorado, Atomic Child is a company known for designing a plethora of colorful outdoors-inspired products. This fun brand features stickers, patches, keychains, and other fun accessories that are sure to bring life to water bottles, laptops, vests, and even backpacks.
Don't be surprised when you see me out on the trail decked out with all of my Atomic Child merch!
Peace Keychain by Atomic Child, Waffle Beanie by Atomic Child
Averi 
• 
MGC Graphic Designer
A microwavable stuffed animal is a surprisingly great way to warm up without having to pile on the blankets and jackets. Now, the thought of holding a fat warm chicken may not seem like a way to warm up to most, but this chicken is different! Not only can this little hen be hot or cold depending on how I'm feeling, but her big fat bottom is full of lavender so she smells heavenly! If you are prone to getting cold like me, get yourself a Warmies and you'll never have to worry about the chill of that office A/C again!
Warmies Chicken by Intelex USA
Written by: Alexa Jorgenson, MGC Content Creator & CCT Team
Blog Cover by: Averi Thompson, MGC Graphic Designer
Photography by: Haven Windsor, MGC Photographer